New Hampshire casual dining restaurants treat the guest as king
New Hampshire's casual dining is a treat of magnificent variety in style and traditions.
You'll find something for everyone
and for every taste and whim from comfort food to classic cuisine to smoothies and shakes. Accompanying your meal is relaxed indoor and outdoor seating, cozy or majestic settings, and welcoming hosts. Chefs know their customers and offer creative menus from full plate to lighter and late night fare. Pubs, bistros, cafés and that favorite little restaurant turn local ingredients into simple and savory dishes. Fabulous beer lists abound as do children's menus at most establishments.
179 Carter Notch Road Jackson, NH, 03846 Phone: 603-383-9111 Toll-Free: 800-966-5779
Classic comfort food, ageless ambiance elevate these resort restaurants
For almost a century and a half, visitors have been enjoying the ambiance and rustic charm of the Eagle Mountain House and Golf Club. Part of that charm is the comfortable, casual dining available in the resort's three restaurants. The Highfields Restaurant, with panoramic views of the mountains and the Wildcat River, offers twists on classic comfort cuisine like fish and chips as well as more sophisticated entrees like maple miso salmon. At the Eagle Landing Tavern, guests enjoy classic cocktails and relaxing light meals. And, in season, you cannot beat dining outdoors on the Veranda Cafe, set on the resort's amazing 280-foot wraparound veranda, where you can dine watching the sun set over the White Mountains.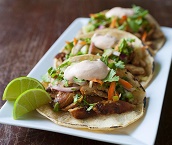 200 Grafton Drive Portsmouth, NH, 03810 Phone: 603-433-1331
Grill 28 and Bar open year-round to the public
Challenging golf and great food and drinks go together at this popular golf course on the New Hampshire seacoast. Meet friends in this relaxed setting. Serving breakfast, lunch and dinner, the Grill features casual fare and special "Tee" golf function menus specifically designed for golf tournaments played on the Golf Course. The Reds, Whites, Blues, and "Tips" menus offer options that include deli, grill, and entrée selections. Food is prepared with American and Mediterranean influences and you'll find local beer and international wines. Starters include pork bellies, olive tapanade, Italian Meatball sliders and 8rish Nacho's. Tasty appetizers, salads and soups introduce flatbread pizzas, classic sandwiches, a salmon stir fry, and signature steak tips finishing with great desserts including chocolate mousse.
90 North Main Street Wolfeboro, NH, 03894 Phone: 603-569-3016 Toll-Free: 800-451-2389
A pub, a mug and the finest in comfort food in the Lakes region
Be part of the tradition at Wolfe's Tavern, the lake's region only authentic New England pub. Breakfast, lunch, and dinner are served daily with brunch served each Sunday. Enjoy your favorite comfort foods with a sophisticated spin, like Short Rib Shepherd's Pie and Challah French Toast. House-cured meats and local ingredients add depth to simple, savory dishes. With one of the best beer lists in the region, Wolfe's Tavern is known for the Mug Club featuring 100 different local, domestic, and imported beers. Earn your own personalized pewter mug to hang from the tavern ceiling and is yours to take or to use whenever you come back. Mug Club members get $1 off draught beers for life while the General's Club loyalty program helps you earn points along the way.