Outdoor Wedding Venues in New Hampshire (MA)
Mountain View Road Whitefield, NH, 03598 Phone: 888-260-4929
Mountain views make for spectacular ceremony
Majestic mountains, a sparkling waterfall, immaculate gardens: Whatever your preference, The Mountain View Grand Resort & Spa has the perfect backdrop for your outdoor wedding. Take your vows inside an antique gazebo, have your guests gather on the Grand Fountain Terrace as a waterfall flows into a glimmering pond, experience a private moment on a stately columned porch. For decades, couples have celebrated their special day on the historic resort's 400 acres of sweeping landscaped grounds and gorgeous gardens, including the dramatic Presidential Promenade and Overlook Lawn. Each venue comes with panoramic views of New Hampshire's White Mountains. And each ceremony is planned down to the tiniest detail by professional wedding coordinators, whose goal is to make every couple's dream come true.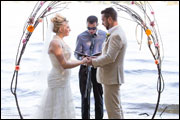 725 Laconia Road Tilton, NH, 03276 Phone: 603-524-3248 Toll-Free: 866-364-6543
Wed in the fresh mountain air of New Hampshire's Lakes Region
Plan a romantic lakeside wedding. This majestic destination offers a beautiful outdoor wedding venue in New Hampshire's Lakes Region. There's scenic grounds for your wedding festivities. The deck overlooking the lake is perfect to exchange your vows, and you can host a celebration or cocktail party on the private beaches. Rent a boat for the wedding party and cruise into the future. Your guests will enjoy two spacious lakefront houses and an apartment and\or one and two bedroom cabins. The friendly staff is available to help you plan the wedding and honeymoon of your dreams from cabin reservations to event space to group activities. For your convenience, the resort has put together a local vendor list for your planning process.
2560 West Side Road North Conway, NH, 03860 Phone: 603-356-7100 Toll-Free: 800-533-6301
A little bit of mountain heaven will elevate your ceremony, reception at this resort
Imagine your wedding ceremony (and photos!) in a gazebo on the manicured lawn of White Mountain Hotel and Resort, nestled beneath White Horse Ledge. Afterward, you will dine on extraordinary cuisine, from raw bar stations to roast sirloin to chocolate fountains and scrumptious cake in a billowing tent, then dance under a canopy of mountain stars. Experienced wedding coordinators will help you plan every detail of your outdoor wedding, regardless of size, from the bride's dramatic arrival (a horse-drawn carriage?) to table centerpieces (an ice sculpture?). Other details you can leave in the staff's hands: spa services, a BBQ or lobster bake rehearsal dinner, and booking the honeymoon suite for you and a block of luxurious accommodations for your guests.
3351 White Mountain Highway North Conway, NH, 03860 Phone: 603-356-3113 Toll-Free: 800-525-9100
Outdoor mountain splendor frames a wedding to remember
Celebrate your special day outdoors amidst stunning views of Mt. Washington and the Moat Mountain Range at this most elegant of New Hampshire wedding venues. Your ceremony will be held in the beautiful wedding garden on the 33 wooded acre property. Tent Weddings for up to 150 guests are available from May through mid-October with ample space for entertainment and a bar. Ceremonies are held at 12 noon, dinner is served by 3:00 pm, and entertainment may continue until 7:00 pm. Various wedding packages include fresh flowers on all tables and your choice of appetizer, entree, dessert and champagne toast. There is no charge for table linens, cake cutting, bar set up, or bartender when you plan an afternoon wedding.