Theaters, music, dance, and kids' performances entertain you in New Hampshire
The performing arts are alive and very well in New Hampshire. Anywhere you
stay
in the Granite State you'll find outstanding local and professional talent providing great theater, music, and dance. Fairs and festivals abound; cities, towns and villages offer their own taste of the arts for the whole family. You'll find stages, dance halls, plays, magic shows, street performers, jugglers, buskers, orchestras, and bands offering exciting
entertainment
all year long.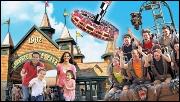 85 North Policy Street Salem, NH, 03079 Phone: 603-893-3560
All day entertainment, music and more
The entertainment and fun never stop at this historic amusement park in Salem, just 30 miles north of Boston. All around the park at the Gazebo, the Village and Midway Stages, and the Dancehall Theater, someone or something is always rocking the place with great acts and action. Stop by for some Extreme Science, magic shows and the Great American Game Show. There's Battle of the Bands, Dixieland music, and tributes to yesterday and today's hits, pop divas and stars like Lady Gaga, Elvis Presley and Michael Jackson. The heat gets turned up with extreme sports and stunts like juggling, the Shanghai Circus, the Human Cannonball, extreme motocross and great fireworks. Check out the SuperStars Museum celebrating Canobie's Dancehall Theater.