Editor's Choice - North Conway, Kancamagus Highway & North Woodstock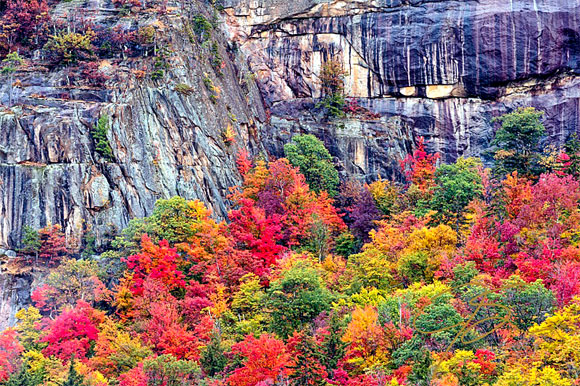 The centerpiece of this itinerary is the Kancamagus Scenic Byway (Route 112) which is affectionately known as "the Kank." People who drive, hike, or even bicycle the Kank are stunned by the pure beauty of this mountain road. It is wonderful in all seasons, but it holds a special place in people's hearts as a foliage drive in the fall. This 26-mile, east-west road through the White Mountains connects North Woodstock on the west end and Conway on the east end. North Conway is just 6 miles north of Conway, up Route 16, and it has plenty for adults and from families to do. North Conway is especially loved as a tax-free shopping venue at outlets like Settlers Green and many other shops.
GETTING HERE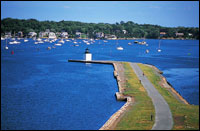 This is the heart of the White Mountains, so you are arriving by car or plane (you will see more below about excursion trains that offer sightseeing and pleasure trips in the mountains. Drivers will probably use I-93 or I91 coming from the south and the north, and Route 302 if coming from eastern points in Maine.
Mount Washington Regional Airport
is used for general aviation.
THINGS TO DO
OUTDOORS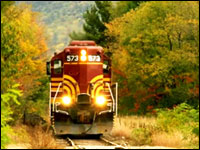 Conway Scenic Railroad
Enjoy an effortless survey of these beautiful mountains through the windows of a vintage passenger train.
Conway Scenic Railroad
trains depart from a Victorian-era station in North Conway village. Round-trip excursions to Conway or Barlett on the Valley Train or through the Crawford Notch on the Notch Train are one to five hours long. First-class dining on the dining car is old-fashioned fun. Excursion trails operate spring through fall, including popular fall foliage trips. There are some special Santa Claus trains around Christmas season.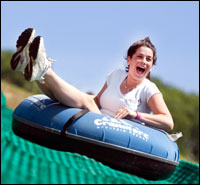 Cranmore Mountain Adventure Park
Cranmore Mountain in North Conway – as in all of the White Mountains – becomes a hub of snow sports in winter, from skiing and snowboarding to snow tubing and, for indoor people, sitting by the lodge fire. The region has plenty of lodgings and resorts for
family vacations
. During the summer Cranmore Mountain transforms itself into an outdoor adventure park: mountain coaster, aerial adventure ropes course, giant swing, climbing wall, scenic chairlift rides, summer tubing, bungy trampoline, and more.
Hike the White Mountains
The White Mountains National Forest maintains several fine
hiking trails
off the Kank (Kancamagus Hwy. or Route 112). The location of trailheads is described as a distance along the Kank from the Saco Ranger Station. The ranger station is the first building on the right as you leave Conway and enter the Kank. Two great hikes are the Rail N' River Trail and the Sabbaday Falls hike. Use of trails requires a pass, available at the trailheads.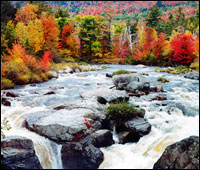 Drive the Kancamagus Highway
Simply driving the length of the
Kancamagus Scenic Highway
from Conway to Lincoln (or the reverse) could be the best part of your visit. This nationally honored scenic byway meanders through a mountain pass and vast forests. Scenery is stupefying all year. Many turnoffs and trailheads allow you to stop and gaze.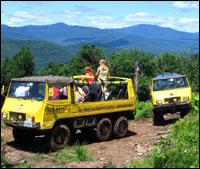 Alpine Adventures Off-Road Trips
Alpine Adventures on Main Street in Lincoln (a few miles east of North Woodstock) offers rip-roaring
off-road trips
through mountain meadows and passes. Buckle Up and Hold On, as the license plates say, because you're in for a wild & scenic ride in modified Swiss Army vehicles.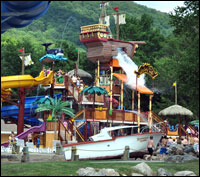 Whale's Tale Water Park
Both kids and adults love a sunny day of fun at the
Whale's Tale Water Park
on Route 3 in Lincoln. Adults can relax in the sun or join youngsters splashing in the wave pool, flume slide, tube rides, and more.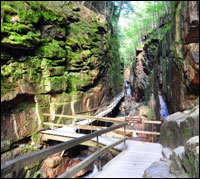 Walk the Flume Gorge
Just five miles north of North Woodstock off of Route 3, the Flume Gorge offers a spectacular
walk
through a naturally occurring chasm, over bridges and past waterfalls and mountain pools. Restful walk with adventurous views. Start and end your walk at the Flume Visitors Center.
INDOORS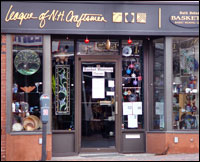 Galleries of the League of New Hampshire Craftsmen
The
League of New Hampshire Craftsmen
is one of the oldest craft organizations in the country, and one of its seven retail galleries is in North Conway. Shop for artwork in many media; enjoy demonstrations and exhibits. People who shop also will make a beeline to the 100 factory outlet stores in Conway, most of them at Settlers' Green Outlet Village and Settlers' Crossing, on Route 16.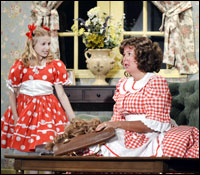 Arts in Motion Theater Company
Arts In Motion Theater Company
at the Eastern Slope Inn Playhouse in North Conway presents favorite dramas and comedy live on stage through much of the year. Recent productions have included "Cheaper by the Dozen," "The Sound of Music," and "Who's Afraid of Virginia Woolf?" Arts in Motion presents a popular
Murder Mystery Dinner Train
show aboard the Conway Scenic Railroad. Also,
Arts Jubilee
presents public performances of many genres of popular music, including a summer outdoor concert series.
Theater at Jean's Playhouse
Jean's Playhouse
in Lincoln performs summer theater with zest and years of tradition. Recent shows have included "Nunsense," "Little Shop of Horrors," "Spamalot," and "The 39 Steps." Children's plays are shown, too.
GOOD EATING
Breakfast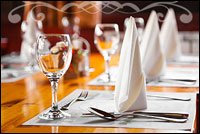 Peach's Restaurant at 2506 White Mountain Hwy., No. Conway gets sterling reviews for a many breakfast dishes, especially pancakes and muffins made with chunks of fresh fruit.
Flapjack's Pancake House, 149 Main Street, Lincoln. You can tell by the name that this place is confident in its breakfast menu, which includes the Hooterville, 2 pancakes with sausage & fried potatoes inside.
Lunch
Flatbread Company, 2760 White Mountain Hwy, No. Conway. This restaurant chain has earned a solid reputation for flatbread pizzas from a brick oven, organic ingredients, local beers & friendly atmosphere.
The Common Man at 10 Pollard Road in Lincoln is always a winner (it's part of a NH-based chain run by people with high standards and pride in their work). Voted the tops by readers of New Hampshire magazine for its prime rib, home made baked macaroni and cheese, and crab cakes.
Dinner
1785 Inn & Restaurant at 3582 White Mountain Hwy., No. Conway is just the thing for a special dinner: romantic fireplaces; mountain views, flambé desserts made at the table, flaming drinks.
Café Lafayette Dinner Train from North Woodstock offers a fine-quality dinner during a 2-hour train ride on an route of the Boston & Maine railroad designed to serve the Grand Hotels of the 19th century. Restful and elegant surroundings. Ride in the elevated planetarium car, a coach car, or in the sunken lounge. .