New Hampshire's White Mountains - Making Memories Every Day!
---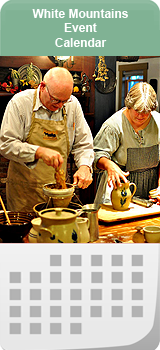 The White Mountains region of New Hampshire is a place of active fun and adventure all year. It's perfect place to take families with kids to explore natural wonders in the midst of towering mountains. At the same time, more-reserved adults will enjoy the mountain vistas, dining, and shopping.
Fun in the mountains includes, of course, hiking, biking, fishing and water sports. In addition, you can jump aboard the Cog Railway for a dizzying and memorable climb up some of the steepest slopes in the East. If extreme weather fascinates you, the Mount Washington Observatory at the mountain's summit has sky-high and high-tech exhibits about extreme weather at the roof of the Eastern Seaboard.
On the flip side, you can explore the insides of the Earth at the Lost River Gorge and Boulder Caves. Did we mention that this vacation is going to tire you out? Younger children in the family will love visits with Santa and mellow ride and Santa's Village; rides and kid entertainments, including performing bears, also are at Clark's Trading Post.
And lodgings — for a romantic getaway or at a luxurious mountain resort -- will bathe you in comfort during your White Mountains vacation.