Find interesting Great Things to Do in Lakes region: cruises, sports, shopping
The Lake's region is swimming in
family fun
all year round from beaches with action packed water sports to scenic driving tours. There's majestic fall foliage, celebrated winter sports activities, and tax-free shopping. Outdoor and indoor
attractions
are abundant. Hike and bike through rustic villages and towns or take a lake cruise. Stroll antique shops, art galleries and English gardens. Discover great chocolate and pottery and every kind of natural setting your soul could wish for.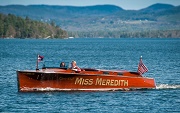 312 Daniel Webster Highway Meredith, NH, 03253 Phone: 877-574-5935
Lakes region activities in a vibrant New Hampshire community
Discover great food, culture and the many pleasures of the Lake's Region at this unique lodging on the shores of Lake Winnipesaukee. Four distinct Inns, each with views of the lake and surrounding mountains, offer smoke free rooms, coffee makers, refrigerators and Wi-Fi. Relax in indoor and outdoor pools, a fitness center, on sandy beach areas and there are docks for your boat. The Mills Falls Marketplace features 11 unique shops and 8 eateries serving tasty regional cuisine from morning til night. Savor the world class Cascade Day Spa and stop in at the EKAL Lake Activity Center for canoeing, kayaking, paddle boarding, and chartered boat cruises. Be sure to walk Meredith's vibrant Main Street Community adjacent to Mill Falls.
Route 171 - 455 Old Mountain Road Moultonborough, NH, 03254 Phone: 603-476-5900
Inspiring Arts & Crafts House in the Mountains Transports Your Senses
Castle in the Clouds is an inspired name for this Arts & Crafts-style mansion in the Ossipee Mountain Range, overlooking New Hampshire's gorgeous Lakes region. Built in 1914 by a wealthy shoe manufacturer and originally named Lucknow, the architecture displays hand-crafted details that honor natural forms. You will take a winding road up to the property, passing vistas and a waterfall, and finish with a trolley ride from the parking area to the house. You can explore the period furnishings and even the mistress's wardrobe, find mementos in the gift shop, enjoy lunch at the Carriage House Restaurant, and browse a revolving display of artwork in the Art Gallery. Children are welcome. Hiking trails beckon you into the mountains and horseback riding is allowed. Open weekends through May and daily from June to October.
61 Laconia Road Tilton, NH, 03276 Phone: 603-286-8008 Toll-Free: 800-605-2537
A splashing good time, fun from beaches to mountains to tax-free shopping
The Lakes Region of New Hampshire and its iconic town names –Weirs Beach, Meredith, Laconia, Moultonborough – have lured families for relaxation and outdoor fun for many generations. The year-round activities of the region revolve around the majestic Winnipesaukee, Squam, and Newfound lakes, where dreamy cruises and every water sport attract people to soak up the outdoor beauty. Beaches are welcoming, and traditional beach food and entertainments like fireworks are plentiful. For families with active kids, zip lines, mountain train rides, and boulder caves furnish a menu of thrills. Arcades and indoor play spaces are great fun. Adults like exploring historic mansions, museums, vineyards, and craft festivals. Skiers and snowboarders have easy access to ski areas. Shoppers can find outlet centers, quaint gift shops, antique centers and plenty of work by art-caliber craft makers.
211 Lakeside Avenue Weirs Beach, NH, 03246 Phone: 603-366-5531 Toll-Free: 888-843-6686
Lake Winnipesaukee Cruise Magic Aboard the M/S Mount Washington!
Bring your loved one, family and friends and cruise the beautiful waters of New Hampshire's largest, glacier formed and spring fed Lake Winnipesaukee. Since 1872 only two vessels named Mount Washington have plied these waters with its wooded shoreline, 240 habitable islands and a landscape surrounded by 3 mountain ranges. Now operating from May through October, the Mount and its two smaller sister vessels, the US Mail Boat, Sophie C. and M/V Doris E. offers Daytime Scenic, Evening Dinner/Dance and Special Theme cruises. In addition to hosting thousands of visitors to New Hampshire each year, the Mount with its 3 private banquet rooms can be chartered and is a popular venue for school proms, college gatherings, corporate celebrations and weddings.
The handiworks of
Winnipesaukee Chocolates and SkySong Pottery
are on display and for sale at Winnipesaukee Chocolates at 53A North Main Street in
Wolfeboro
. Toffees, caramels, and hand-rolled, fresh cream truffles by Jonathan Walpole and unique, nature-inspired pottery from Sally Cornwell ideal gifts for yourself for friends back home. Open Tuesday through Saturday in July and August, and more limited hours during the rest of the year. 603-569-4831.
As you approach the grounds on the Winona Road from Route 104, in the distance across a field you will see a large 1790 farm with many buildings under the trees of nicely landscaped grounds. You are at
the Old Print Barn
, 343 Winona Road in
Meredith
, a Civil War period barn that has been re-created as a 21st century art gallery. Inside, you will find more than 2,000 original works of art on display, in all forms of printmaking from etchings to mezzotints. In addition to having an extremely large stock of original art. Open year-round, daily. 603-279-6479.
The M/S Mount Washington, a first-class, 230-foot excursion ship based at Weirs Beach in
Laconia
offers delightful
cruises
of Lake Winnipesaukee during fall foliage season, from September 4 to October 22 in 2017. The boat picks up and drops off passengers at five different ports of call around the lake:
Weirs Beach, Wolfeboro, Alton Bay, Center Harbor
and
Meredith
. For an extra dollop of pleasure, a Champagne brunch is available Sundays. Cruises last for two and a half hours. Depart from 211 Lakeside Avenue in Weirs Beach, Laconia. 603-366-5531
The Lakes Region of New Hampshire is a place of great natural beauty year-round. For people who want to or need to
shop
, the interior sights are grand, also. Visitors find excellent (and sales-tax-free) shopping at places like Tanger Outlets in Tilton, with 50 designer outlet stores, and, at the other end of the spectrum, antique shops in almost every town. A vast quilting store is Keepsake Quilting in Center Harbor, with its adjacent knitting supply store, Patternworks. Mill Falls Marketplace in Meredith, right at hand, has 14 shops (including a candy store, clothing stores, and a bookstore) in a historic mill. The Kellerhaus in Weirs Beach, is one of the few candy makers still making ribbon candy and candy canes onsite. Drop in to taste the homemade ice cream and make-your-own sundae.
The 2017 corn maze at the
Beans and Greens Farm
at 245 Intervale Road
Gilford
is designed to stump you. Come try your skills. The most popular game each year is the Treasure Hunt. Night mazes are scheduled; see the farm website. And there's a simpler maze for children. Open daily, 10 a.m. to 5 p.m. 603-293-2853.
Three retail galleries in the towns of Center Sandwich, Meredith and Wolfeboro display and see the fine work of potters, woodworkers, fiber artists and more who have achieved the high standards of membership in the League of New Hampshire Craftsmen.Glassware, lamps, home décor, shawls and scarves and more make gifts with staying power in your home. Galleries in the Lakes region are the
Center Sandwich Retail Gallery
, 32 Main Street, Center Sandwich, 603-284-6831 (open May-October);
Meredith Retail Gallery
, 279 Daniel Webster Highway, Meredith, 603-279-7920; and
Wolfeboro Retail Gallery
, 15 North Main Street, Wolfeboro, 603-569-3309.
In summer, especially, we escape
to
Laconia
because, well, it's on Lake Winnipesaukee… and need we say more? For a deeper adventure (it's indoors, so good for a rainy day) try the
Escape Room Experience
at 555 Main Street. You're heard of escape rooms: they present a physical adventure game in which players are locked in a room where they receive clues to solve a series of puzzles and escape within a set time limit. Great fun for families, couples, and groups. The Laconia escape room offers various themes, like solving a puzzle initiated by the mysterious Leonard DaVinci or unraveling the escapades of a lost night in Vegas. Get some pals together and find your inner Indiana Jones. 603-366-6296.
The
Laconia Antique Center
at 601 Main Street in
Laconia
is appropriately housed in a former Newberry's Department Store built in the 1950s. What can you find here? Take a breath: vintage books (in a comfortable reading area); furniture, lamps, glass- and dishware, include Depression glass; primitives; estate jewelry; coins; ephemera, and on and on. One last enticement: the store has an ice cream and soda fountain and juke box. Open year round; hours vary by season. Phone: 603-524-9484.