State and local parks of Monadnock region provide fun for all tastes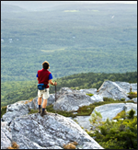 116 Poole Road Jaffrey, NH, 03452 Phone: 603-532-8862
Hiking on Mount Monadnock; camping; cross country skiing; open year-round
Monadnock State Park is thousands of acres of protected lands around 3,165-foot-tall Mount Monadnock. The park and mountain are famous for their extensive hiking opportunities. There are over 40 miles of trails and a spectacular view of New Hampshire, Vermont and Massachusetts at the mountain's summit. Monadnock State Park is open year-round unless closed or restricted by posting. The Park Store is open only on weekends and holidays through the winter. Camping may be done at Gilson Pond Campground and at Monadnock Headquarters Campground. Gibson Pond Campground closes during the winter. The park also has a store.
Hiking map.
Gibson Pond Campground map
Monadnock Headquarters Campground map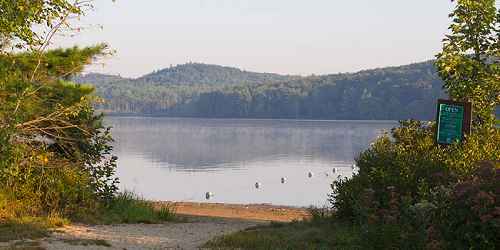 Route 136 Greenfield, NH, 03047 Phone: 603-547-3497
Lake for water sports, boat rentals, camping, no hookups
Greenfield State Park is a 400-acre park with a lake for swimming and boating; walking paths among ponds and bogs; a small store selling food and souvenirs. Canoes and kayaks for
rent.
Greenfield State Park Campground has 179 sites, including 134 sites that must be reserved in advance and 45 sites for first-come/first-served campers. RVs are welcome in sites where they fit. Sites are $25 per night, and there are no hookups. Park is open weekends from late May to late June, and daily from late June to mid-October.
Campground information.
Campground map.
424 Rockwood Pond Road Fitzwilliam, NH, 03447 Phone: 603-532-8862
Magnificent rhododendron grove and wildflower trail
Rhododendron State Park encompasses a 16-acre grove of Rhododendron Maximum. A 0.6-mile long wheelchair accessible trail travels around the through the grove. The high period of bloom is mid-July. A wildflower trail is located in the forest near the rhododendron grove. Wildflowers bloom from spring to first frost. The grove is home to lots of song birds. The rhododendron grove is a National Natural Landmark in 1982. You may sign up to receive
Rhododendron State Park bloom reports
by email.