Amusement parks in New Hampshire serve up old-fashioned family fun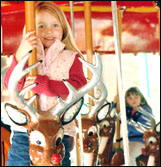 New Hampshire amusement parks and
water parks
welcome families with children to enjoy classic fun, indoors and outdoors, year-round. StoryLand and Santa's Village in the White Mountains, for example, are among the many amusement parks where families return generation after generation.
Some amusement parks cater to the youngest of the kids, but everyone can enjoy a picnic on the grounds, and then forge on to other
family activities
, like a trip on the Cog Railway or an exploration at the Lost River Gorge and Boulder Caves.
850 New Hampshire Route 16 Glen, NH, 03838 Phone: 603-383-4186
Every day is an unforgettable adventure!
Since 1954, this popular amusement park in the scenic White Mountains has offered family entertainment specially crafted for kids. Enjoy more shows, rides and play areas than ever before! Have dinner with your favorite characters or sit with Cinderella at Tea Time! Dance with Duke the Dragon at his fabulous Dance Party. Make a splash on the Bamboo Chutes. Scream aboard our thrilling roller coaster, Roar-O-Saurus. Meet real-life storybook characters. Search for prehistoric fossils, and play in the Dig-M-Deeper and Little Dreamers Nursery Rhyme play areas. Get everyone moving with Story Land's fun and family-friendly games. There's a free kennel for your pooch, lockers, and rentals for strollers, wheelchairs and ECV's. Nearby is the best in family lodging for a sweet night's sleep.
200 Daniel Webster Highway Nashua, NH, 03060 Phone: 603-888-1940
It's a big wide fun world out there!
So, it's amusement you're looking for? And, you wouldn't mind tiring out all those children that follow you around, after long hours in the car. Fun World – a castle form the outside and a play pit on the inside – has you covered. For a reasonable cost and the convenience of in-house dining, families can keep the littlest members entertained with slides, tumbling in a ball pit, jungle gym climbing, and simple rides. Meanwhile, teenagers can collect redeemable tickets and all kinds of trendy prizes by playing at a huge assortment of video, multi-play, dance, sport, and classic arcade games, from Transformers Theater to old-school air hockey. Moms and dads may join the action, or settle in to a more-sedate ride on the imported carousel from Italy.
528 Presidential Highway Jefferson, NH, 03583 Phone: 603-586-4445
Pure Joy. Family Style. Every Summer & Christmastime, too.
Santa's Village in New Hampshire's White Mountains is the only New England park to earn recognition as one of the Top 25 Amusement Parks in the USA in the TripAdvisor 2014 Travelers' Choice Awards! It's a full day of rides and shows, cookies and elves, Santa and his reindeer – plus the fun of the Ho Ho H2O water park. Owned and operated by three generations of its founding family for more than 60 years, an annual visit to Santa's Village is a New England family tradition. Oh, what fun it is! Seasons: Open Memorial Day weekend to Christmas.
110 Daniel Webster Highway (Route 3) Lincoln, NH, 03251 Phone: 603-745-8913
Rides, slides and so much more
There are amusements for everyone at Clarks Trading Post from being chased by the Wolfman to tax free shopping brought to you by five generations of Clarks. The Anaconda Escape water raft ride speeds you through 300 feet of twists and turns, drops and plunges, in total darkness. The Victorian Main Street presents five museums and the largest and most well stocked gift and souvenir shop in the White Mountains. Be amazed by Yandong's Chinese Acrobats, dress up for an antique-style photo, mine for gemstones and fossils. The featured North American Black Bear Show will amaze and entertain you. Climb aboard the White Mountain Central Railroad, cool off on water "Blaster Boats." Tickets include all rides, all shows, all day.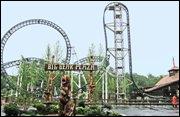 85 North Policy Street Salem, NH, 03079 Phone: 603-893-3560
The fun never stops!
Originally a trolley park, Canobie Lake Park has opened every summer since 1902 featuring amusement games, arcades, more than 50 thrilling rides and endless fun to families across New England and beyond. There's entertainment on two stages and the Dancehall Theater, a water park and more just 30 miles north of Boston. Enjoy several roller coasters, a hand-painted antique carousel, steam train, a ferris wheel, one of the only "dark rides" in New England, over a dozen kiddie rides and a dedicated Kiddieland area, plus evening fireworks. Food choices abound and you'll find special events and lots of tax free shopping for everyday items, keepsakes and souvenirs. Check out the discounts for school and company outings and nearby special summer lodging packages. Free parking every day.