Brewery tours in New Hampshire are a fun and tasty excursion for beer lovers
Craft beer is hot and local breweries in scenic New Hampshire have your favorite artisanal fruit and traditional beers. The unique flavors emanate from clean mountain air, water, hops, fruits grown right on the farms. With
lodgings
nearby, you can take a
scenic drive
and tour breweries and production facilities showing the fermentation process; how hops and yeast are added; and how beer is bottled, capped, and labeled. Then head for the tasting room. Meet the Clydesdales at Budweiser's northeast facility.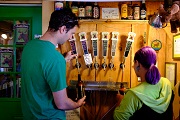 244 North Main Street Troy, NH, 03456 Phone: 603-242-6417
Award Winning Artisinal Fruit and Traditional Craft Beers
Granite Roots Brewing is a 2.5 barrel nano, craft brewery located in Troy, New Hampshire. We strive to use locally sourced, sustainably farmed ingredients to brew our bold traditional ales and unique fruit beers, so that we may strengthen our community while sharing the Monadnock region's diverse agricultural landscape in the tasting notes of each brew. We believe a master brewer is a liquid artist of the senses and should operate in an environment of full creative freedom. Our brewers Tony and Alicia are continuously perfecting Granite Roots Brewing traditional ales while simultaneously experimenting with beers brewed with seasonally available ingredients from local farms.
135 Main Street North Woodstock, NH, 03262 Phone: 603-745-3951 Toll-Free: 800-321-3985
New Hampshire's Premier Brewery
The Woodstock Inn Brewery is located in the heart of New Hampshire's White Mountains. It is here we craft award-winning favorites like Pig's Ear and 4000 Footer, made from only the highest quality ingredients. Our 30-barrel system is a state-of-the-art solar fed brewery and production facility, where we brew and bottle our beer for distribution throughout New England. Tours are offered daily. Reserve online.