Scenic drives in NH range from coast to snow-capped mountains
New Hampshire has
places to stay
and scenic drives any time of year from any direction and to any point in the mountains, along the coast, near pristine lakes. Travel on state highways and scenic byways, cross over mountain passes, along lumber trails and the Connecticut River - straight through the heart of New England. The coastal byway touches
Portsmouth and the beaches of Rye, Hampton, and North Hampton
. The Kancamagus Scenic Byway is a place of spectacular beauty as the seasons and the colors change. Circle Lake Winnipesaukee on a special journey through the lakes region.
See more beautiful images of New England by Massachusetts photographer Jeff Folger.
Length: 100 miles
The White Mountain Trail crosses through a least three mountain passes -- or notches -- in rugged mountains. Marvelous mountain views in the White Mountains National Forest. Passes near the Appalachian Trail.
Map of the White Mountain Trail.
Routes 3, 110, 16 and 2 Lancaster, Northumberland, Groveton, West Milan, Milan, Berlin, Cascade, Randolph, Jefferson, NH Phone:
Length: 65 miles
The route travel through the wood-producing area of the state in and near the White Mountain National Forest. A significant attraction on this route is the Northern Forest Heritage Park in Berlin, which celebrates the lumbering industry in the Granite State.
Route 1A Portsmouth to Seabrook, NH Phone:
Length: 18.5 miles
This byway runs along New Hampshire's only coastline. It touches the delightful and historic port city of Portsmouth, which brims with interesting shopping, dining, culture, and outdoor recreation, and it includes the beaches of Rye, Hampton, and North Hampton. The state's coastline is short but well-supplied with water fun and interesting small cities.
Length: 498.7 miles
This byway travels along the Connecticut River in Massachusetts, New Hampshire, Vermont, Maine, and New Hampshire, for a distance of 500 miles, passing through the heart of New England.

Route 112 Lincoln to Conway, NH Phone:
Length: 26.5 miles
Known fondly as "the Kank," the Kancamagus Scenic Byway passes through the heart of the White Mountains between the towns of Lincoln and Conway. It is a place of spectacular beauty. During fall foliage season, this is the place for splendid vistas, vivid color, and all of the glory of Mother Nature.
Map of Kancamagus Scenic Byway.
Length: 97 miles
This byway circles Lake Winnipesaukee, the largest and most scenic lake in New Hampshire. The lake is superb for boating, swimming, and fishing. This route travels around Lake Winnipesaukee and sometimes follows lots of tiny little jogs of roads; see map link below for details. For a less traveled route, take Route 25B from Meredith east to Center Harbor. This route winds through the hills north of Winnipesaukee and is a less traveled.
Map of Lakes Region Byway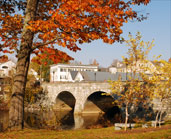 Routes 202, 103 and 127 Henniker, Hopkinton, Warner, Webster, and Salisbury Concord, NH Phone: 603-226-6020
This scenic byway, in south-central New Hampshire, just a bit west of the capital city of Concord, is named after Nathaniel Currier and James Merritt Ives, who became very popular artists in the late 1800s through their dreamy images evoking a pre-industrial, rural American past. This byway brings many of those bucolic images to life in real time on a peaceful drive through these very typical New England towns. Henniker invites you to visit the New England College art gallery, along with shops and restaurants facing the Contoocook River. Photograph the area's covered bridges and stone walls – no two look exactly the same. Shop at farm stands. It's a gorgeous drive.
Byway map.