There is charm and variety among New Hampshire cabins and cottages
In the world of New Hampshire hotels and motels, cabins and cottages serve a useful purpose for all kinds of visitors: large or extended families, outdoor sports enthusiasts, reunions, weddings, gatherings of fraternal or business organizations, and other occasions where people want to spread out in home-like comfort near New Hampshire's beautiful forests and
lakes
and rivers. They are a favorite choice for a
waterfront vacation
. NH Cabins and cottages may include a living-dining area, multiple bedrooms, kitchens, TV, and porches. This is a wonderful lodging option for an outdoor vacation of hiking, swimming, boating, fishing, and snow sports in the White Mountains, Western Lakes and Mountains, or Lakes regions of NH.
1251 Eaton Road (Route 153) East Madison, NH, 03849 Phone: 603-367-8896 Toll-Free: 800-373-3754
Perfect lodging options for a perfect vacation
A cabin in the woods, a cottage by a lake or on a mountaintop sounds just about perfect. It gets better. You can choose from all of the above. There's cozy and comfortable with private bath and 2 guest rooms – some with locking doors between units – and more spacious and luxurious lodgings in the King Pine Cottage, a 2-room suite with ground level access, full bath, air conditioning and kitchen with mini-fridge and microwave. The Lakeside cottage on Purity Lake offers a small sandy beach and sitting area plus docks with canoes, kayaks and rowboats. It's conveniently located between The Mill indoor pool and the Inn Dining Room. Go ahead. Pick. You can't lose. Great for couples, families and groups.
18 Bacon Road Holderness, NH, 03245 Phone: 603-968-3313
Sixty Cottages on the shore of pristine Squam Lake
Our 60 cottages and two lodges are scattered among shorefront pines and granite outcroppings. Each has twin beds, a fireplace, a screened-in porch, private dock, and an antique ice box where ice is delivered daily. Spread over 115 acres, two peninsulas, and along over a mile of lakeshore, RDC offers a rustic simplicity, respect for the land and good old fashioned fun.
Rockywold-Deephaven Camps have offered families an ideal place to gather and soak in the quiet, simple pleasures of the New Hampshire wilderness since 1897.
If small mouth bass fishing, rollicking square dances, heaping buffet-style meals, quiet afternoon card games, hikes in the White Mountains, canoeing, tennis and a really good book sound like your idea of vacation, welcome to RDC!
1086 Weirs Boulevard Laconia, NH, 03246 Phone: 603-366-4341 Toll-Free: 888-556-2792
A scenic lakeside cabin with all the comforts of home
Nothing frames a scenic lakeside better than a cozy cabin or cottage. At NASWA on Lake Winnipesaukee the whole family will love the spacious rooms, suites and cottages with waterfront views. You'll find private balconies, refrigerators, in-room coffee makers, cable television, and complimentary WiFi. Outside your door is a private sandy beach and for guests with their own boat, there's complimentary overnight dock space. The Blue Bistro serves a hearty breakfast and delicious dinners and you can grab a burger and a beer at the NazBar & Grill indoors or on the beach. There's lots of family activities including Camp Naz, campfires, kayaks and paddleboats, the 34-foot SeaRay Amberjack cruise ship and jetski lessons to get you around the lake.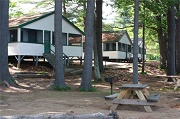 725 Laconia Road Tilton, NH, 03276 Phone: 603-524-3248 Toll-Free: 866-364-6543
Find serenity and the comforts of home on Lake Winnisquam
Slip away from television, the internet, and virtual reality and find some real relaxation in the waterfront wilderness along scenic Lake Winnisquam. Settle into cozy, rustic and fully equipped one and two bedroom beachfront cabins and spacious houses with porches overlooking the lake. You'll enjoy three private beaches with a sundeck, complimentary kayaks and canoes, and skis, tubes, and wake boards for rent. There's ping pong, volleyball, a game room, a fire pit and barbecue grill area, great fishing and walking trails through the lush woodlands and hills. Next door is a marina and boat slips.