Fresh Water Beaches in New Hampshire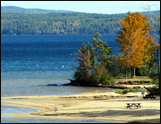 New Hampshire's lakes – including the beloved Lake Winnipesaukee and Squam Lakes – have provided vacation and sporting fun for families from the state and distant places over generations.
Lake resorts
offer hospitality and flexibility for everyone from couples on romantic getaways to big, lively families tucked into
family friendly lodging
and packing the waterfront with reunions of generations. There's room for everyone and plenty to do – swimming, boating, sailing, fishing – at New Hampshire's fresh water beaches.
3725 West Side Road Bartlett, NH Phone:
Diana's Baths is a mix of potholes, cascades, slides and small plunges along Lucy's Brook, tumbling down Big Attitash Mountain. The attractive features of this area are the refreshing pools and potholes for swimming, with easy access to flat rock "beaches" for sunning and picnicking. During high water, the entire area can be engulfed with cascading water. During normal conditions, there is one major waterfall, a 20-foot plunge over granite.
The hike to Diana's Baths is an easy half-mile. There is a large parking lot at the entrance to the path and a pay station. Visitor must buy and display a daily pass on the dashboard. Cost is $3 a day.
614 West Shore Road (Off Route 3A) Bristol, NH, 03222 Phone: 603-744-2197
Fresh water swimming, hiking, boat launch, picnicking, beautiful lake and island views
The beach at Wellington State Park is on Newfound Lake, a clear and beautiful mountain lake. Beach has a concession stand, volleyball and horseshoe courts. Nice for picnicking. See
full description
of Wellington State Park.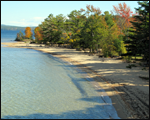 266 Scenic Road (Route 11) Gilford, NH, 03246 Phone: 603-293-7821
Lake swimming and fishing; boat ramp; picnicking
Six hundred-foot sandy beach on Lake Winni welcomes swimming, paddling, and fishing. See
full description
of Ellacoya State Park
40 Pawtuckaway Road Nottingham, NH, 03290 Phone: 603-895-3031
Lake beach with boat launch, canoe & kayak rentals; campground; hiking trails
Nice swimming beach on Pawtuckaway Lake, along with plentiful water sports and boat rentals. See
full description
of Pawtucketaway State Park.
Off Route 13 Weare, NH, 03281 Phone: 603-529-7112
Located about five miles east of the town of Weare, Clough State Park is located on the shore of Everett Lake, about five miles east of the town of Weare. Features include a 900-foot sandy beach with two bathhouses, flush toilets and changing areas; picnic tables in a large picnic grove. Admission fee.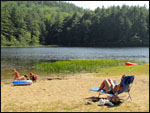 61 Deerfield Road Allenstown, NH, 03275 Phone: 603-485-9874
Full service park has water sports, camping, archery, horseback riding
State park of nearly 10,000 acres, offering hiking, biking, swimming and fishing are a few of the favorites. Canoe rentals at Beaver and Catamount Ponds, while rowboat rentals are also available at Beaver Pond. Fly-fishing at Archery Pond. The park is open weekends starting in late May; then daily June through September. Call or check Web site for exact opening and closing dates. A day-use fee is collected at the toll booth near Catamount Pond.
See
full description
of Bear Brook State Park
94 State Park Road (Route 16) Tamworth, NH, 03886 Phone: 603-323-7350
Swimming, trout fishing, camping
Some of the best swimming in the White Mountain region can be found in 140-acre White Lake State Park. The park lies on the shore of White Lake. The park is open weekends only starting in late May, then daily from late June through early October. Visitors may rent kayaks, canoes, paddleboats, and rowboats.
See
full description
of White Lake State Park
397 Forest Lake Road (Route 116) Dalton, NH, 03598 Phone: 603-466-3860
Long sandy beach welcomes water sports; also mountain biking is done here
The park has a 200-foot-long sandy beach for swimming, fishing, and boating. Picnicking and mountain biking also are popular at this park.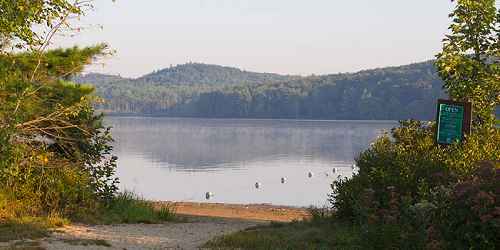 Route 136 Greenfield, NH, 03047 Phone: 603-547-3497
Lake for water sports, boat rentals, camping, no hookups
An undeveloped lake offers swimming and boating. Canoes are Kayaks are offered for rent. See
full description
of Greenfield State Park.