New Hampshire cross country skiing areas welcome all comers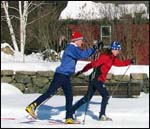 New Hampshire has a large variety of places to do cross-country (Nordic) skiing. Some are connected to big downhill (Alpine) ski areas and many more operate as cross country touring centers that specialize in that form of skiing alone. Most places that welcome cross-country skiers also offer snowshoeing, along with snowshoe rentals and lessons. New Hampshire Parks & Recreations offers a bunch of helpful
snowshoeing resources
.
A few touring and Nordic centers allow skiers bringing their dog companions. At least one Nordic ski center can set you up with a
skijoring
harness to ski while being pulled by dogs. A good overall source of information on cross-country skiing in New Hampshire is
Ski NH Cross Country Skiing
.
Route 16 at Pinkham Notch Gorham, NH, 03581 Phone: 603-466-3988
Outfitter and outdoor center with 45 km of trails for cross-country (XC) skiing, snowshoeing, and snow tubing; family friendly
Great Glen Trails Outdoor Center is a family- and kid-friendly place for cross-country skiing in the classic and skate ski styles; snowshoeing; and snow tubing. It has 45 kilometers of both groomed and back country trails. A beginner's section outlines everything you need to do cross-country skiing. Back country trails for experienced Nordic skiers. Trails are groomed every day for classic and skating skiing; most trails have two tracks. Snowshoeing may be done on all the groomed or marked back country trails In the White Mountain National Forest. An Appalachian Mountain Club naturalist conducts Moonlight Snowshoe tours.
SnowCoach tours are offered up to tree line of Mount Washington. Glen View Café offers many food choices and great views from the dining room.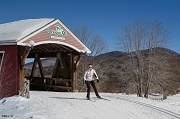 153 Main Street Jackson, NH, 03846 Phone: 603-383-9355
Groomed trails and trailside amenities in Jackson
Jackson Ski Touring features 150 km of the finest, state of the art groomed ski trails in the Eastern United States. The scenery is spectacular and the skiing is as slow and easy through old growth forest or as heart pounding as your abilities allow on an international race course. Trails also connect with A.M.C. trails in Pinkham Notch and White Mountain National Forest backcountry adventure trails. Voted the #1 Snow Shoe Friendly Touring Center by Snowshoe Magazine, the center maintains 25 miles (40km) of self guided snowshoe trails and offers guided snowshoe tours. There's a top notch ski school, full service rental shop, parking lots, wax room, free WI-FI access and discounts at the Gorham Bike & Ski Sport Shop.
Nordic Center at Waterville Valley
Town Square Waterville Valley, NH, 03215 Phone: 603-236-4666
70 km of trails for all abilities for XC skiing and snowshoeing; village provides all comfort needs
The White Mountain National Forest is the setting from 70 kilometers of trails groomed daily for classic track and ski skate styles. Trails for all skill levels depart from Nordic Center in Town Square.

The Nordic Center offer a large variety of rental and retail gear for cross country skiing and showshoeing, child trailer sleds known as pulks, repairs, waxing, and tuning. Open daily, 8:30 a.m.-4 p.m. The Village offers lots of places to eat, shop, and enjoy ice skating, fireworks, sleigh rides, and seasonal events.
Mt. Washington Valley Ski Touring & Snowshoe Center
279 Route 16 -- 302 Intervale, NH, 03812 Phone: 603-356-9920
45 km of riverside, wooded and village trails for cross country skiing and snowshoeing
Trails travel though hayfields, spruce and hemlock forests, and hills, More than half of the network is rated easy. Trail are groomed for classic and skate styles of Nordic skiing and for snowshoeing. These trails connect Intervale, Kearsarge, and North Conway Village. Skiers and snowshoers can enjoy views of the Saco River and Mount Washington.

The Northern part of the trail network includes easy trails from the Touring Center toward the inns along Route 16A in Intervale or along the Saco River toward North Conway. The Central section includes easy trails from Inns near the Scenic Vista. Travel into North Conway through Whitaker Woods or head north along the Saco River. The Village section of the network includes the trails through Whitaker Woods in North Conway. People may ski with their dogs only in Whitaker Woods. Day memberships are $7 to $15, depending on skier age and time of week.
Bretton Woods Nordic Center at the Mount Washington Resort
Route 302 Bretton Woods, NH, 03575 Phone: 603-278-3322
100 km of trails adjacent to Mount Washington Resort for XC skiing and snowshoeing; ice skating; rentals; lessons
On the grounds of the historic Mount Washington Hotel and the White Mountain National Forest, the Bretton Woods Nordic Center is on the grounds of the Mount Washington Hotel and is among the biggest cross country areas in the East, with a 100-kilometer trail network. Ice skating is available.

Trails cross terrain that includes fields, hard wood forests, past ponds and streams. Groomed for classical track Nordic skiing and skate skiing or snowshoeing. Some trails are part of the Mount Stickney system. Warming cabins may be found on some trails. Nordic racing program.

Trails passes for a day are $7 to $14; chairlift ride to Mountain Road Trail is $10; on Wednesdays except holidays, two may ski for the price of one. Also available are Learn to Cross Country Ski packages, including passes, rentals and lessons.
Dartmouth Cross Country Ski Center
Dartmouth Outing Club House, Oscom Pond and Oak Hill Hanover, NH, 03755 Phone: 603-643-6534
Outdoor sports center adjacent to pond offers 26 km of groomed trails for XC skiing and snowshoeing; ice skating; rentals & lessons
This Nordic ski center offers 26 kilometers of groomed cross country ski trails on Oak Hill and Garipay Field. The center has two facilities: at the Dartmouth Outing Club House off Hilton Field Road on Occom Pond (where visitors can rent equipment rentals for skiing and skating), and at Oak Hill (to get to Oak Hill, travel north on Route 10 past Hanover Country Club, turn right at the Co-op gas station, then take a sharp left after the road turns to dirt).
Hours: Tuesday-Friday, 10 a.m. to 6 p.m. at DOC House and 11 a.m. to 5 p.m. at Oak Hill); weekend, 9 a.m. to 5 p.m. at both locations. Hours may depend on snow conditions so call ahead. For information on telemark, winter mountaineering, and other winter sports, call 603-646-2428.
Purity Spring XC & Snowshoe Reserve
Eaton Road / Route 153 Madison, NH Phone: 603-367-8896
22 km of trails for all abilities for XC skiing and snowshoeing; Purity Spring Resort provides all comfort needs
The Purity Spring XC and Snowshoe Reserve features a scenic trail network that wind through forests surrounding Purity Lake and twist through tall pines in the adjacent New Hampshire Audubon Sanctuary. 15 km's of our trail network are tracked and skate groomed allowing classic and skate skiing options. Nordic ski and snowshoe rentals are available at the King Pine Rental Shop and lessons are available. The Nordic trails interconnect with Purity Spring Resort lodging, ice skating, fireworks, sleigh rides, and seasonal events and dining at Traditions Restaurant and Pub.
Bear Notch Ski Touring Center
Route 302 Bartlett, NH, 03812 Phone: 603-374-2277
65 km of trails for Nordic (XC) skiing and snowshoeing with views of the White Mountains
An old farmhouse is the base for cross country skiing and snowshoeing. Sixty-five kilometers of groomed trails in the White Mountains at a location between Bretton Woods and North Conway. Ski or snowshoe among beautiful views, past waterfalls, across meadows and over tough hills. Lessons for all abilities. Lots of equipment for rent or sale, and demonstrations. Day passes are $17 for adults, $12 for seniors over age 60, and free for youth with an adult.
Windblown Cross Country
1180 Turnpike Road (Rte. 124/123) New Ipswich, NH, 03071 Phone: 603-878-2869
Variety of trails with big mountain views for Nordic skiing and snowshoeing; base lodge; overnight hut; rentals and lessons
This Nordic skiing and snowshoeing center is the high mountains entering the Monadnock Region. Forty kilometers of trails that accommodate all ability levels. Continuous grooming; rentals of ski and snowshoeing equipment, lessons on weekends. A base lodge offers restrooms, wood-heated lounge, healthy food or bring-your-own-lunch. The lodge and trails are open 9 a.m. to 5 p.m. when the snow conditions permit.

A Warming Hut cabin is open to all skiers during the day and may be rented overnight by up to 15 people. Overnight users ski or snowshoe in a half a mile, packing in their food and sleeping gear. Trails fees are $10 to $15 depending on age of skier and days of the week. Snowshoeing is $10 a day. Center accepts cash or checks; no credit cards or debit cards. An ATM is provided in the Ski Shop.
Granite Gorge Cross Country
341 Route 9 Keene-Roxbury, NH, 03431 Phone: 603-358-5000
Nordic area next to downhill ski mountain; weekend night skiing; snowshoeing
This cross-country ski area is adjacent to a downhill (Alpine ski mountain) situated in a cold hollow, Fourteen kilometers of groomed trails allow for classic and skate skiing. A one kilometer lighted loop is covered with manmade snow open for skiing on weekend nights. Snowshoeing is offered on wooded trails.

Low fees for full- and half-day skiing are $7 to $10, depending on age. Snowshoe trail fees including equipment are $8, and free for young children, Lessons and equipment rentals are available. Hours: Wednesday-Thursday, noon to 4:30 p.m.; Saturday and Sunday, 10 a.m.-4 p.m..
Gunstock Cross Country and Snowshoe Center
Route 11A Gilford, NH, 03429 Phone: 603-293-4341
Nordic center has trails for skiing and snowshoeing, lessons, rentals, tours, and skiing with your dog (skijoring)
Nordic ski center adjacent to Alpine (downhill) ski mountain has extensive trails for skate skiing and classic track skiing as well as single-track snowshoe trail in the woods. Lots of lessons and program for beginner skiers. Mountain Magic program for beginner skiers includes a group lesson, trail pass, and rental equipment. Trails for skijoring -- hands-free skiing harnessed to your dog -- and skijoring lessons are available. Various tours include Snowshoe Tours at Gunstock Snowshoe Park, Saturday Night Ridge Tour for snowshoeing, Nature Tour walk in the woods, Adventure Tours, and custom tours.

The Nordic center is full stocked with new cross-country skiing equipment for sale or rent. Trail passes by season and by the day allow access to cross country and snowshoe trails. Day passes cost $12 to $17, depending on age. Two-for-the-price-of-one tickets on Magic Mondays.
Nansen Ski Club at Milan Hill State Park
427 Milan Hill Road Milan, NH, 03588 Phone:
12 km of challenging trails for Nordic skiing and snowshoeing at outdoor sports club
This network of about 12 kilometers of challenging groomed trails is operated by a club as a non-profit. This is hilly skiing. Grooming is done by volunteers, but there is no sweep of trails at the end of each day. Prepare for wind chill at the top of the hill
Pine Hill XC Ski Club
Park at: 220 Mountain Road, 0.5 mile east from junction with Shaker Road New London, NH Phone: 603-381-8685
Private club welcomes day skiers; 15 miles of trails for classic skiing; rentals from nearby but offsite ski shop; lessons
Pine Hill Ski Club was created to maintain cross country ski trails in New London, Sutton, and Wilmot. Skiing is on 15 miles of trails groomed for classic track Nordic skiing. Most ski trails are in rolling terrain that most beginners and intermediate skiers can do. Two trails for advanced skiers. Dogs are welcome.

Non-members of the club may use the trails for a daily trail fee donation of $12. Robb's Hut will be open on Saturdays or Sundays, 11 a.m. to 2 pm., as a destination to rest and eat.
Eastman Cross Country Center
10 Clubhouse Lane Grantham, NH, 03753 Phone: 603-863-4500
Community sports group welcomes guests on 12 trails for XC skiing and snowshoeing; ice skating offered
The community recreational organization welcomes non-members for Nordic skiing, snowshoeing, and ice skating on days passes. 12 trails, from easy to difficult. Lessons and ski clinics are conducted by professional instructors. Lessons on weekend. Day passes are $3 to $9.