Fairs & festivals in NH entertain with music, food, art, outdoor fun for everyone
For more fun activities, see New Hampshire Events page
There is simply no end to the
great things to do
in the Granite state. From mountains to lakes, in cities, quaint towns and villages, you'll find celebrations of music, arts and crafts, local food and drink, balloon rides, history and heritage. Take part in ethnic and religious events and enjoy the fireworks and parades, amusement rides and much more.
Bring the family
and stay near it all for the time of your life.
Mount Sunapee Resort - 1398 Route 103 Newbury, NH, 03255 Phone: 603-224-3375
August 6-14, 2016 - 10am - 5pm daily, rain or shine!
Anyone who has browsed the retail stores of the League of New Hampshire Craftsmen recognizes the distinction between this group's work and simple hobby production. Each piece of glassware, pottery, textiles, jewelry and other forms of high craftsmanship is exquisite, showing the hand of a master. The League was founded during the Great Depression to support and promote craft makers' art; this deep history assures shoppers that these products are of the first quality. Besides enjoying and buying crafts, visitors to the annual fair can see craft demonstrations; join a workshop or class, including classes for kids; try on fashions and accessories at the CraftWear Exhibition; walk through the Sculpture Garden; and enjoy entertainment by strolling musicians, giant puppets, magicians, mind readers, and much more!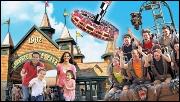 85 North Policy Street Salem, NH, 03079 Phone: 603-893-3560
June 18 to October 30, 2016 -- Canobie Is a Festival Every Day
You could argue that every day is a festival day at Canobie Lake Park, since the place brims with rides, games, summer indulgence food, and fun. Even so, the festive atmosphere ramps up with a calendar of events stretching from April to October. At the Dancehall Theater's two stages and The Gazebo, guests can enjoy dances parties, musical tribute acts and the weekly Battle of the Bands, along with magic shows, juggling and circus acts, and game shows. At other locations, extreme BMX bicycle stunt riders will astonish the kids and Chinese acrobats will have some of the young ones planning to run away and join the circus. Every Saturday throughout July and August there's a stunning fireworks display. And throughout the season we'll have special recognition days to honor members of the armed forces, moms, dads, and other heroes. Festivity is Canobie's specialty!
60 Loon Mountain Road Lincoln, NH, 03251 Phone: 603-229-1975 Toll-Free: 800-358-7268
September 16-18, 2016 -- Come celebrate all things Scottish
New Hampshire and the White Mountains are rich with interesting festivals all year long, but few can surpass the New Hampshire Highland Games & Festival for a dramatic immersion into a colorful, hearty culture. Be part of this 3-day celebration of Scottish music, food and drink, athletics, dance, heritage and more! Watch world-class athletes compete in games like the caber toss, hammer throw, weight over bar, stone carry. Scottish and Celtic performers will be playing traditional piping and drumming to bagpipe-infused rock 'n' roll. Explore the Clan Village to see the attire and customs of 65 clans and learn their history. Children will love the sheep dog trials and the special Festival Youth Program, which features games, crafts, storytelling, and more. Adults can savor tastings of authentic Scotch whiskies and beers.
Event Dates & Times: September 16-18, 2016 - 8am - 5pm Daily. A full schedule including off-site events will be available in August.
The Naswa Resort 1086 Weirs Blvd. Laconia, NH Phone: 603-366-4341
July 29-31, 2016
Have a perfect beach weekend starting with a lake party on Friday night and following with relaxing beach days on Saturday and Sunday. Live Jimmy Buffet-Style music fills the air and takes your cares away. Free admission.
Hampton Beach, Ocean Blvd. Hampton Beach, NH Phone: 603-926-8717
August 15-18, 2016
The Hampton Beach Children's Festival opens on August 15 with a magic show by BJ Hickman on the Hampton Beach Seashell Stage and builds up to a Giant Costume Parade that marches almost the length of Hampton Beach on Friday. Each day will be filled with activity, including mini-golf, ice cream, dancing, story tellers, balloons, and more. There's even a kids' bumper sticker contest. All festival activities are free and open to the public.
Sugar Shack Campground, Route 175 Thornton, NH Phone: 603-726-3867
August 19-21, 2016
The festival features award-winning blues artists, food vendors, craft vendors, a climbing wall and many fun activities for children including Saturday night fireworks. Guests can browse craft and food vendors.
Lineup of performers.
Cost: Friday, $25-$35; Saturday, $50-$60; Sunday, $30-$40; weekend pass, $70; children under 12 are free with a parent.
44 Jones Rd, 301 2nd NH Turnpike, 18 E Washington Rd, 5 Center St. Hillsborough, NH Phone: 603-464-5858
August 20-21, 2016
Travel back in time at the eighth annual Living History event, where historic figures have come to tell their stories and teach about life before today. Characters such as Laura Ingalls Wilder, Abigail Adams and Betsy Ross will be there, along with activities such as panning for gold, soap making, candle dipping, and butter churning. There will be plenty of food available for purchase. Admission: Adults, $10; 6-17, $5; Seniors, $8; 5 & under, free. Times: Saturday, 9 a.m. to 5 p.m.; Sunday 9 a.m. to 4 p.m.
Branch Hill Farm, 307 Applebee Road Milton Mills, NH Phone: 603-978-7125
August 13, 2016
This family-friendly celebration of the natural world features fun and educational outdoor activities: take a hayride to the river and look for wildlife in its clear waters, observe and learn about rescued wild animals, try fishing with your kids or let them explore a corn maze or petting zoo, watch demonstrations of traditional rural skills, take your child on a discovery walk in the woods or join a guided family forest walk, and much more! Rain or shine; no pets please. Admission: Adults, $5; family, $10; kids age 12 and younger, free Time: 10 a.m. - 3 p.m.
Gunstock Mountain Resort, Route 11A Gilford, NH Phone: 978-346-4577
August 3-6, 1016
Don't miss this year's line up of top Christian artists like Skillet, Switchfoot, Michael W. Smith, and may more. See fest website for schedule of performances.
Sugar Shack Campground, 2010 Route 175 Thornton, NH Phone: 603-726-3471
August 4-7, 2016
Enjoy music from national bluegrass bands like Rhonda Vincent and the Rage, Seldom Scene, The Gibson Brothers, Blue Highway, Helen Highwater Stringband, Chris Jones & the Night Drivers, Lonely Heartstring Band, Gold Heart, Zink & Company, Beartracks, Bluegrass Gospel Project, NewFound Grass, Parker Hill Road Band, Robinson Gospel Jam. Camping encouraged!
Tickets and fees
Route 10 North Haverhill, NH Phone:
July 27-31, 2016
The North Haverhill Fair features concerts, the North Haverhill's Got Talent competition, fireworks, children's events (face painting, milk mustache competition Kiddie Parade, etc.), horse and ox pulling, 4H exhibits and more. Live music is Lauren Alaina from My Next Boyfriend video on Friday evening and Hotel California: The Original Eagles Tribute on Saturday evening. Fireworks display at 10 p.m. on Saturday Admission: Adults, $12; seniors, $5; children under 12 admitted free.
July 16-August 13, 2016
More than a month of wonderful music! Monadnock Music's 50th season features great programs, wonderful artists, and is being performed throughout the Monadnock region.
Festival schedule
2145 White Mountain Highway Center Ossipee, NH Phone: 603-323-8181
August 13-14, 2016
Over 200 Native Americans from New England come together to celebrate their heritage at this festival. The party welcomes visitors to share in the activities and join in the traditional dances. Peruse the vendors and sample elk, buffalo or venison burgers with sweet potato chips. Time: 10 a.m. to 5:30 p.m. Admission: Donations only.