Sugar Shack Campground Thornton, NH Phone: 603-726-3471
July 30-August 2, 2015
Family weekend of acoustic country and bluegrass music, camping, workshops, dance, swimming, tubing, food and musical vendors. Family activities include movies in the clubhouse and a children's music academy hosted by other professional musicians. The kids will attend daily classes culminating with a children's academy performance on the main stage on Sunday afternoon.
Rotary Arts Pavilion at Henry Law Park, Central Avenue Dover, NH Phone: 603-742-2218
July 10-August 21, 2015
This festival will be filling downtown Dover with the sound of music. Back again will be the Friday Night Headliner Series, the Shark in the Park Classic Rock Luncheon Series, the Farmers' Market Acoustic Stage, Tuesday Morning Children's Shows and a Movie Night. See full schedule
here.
.
Route 33, Stratham Hill Park Stratham, NH Phone: 603-772-4977
July 16-19, 2015
Horse pulls, oxen pulls, tractor pulls, lobster lunch, lasagna supper, chicken barbecue, dunking booth, 4-H exhibits and activities, the Miss Stratham Fair pageant, pie eating contest, pig scrambles, carnival rides and the midway, the Sunday night fireworks extravaganza and much more. Time: 8 a.m.-10 p.m.
Cost: Adults, $7; seniors age 65 and older, $4; children age 6 to 12, $4; adult four-day pass, $20; seniors and children four-day pass, $12.
Mill Falls Marketplace, 312 Daniel Webster Highway Meredith, NH Phone: 603-279-6121
August 29-30, 2015
Eighty juried artists and craftsmen present their creations to the public. Featuring live music and food on-site.
July 25, 2015
Highlights of this year's fair include artisan demonstrations, Morris dancers, farm animal and antique tractors displays, canoe polo in the Fire Pond. Also, live music by Bow Junction (11:30 a.m. and 1:30 p.m.) and Amy Conley (11 a.m. and 2 p.m.) and Badger's Drift (2 and 4 p.m.) Enjoy the library book sale, The Legendary What-Not-Sale, baked goods and crafts tables.
Directions to the fair.
Branch Hill Farm, 307 Applebee Road Milton Mills, NH Phone: 603-978-7125
August 8, 2015
Take a hayride to the river and look for wildlife living in its clear waters, observe rescued wild NH animals, try fishing with your kids or let them explore a corn maze or petting zoo, go on a guided walk with nature experts, watch demonstrations of traditional rural skills, take your child on a discovery walk in the woods and much more! Rain or shine; no pets please, rest rooms and most events are wheelchair accessible. Adults, $5; family, $10; kids age 12 and younger, free 10 a.m. - 3 p.m.
Silver Center for the Arts, Plymouth State University, 17 High Street Plymouth, NH Phone:
July 7-August 6, 2015
The New Hampshire Music Festival is a summer music festival that honors the tradition of classical music while exploring new artistic paths. ​See festival website for schedule of events.
247 Monadnock Hwy (Route 12) Swanzey, NH, 03446 Phone: 603-357-4740
July 29-August 2, 2015
The Cheshire fair is back with lots to see and do for the entire family, including demolition derby, ATV rodeo, bull riding, fireworks, magic shows, performing animal shows, singers, dancers, bands, arts and crafts, karaoke shows, puppet shows, 4-H exhibits, draft horse pulls, oxen and tractor pulls, woodsmen and pie eating contests and more.
A weekend of fun showcasing all the North Country has to offer! Car show, craft fair, outdoor & family activities...and much, much more! Contact North Country Chamber of Commerce 603-237-8939 or visit: www.moosefestival.com Time: 9 a.m.-9 p.m. Cost: Free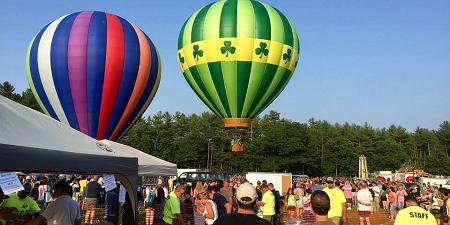 Grimes Field, Preston Street Hillsborough, NH, 03244 Phone: 603-464-0377
July 9-12, 2015
Come for the weekend and explore one of Hillsborough's many small town attractions. Admission is free! Balloon lift offs, tethered rides and nightglow events subject to weather conditions along with fireworks on Saturday night at 10 p.m. Amusement rides, games, food and entertainment everyday. Time: 11 a.m.-11 p.m.
Mill Street Littleton, NH Phone: 603-444-6561
July 11, 2015
The cool, rich tastes of amazing brews, local flavors, and groovy tunes will lift your spirit as you take in the views of the Ammonoosuc River on Mill Street at this year's Taste, Tunes, & Craft Beer Festival on Saturday, July 11th. Admission: $30. Email: info@littletonareachamber.com
American Independence Museum, Ladd Street near Water Street Exeter, NH Phone: 603-772-2622
July 18, 2015
On July 16, 1776, the Dunlap Broadside of the Declaration of Independence arrived in Exeter from Philadelphia. Today, Exeter celebrates this momentous occasion. Join the crowd escorting President Washington down Water Street, see the horseback delivery of the Declaration of Independence and listen to the public reading (complete with hecklers!), chat with historic role-players, step to the stirring music of the Lincoln Fife and Drum and delight in the maneuvers and cannon firings of the militias. Enjoy plenty of food, music, sidewalk sales and children's activities, then stay for the town's evening fireworks and live music.