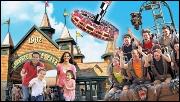 85 North Policy Street Salem, NH, 03079 Phone: 603-893-3560
June 18 to October 30, 2016 -- Canobie Is a Festival Every Day
You could argue that every day is a festival day at Canobie Lake Park, since the place brims with rides, games, summer indulgence food, and fun. Even so, the festive atmosphere ramps up with a calendar of events stretching from April to October. At the Dancehall Theater's two stages and The Gazebo, guests can enjoy dances parties, musical tribute acts and the weekly Battle of the Bands, along with magic shows, juggling and circus acts, and game shows. At other locations, extreme BMX bicycle stunt riders will astonish the kids and Chinese acrobats will have some of the young ones planning to run away and join the circus. Every Saturday throughout July and August there's a stunning fireworks display. And throughout the season we'll have special recognition days to honor members of the armed forces, moms, dads, and other heroes. Festivity is Canobie's specialty!
60 Loon Mountain Road Lincoln, NH, 03251 Phone: 603-229-1975 Toll-Free: 800-358-7268
September 16-18, 2016 -- Come celebrate all things Scottish
New Hampshire and the White Mountains are rich with interesting festivals all year long, but few can surpass the New Hampshire Highland Games & Festival for a dramatic immersion into a colorful, hearty culture. Be part of this 3-day celebration of Scottish music, food and drink, athletics, dance, heritage and more! Watch world-class athletes compete in games like the caber toss, hammer throw, weight over bar, stone carry. Scottish and Celtic performers will be playing traditional piping and drumming to bagpipe-infused rock 'n' roll. Explore the Clan Village to see the attire and customs of 65 clans and learn their history. Children will love the sheep dog trials and the special Festival Youth Program, which features games, crafts, storytelling, and more. Adults can savor tastings of authentic Scotch whiskies and beers.
Event Dates & Times: September 16-18, 2016 - 8am - 5pm Daily. A full schedule including off-site events will be available in August.
Mount Sunapee Resort - 1398 Route 103 Newbury, NH, 03255 Phone: 603-224-3375
August 6-14, 2016 - 10am - 5pm daily, rain or shine!
Anyone who has browsed the retail stores of the League of New Hampshire Craftsmen recognizes the distinction between this group's work and simple hobby production. Each piece of glassware, pottery, textiles, jewelry and other forms of high craftsmanship is exquisite, showing the hand of a master. The League was founded during the Great Depression to support and promote craft makers' art; this deep history assures shoppers that these products are of the first quality. Besides enjoying and buying crafts, visitors to the annual fair can see craft demonstrations; join a workshop or class, including classes for kids; try on fashions and accessories at the CraftWear Exhibition; walk through the Sculpture Garden; and enjoy entertainment by strolling musicians, giant puppets, magicians, mind readers, and much more!
Strawbery Banke Museum Portsmouth, NH Phone:
June 22, 2016
Seventy Portsmouth restaurants serve their best chow under tents on the grounds of the Strawbery Banke Museum to raise money for the "No Kid Hungry" campiagn fo Share Our Strength. The evening also includes a silent auction, and VIP lounge, and dance music. Time: 6:30-10 p.m. Admission: General admission, $85; VIP admission, $175.
Anheuser-Busch Facility, 221 Daniel Webster Highway Merrimack, NH, 03054 Phone: 603-589-2333
June 17-19, 2016
Enjoy the best barbecue in New Hampshire with music and entertainment! Many vendors will be selling ribs, pulled pork, burgers, hot dogs, ice cream, cotton candy and more! Musical performances by Epic Season, Hunter, Never Easy, Walkin The Line, Tom Dixon Band, Rory Scott Band, Mr. Nick and the Dirty Tricks. There will be hot air balloon rides and many other activities for children, as well as tours of the Budweiser brewery. Time: Friday, 4-11 p.m.; Saturday, 11 a.m.-11 p.m.; Sunday, 11 a.m.-4 p.m. Cost: Admission is $10 at the gate; $7 purchased in advance online.
60 Loon Mountain Road Lincoln, NH Phone: 603-745-6621
June 24-26, 2016
The New England Brewfest is a blend of beer-infused social events, workshops, and tastings. Events on June 24 are the Cafe Lafayette Craft Beer Train, a two-hour train ride along the Pemigewassett River with foods and beer, and the One Love Brewery Beer Pairing Dinner. Events on June 25 are The Hop Talks and Saturday Night: ON TAP at Loon Mountain Resort, the weekend's main tasting. Events on June 26 are Brewers Brunch and a non-denominational service at the top of Loon Mountain. Minister Marcus Corey will discuss the connection between beer, history, culture, and religion. All Access Weekend Pass is $182; individual events are priced separately.
Gunstock Mountain Resort, Route 11A Gilford, NH Phone: 978-346-4577
August 3-6, 1016
Don't miss this year's line up of top Christian artists like Skillet, Switchfoot, Michael W. Smith, and may more. See fest website for schedule of performances.
Sugar Shack Campground, Route 175 Thornton, NH Phone: 603-726-3867
August 19-21, 2016
The festival features award-winning blues artists, food vendors, craft vendors, a climbing wall and many fun activities for children including Saturday night fireworks. Guests can browse craft and food vendors.
Lineup of performers.
Cost: Friday, $25-$35; Saturday, $50-$60; Sunday, $30-$40; weekend pass, $70; children under 12 are free with a parent.
Various locations; see description below Sugar Hill, Franconia, NH Phone: 603-823-5661
June 1-30, 2016
This yearly series of events honors the lupine as its blossoms create a breathtaking floral display against the majestic backdrop of the Franconia, Presidential, and Kinsman Mountain ranges.
June 1-30 -- Lupine Poetry Walk through the Fields of Lupines at the Sugar Hill Sampler, Sunset Hill Road, Sugar Hill.
June 11-12 – Open Air Market at Sugar Hill Carolina Crapo Building, Sugar Hill Historical Museum, Sugar Hill Meetinghouse. Vendors, artisans, businesses, entertainment, concerts, cooking demonstrations, and more. No fees and free parking. 10 a.m.-4 p.m.
June 12 – Concert with the Uncommon Folk. 1 p.m.
June 10-11 – Festivities at Harmony Park, Riverwalk & Mill Street, Littleton
June 11 – Pollyanna Day Celebration at Littleton Library, Main Street, Littleton.
June 14 – Swing & Sweets at Sugar Hill Meetinghouse. An evening of music for dancingby the Swing North Big Band with sweets provided by the best of local chefs. $10 per person; $18 per couple. 7:30 p.m.