Fairs & festivals in NH entertain with music, food, art, outdoor fun for everyone
For more fun activities, see New Hampshire Events page
There is simply no end to the
great things to do
in the Granite state. From mountains to lakes, in cities, quaint towns and villages, you'll find celebrations of music, arts and crafts, local food and drink, balloon rides, history and heritage. Take part in ethnic and religious events and enjoy the fireworks and parades, amusement rides and much more.
Bring the family
and stay near it all for the time of your life.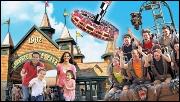 85 North Policy Street Salem, NH, 03079 Phone: 603-893-3560
June 18 to October 30, 2016 -- Canobie Is a Festival Every Day
You could argue that every day is a festival day at Canobie Lake Park, since the place brims with rides, games, summer indulgence food, and fun. Even so, the festive atmosphere ramps up with a calendar of events stretching from April to October. At the Dancehall Theater's two stages and The Gazebo, guests can enjoy dances parties, musical tribute acts and the weekly Battle of the Bands, along with magic shows, juggling and circus acts, and game shows. At other locations, extreme BMX bicycle stunt riders will astonish the kids and Chinese acrobats will have some of the young ones planning to run away and join the circus. Every Saturday throughout July and August there's a stunning fireworks display. And throughout the season we'll have special recognition days to honor members of the armed forces, moms, dads, and other heroes. Festivity is Canobie's specialty!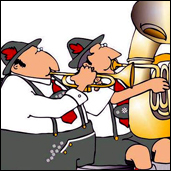 Hillsborough Downtown Butler Park Hillsborough, NH Phone:
September 24, 2016
Try the best German food outside of Germany, right in downtown Hillsborough. Authentically prepared schnitzel, sauerkraut, potato salad, breads, and delectable desserts served under the tent. Harpoon gold medal award winning German beer and wine bar.

Craft vendors and entertainment, including the Zouerkraut Bavarian band. Enjoy tasty, German cuisine, oom-pah music and shopping. Hosted by the Greater Hillsborough Chamber of Commerce.
60 Loon Mountain Road Lincoln, NH, 03251 Phone: 603-229-1975 Toll-Free: 800-358-7268
September 16-18, 2016 -- Come celebrate all things Scottish
New Hampshire and the White Mountains are rich with interesting festivals all year long, but few can surpass the New Hampshire Highland Games & Festival for a dramatic immersion into a colorful, hearty culture. Be part of this 3-day celebration of Scottish music, food and drink, athletics, dance, heritage and more! Watch world-class athletes compete in games like the caber toss, hammer throw, weight over bar, stone carry. Scottish and Celtic performers will be playing traditional piping and drumming to bagpipe-infused rock 'n' roll. Explore the Clan Village to see the attire and customs of 65 clans and learn their history. Children will love the sheep dog trials and the special Festival Youth Program, which features games, crafts, storytelling, and more. Adults can savor tastings of authentic Scotch whiskies and beers.
Event Dates & Times: September 16-18, 2016 - 8am - 5pm Daily. A full schedule including off-site events will be available in August.
Many locations in Portsmouth Portsmouth, NH Phone: 413-203-5467
September 24-25, 2016
The Portsmouth Maritime Folk Festival traditional American and English folk music at the restaurants, pubs, cafés, churches and streets of Portsmouth.
Opening the festival Saturday morning, a crew of maritime singers, shantymen, and privateers will start at 10 a.m. in front of RiRa in the Market Square, and walk through the town, singing as they go.
A full concert will be held on Saturday evening at the United Methodist Church in Portsmouth, 129 Miller Avenue. The acts in 2015 are Two Old Friends, Becky Tracy & Keith Murphy, and The Johnson Girls.
Maritime Open Sings are open to everyone. They feature sea shanties and easy choruses, and seamen's off-duty songs, known as forebitters. Open Sings are held at pubs that are also full-service restaurants, suitable for all ages, including kids.
Schedule.
516 Main Street Lancaster, NH Phone: 603-788-4531
September 1-5, 2016
The fair combines all of the activities of an old-fashioned country fair with plenty of variety to keep everyone in the family entertained. Children will love the colorful midway with exciting rides and train rides. The Lancaster Fair is all about agriculture: working cattle demonstrations; livestock competitions, including horse pulls, sheepdog trials, and an oxen log obstacle course; 4-H exhibits; and exhibitions of homemade crafts and fresh vegetables and flowers. Featured entertainment in 2016 by Lorie Morgan and Pam Tillis.
66 Main Street Antrim, NH Phone:
September 16-17, 2016
This traditional New England harvest festival features arts & crafts, a home-made parade, fireworks, games for kids, live music and lots of food. Also, the festival includes at skateboard race, the Antrim Can/Am Slalom Championships. Admission to most events is free; food is sold.
Ocean Boulevard (Center Beach) Hampton Beach, NH Phone: 603-926-8718
September 9-11, 2016
Sixty Seacoast restaurants serving favorite New England seafood dishes. Cooking demos, arts and crafts vendors; giant beverage tent; beach cabana bar; entertainment on two stages; Kiddie Land for little ones, fireworks on Saturday; and much more. See festival website for detailed schedule. Time: Friday, 4-9 p.m.; Saturday, 10 a.m.-9 p.m.; Sunday, 10 a.m.-6 p.m.
Main Street Winchester, NH Phone:
September 24, 2016
Winchester's annual Pickle Festival celebrates the Polish heritage of this town, Downtown Winchester becomes the fairgrounds, with Main Street (Route 10) the parade route. Kids march along with the parade, which features local pickle-themed floats, plenty of pickle costumes and marching bands. Along the route are craftsmen (many demonstrating), food booths, and a lively competition among local cooks for the best jar of pickles. There are free pickles for everyone. Live music goes on all day, with everything from blues and country-western to a barbershop quartet and violin ensemble.