Fairs & festivals in NH entertain with music, food, art, outdoor fun for everyone
For more fun activities, see New Hampshire Events page
There is simply no end to the
great things to do
in the Granite state. From mountains to lakes, in cities, quaint towns and villages, you'll find celebrations of music, arts and crafts, local food and drink, balloon rides, history and heritage. Take part in ethnic and religious events and enjoy the fireworks and parades, amusement rides and much more.
Bring the family
and stay near it all for the time of your life.
Mount Sunapee Resort - 1398 Route 103 Newbury, NH, 03255 Phone: 603-224-3375
Rain or shine! August 5-13, 2017 at Mt Sunapee Resort, 10am-5pm daily
Discover New Hampshire's creative side at the Annual Craftsmen's Fair. Shop for quality, one-of-a-kind craft that will take your breath away. Serious collectors and casual visitors alike will find distinctive craft in all media areas and price ranges. Connect with the makers and learn their stories. Watch stimulating demonstrations such as glassblowing, basket weaving, and wood turning. The Fair engages kids of all ages with activities to spark their creativity, including our all day pottery workshop, printmaking, beading and fiber workshops. Craft your style with inspiration found in the Living With Craft, CraftWear, and the Sculpture Garden exhibitions. Live, original music provides a wonderful soundtrack to the Annual Craftsmen's Fair experience.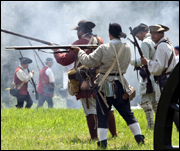 44 Jones Rd, 301 2nd NH Turnpike, 18 E Washington Rd, 5 Center St. Hillsborough, NH Phone: 603-464-5858
August 19-20, 2017
At the Living History event, historic figures come to tell their stories. This year's guest is President Ulysses S. Grant. Venture on a trip through Hillsborough and discover the historic villages, the heritage museum, stone arch bridges. Take a horse-drawn wagon ride; talk with period artisans; hear the 2nd South Carolina String Band; follow a battle through the woods. Sew a flag with Betsy Ross, make butter and ice cream, pan for gold. Enjoy a dozen children and family hands-on activities. Dine on grilled chicken, pulled pork, Plowman's Lunch, homemade pastries, and watermelon.
Admission: Adults, $15; seniors, $12; children age 6-17, $5.
Times: Saturday, 9 a.m. to 5 p.m.; Sunday 9 a.m. to 4 p.m.
60 Loon Mountain Road Lincoln, NH, 03251 Phone: 603-229-1975 Toll-Free: 800-358-7268
Come celebrate all things Scottish!
New Hampshire and the White Mountains are rich with interesting festivals all year long, but few can surpass the New Hampshire Highland Games & Festival for a dramatic immersion into a colorful, hearty culture. Be part of this 3-day celebration of Scottish music, food and drink, athletics, dance, heritage and more! Watch world-class athletes compete in games like the caber toss, hammer throw, weight over bar, stone carry. Scottish and Celtic performers will be playing traditional piping and drumming to bagpipe-infused rock 'n' roll. Explore the Clan Village to see the attire and customs of 65 clans and learn their history. Children will love the sheep dog trials and the special Festival Youth Program, which features games, crafts, storytelling, and more. Adults can savor tastings of authentic Scotch whiskies and beers.
Event Dates & Times: September 15-17, 2017 - 8am - 5pm Daily. A full schedule including off-site events will be available in August.
Jaffrey Airport / Silver Ranch Airport, 190 Turnpike Road (Route 124) Jaffrey, NH Phone:
August 19, 2017
The fireworks are a family event, the best fireworks show in New England. Live entertainment, sky divers, vendors. This year's theme: Motown Express. Time: 4-11 p.m.; fireworks at 9 p.m. Admission: Walk-Ins, $10; cars, $60.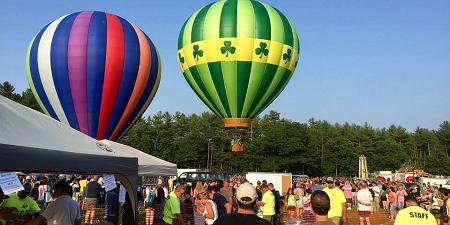 Grimes Field, 29 Preston Street Hillsborough, NH Phone: 603-464-5858
July 6-9, 2017
Hillsborough Balloon Festival & Fair offers everybody something; carnival rides, stage acts, a variety of food, the incredible hot air balloons, and more. The Saturday fireworks are one of the premier fireworks displays in all of New Hampshire. All proceeds benefit the Hillsboro Lions Club, the Hillsboro Fire Department, and the Greater Hillsborough Chamber of Commerce. Time: Thursday, 6-10 p.m.; Friday, 5-11 p.m.; Saturday, noon-11 p.m.; Sunday, noon-8 p.m. Admission: FREE; parking is a $10 donation per carload Phone: 603-464-5858 until June 30; 603-464-0377 on June 5-9 Email: info@hillsboroughnhchamber.org
Sugar Hill Sampler, Sunset Hill Road, and other sites Sugar Hill, Franconia, Littleton, NH Phone:
June 1-30, 2017
Paying homage to the annual blossoming of this captivating wildflower, the Celebration of Lupines is a time honored regional event. See website for details and schedule. Highlights:
Lupine Inspirational Walk on a mowed path through the Sugar Hill Sampler's Lupine Fields. At the Sugar Hill Sampler, Sunset Hill Road, Sugar Hill. All month.
Horse Drawn Wagon Rides Through the Lupines. Weather permitting. Small charge. At the Sugar Hill Sampler, Sunset Hill Road, Sugar Hill. All month.
Open Air Market with Artisan Demonstrations. June 3 and 4 at Sugar Hill Historical Museum, Sugar Hill Meetinghouse and other locations. Free. Weekend events include Native Flute with Path of Harmony, Piano Concert by Joseph Hansalik, History through Family Stories, NH storyteller Rebecca Rule, concert by Uncommon Folk, Wildflower Festival at The Rocks Estate (June 3), Touch A Truck, Family Hat Decorating, Disc Golf Tournament.
Pollyanna Gladfest Weekend. June 9-11. Events throughout Littleton and the premiere of "Pollyanna the Musical" by the Upstage Players.
Vintage Baseball Game. June 11 at Dow Field, Franconia. New Hampshire Granites vs. Dirigo Vintage Baseball Club of Maine.
Gunstock Mountain Resort, Route 11A Gilford, NH Phone: 978-346-4577
August 3-5, 2017
Don't miss this year's line up of top Christian artists like For King & Country, Matthew West, TobyMac, Temth Avbenue North. Rmed Collective, Crowder, Jars of Clay, Matt Mayer, Sidewalk Prophets, and many more. See website for details. Admission, from $47 for single days to $119 for three days.