New Hampshire fishing locations, licensing, regulations are easy to follow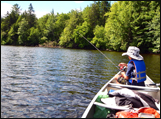 A fishing license is required for anyone 16 years of age and older. Fishing licenses allow the taking of all species in the freshwaters of the state, except Atlantic salmon brood stock. Temporary one-, three- and seven-day fishing licenses are available to non-residents. The dates for intended use will be asked at the time of purchase; the dates must be consecutive. Licenses may be purchased online or from one of many local retail stores.
Licenses are not required for fishing in saltwater unless taking any species of trout, salmon, smelt or shad in any state waters or while fishing through the ice in Great Bay or its tributaries. Fishing seasons vary. For more information visit the state
Fish and Game Department
website. Find a
boat ramp
.
94 State Park Road (Route 16) Tamworth, NH, 03886 Phone: 603-323-7350
Swimming, trout fishing, camping
Trout fishing is done at this park. See
full description
of White Lake State Park
Nash Stream
Off Route 110 to Emerson Road to nash Stream Road Odell, NH Phone: 603-788-4157
More than just one stream, this is actually 40,000 acres of undeveloped land. It's available for public use for hiking, fishing, paddling, hunting, snowmobiling, ATV riding, and cross-country skiing. Camping is not permitted. Information: www.nhdfl.org.
Portsmouth Fish Pier
Pierce Island Portsmouth, NH Phone:
Open year-round, this state pier offers a marina, refrigerated storage, ice, fuel, and a fishing area.
Routes 10 and 25 Haverhill, NH Phone: 603-271-3556
On this plain was the second longest, two-span covered bridge in the United States. Built in 1866, the bridge was destroyed by wind in 1979. Visitors to the area will enjoy the history, plus fishing and canoeing. A boat launch is located in the park.
78 Wadleigh State Park Sutton, NH, 03260 Phone: 603-927-4724
Lake swimming, nice picnic grove, playing fields
1166 Diamond Pond Road Stewartstown, NH, 03597 Phone: 603-538-6707
Coleman State Park is on the shores of Little Diamond Pond in Stewartstown. This pond, and nearby streams, offers excellent trout fishing. A boat launch is located within the park; small boats are permitted, but speed is restricted. Rowboats are available for
rent.
Pets are permitted.
Great Bay National Estuarine Research Reserve
Accessible from many places Durham/Dover, NH Phone: 603-868-1095
Set on 48 miles of coastline, this preserve protects saltmarshes, woodlands, tidal creeks and open fields. It is managed by the NH Fish and Game department. Visitors can enter at Adams Point, and also access the area via the water. Great spot for bird and animal observation.
Hampton State Pier
Off Route 1A Hampton, NH Phone:
Features a fishing pier, and docking for recreational boats. There is a fee for parking. Information: New Hampshire Fish & Game Department at 603-271-3511.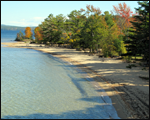 266 Scenic Road (Route 11) Gilford, NH, 03246 Phone: 603-293-7821
Lake swimming and fishing; boat ramp; picnicking
Fresh-water fishing is done at this state park on Lake Winnipesaukee. A boat ramp is available. See
full description
of Ellacoya State Park
Jimtown Road (off Route 2) Gorham, NH, 03581 Phone: 603-466-3850
Popular for fishing
Fishing is among the most popular sports done at this state park. See
full description
of Moose Brook State Park
160 Ocean Blvd (Route 1A) Hampton, NH, 03842 Phone: 603-926-3784
Ocean swimming, fishing, RV camping on the shore
Saltwater shore fishing is done from this beach on the Atlantic. See
full description
of Hampton Beach State Park