New Hampshire is a dream for paddling, canoeing, and kayaking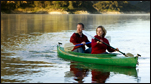 With plentiful and beautiful lakes, rivers, and a nice slice of Atlantic shoreline, New Hampshire beckons to people eager to get out on the water with canoes, kayaks, and other paddling crafts. Many state-managed
boat ramps
or boat ramps at marinas allow plenty of places to get from the land onto the water.
Route 16 at Pinkham Notch Gorham, NH, 03581 Phone: 603-466-3988
Outdoor Fun That's Just Right for The Entire Family
At the Great Glen Trails in Pinkham Notch, New Hampshire, we offer adventures in all shapes and sizes. During the spring and summer you can set out on a hike, run, or bike ride on any of our scenic trails through New Hampshire's White Mountains. Or join us for a guided bird watching tour or a paddling trip on the Androscoggin River. In winter, the cross country skiing and snowshoeing is absolutely glorious. Our trail system of easy and rolling terrain allows skiers of all abilities to find the right level of activity, challenge, and fun. The trails are groomed with both double tracks and a skating lane and run through the forests at the base of Mt. Washington. And the SnowCoach makes everything accessible to all, with or without skis. It's the natural vacation plan for you and your family.
1251 Eaton Road (Route 153) East Madison, NH, 03849 Phone: 603-367-8896 Toll-Free: 800-373-3754
Paddle your own canoe in a unmatched natural setting
Propel yourself on scenic Purity Lake in the majestic White Mountains. Family-owned Purity Spring Resort offers guests complimentary kayaks, canoes and rowboats for exploring its scenic natural wonderland of unblemished shorelines, sandy beaches, bogs, heaths and islands. There's great fishing for pickerel, small mouth bass and panfish, perch and sunfish for the young folk. Move along at your own pace while gazing at one of New Hampshire's incredible landscapes of forest, mountains and water. Enjoy warm country lodging, meals at the resort's restaurant & pub, an indoor pool, and fitness center. This remarkable setting has made it a popular vacation destination for couples, families and groups as well as for special occasions and gatherings. Come for the paddling and stay for a whole lot more.
235 East Route 26 Cambridge, NH, 03579 Phone: 603-482-7795
Rated one of the five top locations in New England for kayaking and paddling
The Boston Globe rated Lake Umbagog the fifth-best kayaking locationin New England. Canoes, kayaks, and rowboats are available for
rent.
See
full description
of Umbagog State Park.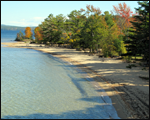 266 Scenic Road (Route 11) Gilford, NH, 03246 Phone: 603-293-7821
Lake swimming and fishing; boat ramp; picnicking
The large state parks allows motor boating, paddling, canoeing, and kayaking on Lake Winnipesaukee. There is a boat ramp. See
full description
of Ellacoya State Park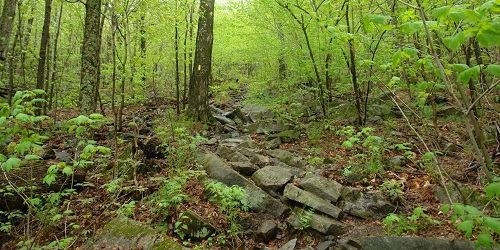 86 Beach Access Road Newbury, NH, 03255 Phone: 603-763-5561
Year-round outdoor fun with lake and camping; near downhill ski resort
Mount Sunapee State Park Beach offers swimming, boating and other water sports. Canoes, kayaks, and paddle boats are available for
rent.
See
full description
of Mount Sunapee State Park.
Nansen Wayside Park
Route 16 Milan, NH Phone: 603-823-7722 Ext - 75
Located near the banks of the Androscoggin River, Nansen Wayside Park is a popular place for picnicking, fishing, and boating. The park spans 14 acres and is the site of the 170-foot steel-framed Nansen Ski Jump, seen towering over the area. Nansen Wayside Park is unstaffed but is open to the public year-round at no charge. There is no winter maintenance. A boat launch is available. Information: www.nhstateparks.org
94 State Park Road (Route 16) Tamworth, NH, 03886 Phone: 603-323-7350
Swimming, trout fishing, camping
A variety of non-motorized boats, including canoes, kayaks, paddleboards, and rowboats, can be rented at this park on White Lake. See
full description
of White Lake State Park.
1607 Berlin Road (Route 16) Errol, NH Phone: 603-538-6707
Androscoggin Wayside Park is on the Androscoggin River, within Thirteen Mile Woods. It is a favorite location for canoeing. No restrooms are available.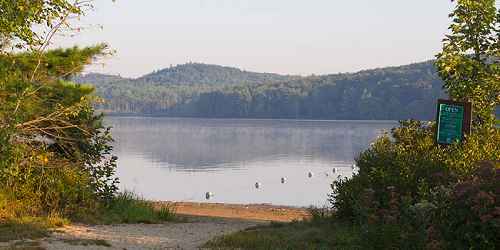 Route 136 Greenfield, NH, 03047 Phone: 603-547-3497
Lake for water sports, boat rentals, camping, no hookups
The lake on this park is open to boaters. Kayaks and canoes are available for rent. See
full description
of Greenfield State Park.
614 West Shore Road (Off Route 3A) Bristol, NH, 03222 Phone: 603-744-2197
Fresh water swimming, hiking, boat launch, picnicking, beautiful lake and island views
Boating, canoeing, kayaking and paddling are welcome on Newfound Lake at Wellington State Park. A boat launch next to the park is managed by N.H. Fish & Game. Its allows year-round access to Newfound Lake and access to the park.
See
full description
of Wellington State Park.
40 Pawtuckaway Road Nottingham, NH, 03290 Phone: 603-895-3031
Lake beach with boat launch, canoe & kayak rentals; campground; hiking trails
Paddling is done at this lakeside park. There is a boat launch. Concession rents out paddleboards, kayaks, canoes. See
full description
of Pawtucketaway State Park.
Great Bay National Estuarine Research Reserve
Accessible from many places Durham/Dover, NH Phone: 603-868-1095
Set on 48 miles of coastline, this preserve protects saltmarshes, woodlands, tidal creeks and open fields. It is managed by the NH Fish and Game department. Visitors can enter at Adams Point, and also access the area via the water. Great spot for bird and animal observation.