Winter Weddings in New Hampshire (NH)
Mountain View Road Whitefield, NH, 03598 Phone: 888-260-4929
Exchanging vows in a winter wonderland
Imagine exchanging wedding vows standing in front of a roaring fireplace as snowflakes fall gently on the lawns of a romantic mountain getaway. Or gazing out of floor-to-ceiling windows framing panoramic views of the snow-capped peaks of the White Mountains while your guests dine on sumptuous cuisine under sparkling chandeliers. At the Mountain View Grand Resort & Spa, those fantasies have been made real over the decades for countless couples. Whether your dream winter wedding means dancing for 275 guests in the magnificently domed Crystal Ballroom or an intimate ceremony in the cozy Club House, the resort's professional wedding planners will attend to every detail, from rehearsal dinners to that final farewell on the terrace.
3351 White Mountain Highway North Conway, NH, 03860 Phone: 603-356-3113 Toll-Free: 800-525-9100
Romantic winter weddings at historic North Conway Manor House
Winter weddings in North Conway, New Hampshire have a special romantic touch. Wed in winter in the luxury of this elegant, turn-of-the-century Victorian mansion in the majestic White Mountains. Celebrate your special love with your guests by the wood-burning fireplace in the oak-paneled Library Lounge. Ceremonies are held at 12 noon, dinner is served by 2:00 pm and entertainment may continue until 5:00 pm. Receptions for up to 150 guests in the dining room are available from mid-October through April. Small evening weddings for up to 28 people are also available nightly except Thursdays, Saturdays, and Holidays. You'll find additional savings for weddings booked any day in November or April or Sunday through Friday during other months. Holidays not included.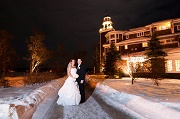 312 Daniel Webster Highway Meredith, NH, 03253 Phone: 877-574-5935
Come in from the cold and celebrate the warmth of your wedding day
Plan a winter wedding at Mills Falls during Serenity Season. From January through April, the resort offers intimate affairs for up to 120 in the Chase House Flagship Ballroom. Enjoy 10% off cocktail hour hors d'oeuvres and 20% off ballroom rental rates or a complimentary ceremony site – a $500 value. The complimentary house champagne toast has a $3 per guest value, and room rates are available with no minimum stay requirements. The bride and groom can savor a complimentary guest room on both their wedding night and their first anniversary. Hair and makeup services for the bride on her wedding day are at 10% off the usual rates. Save 50% on room rentals for your rehearsal dinner and farewell breakfast.