Zip line canopy tours in New Hampshire will bring out the Tarzan in you
Zip line tours and treetop canopy tours, conducted with help from platforms and rope walks secured high in the forest trees, are growing in popularity. It is a thrilling and unusual adventure, perfect for families (but not very young children), and adults and groups and
groups
and friends simply looking for a day of
adventure
.
Two Great Locations Weirs Beach & Chocorua, NH Phone: 603-367-4427
Monkey around in the trees in two New Hampshire settings
Discover high excitement right in the heart of New Hampshire! Enjoy zip line tours, aerial adventures, zip trekking and more with the whole family in Chocorua in the White Mountains, or at Weirs Beach near Lake Winnipesaukee. Ground schools offer instructions and guidance to ensure that you'll have a safe and exciting time above the ground. Guided and solo tours allow you to progress at your own pace through different courses, each more challenging than the previous. You'll find swinging beams, tightropes, rolling logs, hanging tires, and cargo nets to keep you busy. There's a dual 360 feet zipline and a a 35-foot-high giant swing rock climbing wall. Height and weight restrictions apply.
357 Morningside Lane Charlestown, NH, 03603 Phone: 603-542-4416
Fly atop the trees amidst beautiful New Hampshire Scenery
If you're looking for a fantastic day or weekend trip within easy reach of Boston, Hartford, Montreal, and New York, get up off the ground and into the trees at this remarkable flight park. You're in New Hampshire's majestic Connecticut River Valley and you can fly through the trees on an ACCT Certified Course designed with 2 cables for redundancy and suitable for almost every age and skill level. Your flight plan takes you through maples, oaks, and pines starting at the top of Morningside Mountain on slopes where hang gliders have been flying since 1974. The wildlife below is yours for the viewing and includes chipmunks, wild turkeys, and more. Check out the special packages and group rates.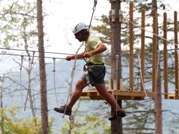 983 Upton Road Errol, NH, 03579 Phone: 603-215-0002
Become the Tarzan of the Granite State wilderness
ELC Outdoors in Errol, NH, offers you a dozen exciting aerial adventures that can be done continuously from start to finish. Our course is a series of ropes, wires, platforms, and bridges suspended 12- 40 feet off the ground, using a SnapSmart belay system that lets you control the course. Traverse the treetops with our two zip lines. Catch a glimpse of Mount Washington and the White Mountains as you navigate from the penguin platforms to Burma buckets. Our high ropes course can be utilized alone, or combined with ELC's raft, kayak or wildlife tour programs. Spend half the day learning the ins and outs of white water rafting, and the second half working your way through the treetops. We offer trips for all ages and experience levels.