White Mountains
Settle into the White Mountain state of mind for exciting year round family fun. Waterville Valley Resort has a self contained village with great food and shopping plus mountain biking, skateboarding, pedal boats, canoes and a sandy beach. Stock up at Clark's Trading Post and hop aboard the Conway Scenic Railroad and the Mount Washington Cog Railway for thrilling adventures. There are caves to explore, gondolas to ride, trails to hit, and zip lines to swing you through the treetops. At the end of the day, find some
family friendly accommodations
.
528 Presidential Highway Jefferson, NH, 03583 Phone: 603-586-4445
Pure Joy. Family Style. Every Summer.
Santa's Village is Santa's summer home in the White Mountains, and the only New England park listed by 2014 TripAdvisor Travelers' Choice Awards as one of the Top 25 Amusement Parks in the USA. With reindeer and elves, cookies and ice cream, a roller coaster, a log flume, a monorail, and plenty of other rides and activities, it's everything you'd imagine Santa's summer home to be. One low admission price covers an entire day of memory-making for families with young children. For over 60 years and three generations, from our family to yours – Santa's Village is pure joy, family style. Seasons: Open Memorial Day weekend to Christmas.
38 Norcross Circle North Conway, NH, 03860 Phone: 603-356-5251 Toll-Free: 800-232-5251
Ride into the past aboard the Conway Scenic Railroad
Enjoy an old-fashioned family experience that begins with a visit to our 1874 station in the middle of North Conway Village. Children of all ages will be transported back to a simpler time in history, when railroads fueled the economic growth of this country. Ride in vintage coaches, some of which date back to the 1920s, or First Class cars, including an 1898 Pullman Parlor Observation Car. A 3-course luncheon is available on the Valley Trains or as part of the Notch Train's First Class Package. Have your tickets hand-punched by a real conductor. Children under four ride FREE in Coach on the Valley Trains, and well-behaved dogs are always welcome.
Route 16, Pinkham Notch Gorham, NH, 03581 Phone: 603-466-3988
The kids will love driving through the clouds to the summit of Mount Washington!
For over 150 years, families and friends have enjoyed visiting the legendary Mt. Washington Auto Road. A trip on the Auto Road is a one-of-a-kind experience offering ever-changing weather extremes and panoramic views as you climb to the highest peak in the Northeast.
Choose to drive your own car or take a comfortable, 2 or 3-hour guided tour led by one of our accomplished and dedicated guides. Adventure can be found all the way up to the 6,288-foot peak where, on a clear day, visitors can discover panoramic views spanning the mountains and valleys of New Hampshire, Maine, Vermont, and north into Canada! Rain or shine, and included with your Auto Road ticket, the entire family will love the new interactive museum "Extreme Mount Washington" located on the summit, brought to you by the Mount Washington Observatory.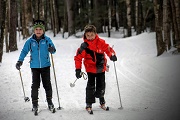 153 Main Street Jackson, NH, 03846 Phone: 603-383-9355
The perfect fit for the XC skiing and snowshoeing family
Jackson, New Hampshire offers every delight for moms and dads and children of every age and ability. Stay in this enchanting village. Ski from destination to destination on the finest cross country ski trails in the eastern United States. Discover beautiful old growth forest, skate-ski on an international race course, and enjoy the warming cabin and Cocoa Café. Check out the snow shoe touring center Voted #1 by Snowshoe Magazine with 25 miles (40km) of trails and guided snowshoe tours. Sign up for lessons, rent top of the line equipment and enjoy great food, lodgings and lots more on and nearby the trails. Trail passes are good all day, late in the day, multi-day and all season long.
850 New Hampshire Route 16 Glen, NH, 03838 Phone: 603-383-4186
Every day is an unforgettable adventure!
Write your own tale of adventure with a day at Story Land! Every moment is an exciting chapter in your book of fun family memories. You'll find your favorite Nursery Rhymes come to life along the pathways of Story Land. Experience an eye-popping kid friendly magic show at Loopy Lab and dance at Duke the Dragon's Dance Party. Make a splash on the Bamboo Chutes. Meet real-life storybook characters. Scream aboard our thrilling roller coaster, Roar-O-Saurus. Have dinner with Humpty Dumpty and friends or sit with Cinderella at Tea Time. Uncover prehistoric fossils and enjoy an exciting array of games, shows and rides! There's even a free kennel for your pooch. Then snuggle up together in one of the great family lodgings nestled among the scenic White Mountains.
Route 16 at Pinkham Notch Gorham, NH, 03581 Phone: 603-466-3988
Outdoor Fun That's Just Right for The Entire Family
At the Great Glen Trails in Pinkham Notch, New Hampshire, we offer adventures in all shapes and sizes - Your adventure is up to you. During the spring and summer you can set out on a hike, run, or bike ride on any of our scenic trails through New Hampshire's White Mountains. Or join us for a guided bird watching tour or a paddling trip on the Androscoggin River. In winter, the cross country skiing and snowshoeing is absolutely glorious. Our trail system of easy and rolling terrain allows skiers of all abilities to find the right level of activity, challenge, and fun. The trails are groomed with both double tracks and a skating lane and run through the forests at the base of Mt. Washington. And the SnowCoach makes everything accessible to all, with or without skis. It's the natural vacation plan for you and your family.
Off Route 302 Bretton Woods, NH, 03589 Phone: 603-278-5404 Toll-Free: 800-922-8825
Travel aboard the world's most fascinating mountain-climbing railway
Children who climb Mount Washington aboard the historic Cog Railway never forget the experience. Our train climbs 6,288 feet to the highest summit on the East Coast. Spend some time exploring when you reach the top. On a clear day you'll see New Hampshire's White Mountains spread out around you, and all the way to the Atlantic Ocean. Other days you'll be walking above the clouds. Visit the Weather Observatory, where scientists study extreme conditions in winter months. The three-hour round trip features an onboard audio tour. Learn about the construction of this 19th-century engineering marvel at our Base Station museum. You'll also find a restaurant where you and your family can enjoy breakfast or lunch. Trains run late April through November.
33 Village Road Waterville Valley, NH, 03215 Phone: 603-468-2553 Toll-Free: 800-468-2553
It's natural for families to bond, relax at this resort
Relaxation comes naturally to families at Waterville Valley. Maybe it's the fresh air, the clear night sky. Maybe it's spacious lodging possibilities, including fully equipped condos for up to eight people and dining options just steps away. Or maybe it's all the things families can do together, from 100 miles of hiking trails to indoor and outdoor pools, a splash pad, miles of bike trails, jacuzzis and gyms, tennis courts with junior and adult clinics, skateboard and inline skating parks. You can golf on a traditional course or down a mountain on a nine-hole disc course; take a chairlift up a mountain; go rock-climbing or try your luck at croquet in the summer and snowshoeing in the winter.
60 Loon Mountain Road Lincoln, NH, 03251 Phone: 603-745-6281 Toll-Free: 800-229-5666
Outdoor fun, recreation and inspiration in the White Mountains
Pick a season and bring the family to New England's most-accessible mountain resort destination. In summer and fall, ride New Hampshire's longest gondola skyride to the 2,733-foot summit for breathtaking views of the White Mountains and great food at the Summit Café. Explore glacial caves and walk a scenic nature trail. At the mountain's base, ride a zipline across the Pemigewasset River, scale a rock wall, navigate the LogJam Maze, or climb a 30-foot-tall spider web. Bunyan's Bouncin' Backyard offers young kids a bounce house and inflatable games. In winter, big mountain skiing and snowboarding features 2,100 feet of vertical with three peaks of terrain for all abilities – including an award-winning progression of terrain parks and New Hampshire's only Superpipe. There's also snow tubing, snowshoeing, cross country skiing, and more.
110 Daniel Webster Highway (Route 3) Lincoln, NH, 03251 Phone: 603-745-8913
A family that knows families and family fun
Five generations of Clarks have been providing the best in family entertainment for 85 years. Five museums on the Victorian Main Street and four Specialty Shops include the most well stocked gift and souvenir shop in the White Mountains. The Bear show gets you up close to North American Black Bears. The Anaconda Escape water raft ride speeds you through 300 feet of twists and turns in total darkness. The White Mountain Central Railroad takes you on an excursion into Wolfman's Territory. Visit the mysterious Tuttle House, 1884 Fire Station, Merlin's Mystical Mansion, the "old Man of the Mountain" climbing tower and exciting Segway tours. Be amazed by the feats of Yandong's Chinese Acrobats, dress up for an antique photo.
1853 Chocorua Mountain Highway Chocorua, NH, 03817 Phone: 603-367-4427
Take the whole family and get 'on line'
You and the family can fly though the trees with the greatest of ease in the White Mountains. All ages will enjoy this one of a kind experience that takes you through safety and navigation skills and helps you progress through a variety of zip line courses each more challenging. Kids love their own downsized course with 6-8 easy to handle challenges and an 80' zip line at the finish. Stay 2-3 hours aloft with no time limit and move up and enjoy every challenge at your own pace. There are 6 zip lines, swinging beams, tightropes, rolling logs, hanging tires, cargo nets and to pump up the excitement. Be sure to check the height and weight requirements before visiting.
Visitor's Center at Exit 32 Off I-93 North Woodstock, NH, 03262 Phone: 603-745-8720 Toll-Free: 800-346-3687
Wonderful scenery; terrific lodging and dining
This vacation, make the White Mountains part of your trip. There's an exciting variety of things to see and do - for the individual and for the family, including the highly diversified man-made and natural attractions that make up this scenic and exciting part of New Hampshire. You can spend the entire day at one of the terrific family attractions; ride a slide, journey back in time or to a mountaintop, discover geological wonders, splash down a waterslide, visit the world of a child's imagination, or see the Old West and the North Pole. The distances between the attractions are short, the roads are scenic, and your vacation will be long on value and fun. To find out more, click on our website, or call us today at 1-800-346-3687.
1712 Lost River Road -- Route 112W North Woodstock, NH, 03262 Phone: 603-745-8031
Trek through a White Mountain wonderland at Lost River Gorge
Take your family on a journey beneath the earth at Lost River Gorge & Boulder Caves in New Hampshire's White Mountains. You'll find yourself exploring a spectacular wilderness wonderland formed millions of years ago by glaciers, water, and wild weather. Located on a preserve owned by the Society for the Protection of New Hampshire Forests, Lost River Gorge is home to granite cliffs, spectacular waterfalls, rugged caves, and a river that plays hide-and-seek amid the rocks. Hike along a three-quarter mile boardwalk, or step off and explore the boulder caves, including the Sun Altar, Thor's Workshop, the Devil's Kitchen, the Lemon Squeezer, and the Judgment Hall of Pluto. Sturdy footwear and outdoor clothing are recommended. Open early May to mid-October.
32 Valley Road Jefferson, NH, 03583 Phone: 603-545-4533
A family sojourn never to be forgotten
There's adventure ahead on land and water and the whole family is invited. Enjoy warm weather rolling dog sledding that's educational and hands on. Meet the sled dogs, help the musher harness and hitch the team, enjoy the dog sled ride, and share treats with the sled dogs after your ride. Get out on the water with Raft NH, a family-friendly, rafting outfitter offering whitewater trips for ages 6 and up. You're in for unforgettable mild to wild rafting! Check out the "Paws & Paddles" package and enjoy a daytime whitewater raft trip and an evening rolling dog sled trek for a full day of outdoor fun.