White Mountains region has plenty of hotels & motels that welcome the family dog
179 Carter Notch Road Jackson, NH, 03846 Phone: 603-383-9111 Toll-Free: 800-966-5779
Your pet will love White Mountains panoramas and our hospitality
We don't know if dogs appreciate breath-taking views, but we do know your dog will love vacationing with you at The Eagle Mountain House in Jackson, NH, where you'll find White Mountain panoramas all around. Pets are welcome in designated rooms for a small per night fee and a signed wavier agreeing to pay for any damages. You'll all be surrounded by White Mountain panoramas and find endless places to walk, run and fetch in a village made for such things. Comforts and amenities abound from the nine-hole golf course with a driving range, a seasonal outdoor pool, game room and playground, to the family friendly restaurant, Highfields, where you can enjoy fresh takes on classic comfort cuisine. In summer enjoy your meal on the spacious veranda with your trusted friend seated right beside you.
3351 White Mountain Highway North Conway, NH, 03860 Phone: 603-356-3113 Toll-Free: 800-525-9100
Special treatment!
A personal note from the general manager with information on hotel pet services, local dog-walking routes etc. greets you. Our pet friendly rooms, located in the Mountain View Wing, offer access into the rooms from the ground level with amenities and services especially for travelers and their pets. Here at The Manor we do not only welcome your pets, we love them! We offer special treats for you and your pet, including our signature pet bowls to use during your stay. A per night fee of $25 will be assessed to guests traveling with pets. The fee covers the expenses associated with the extra special attention we pay to cleaning and maintaining your room so that it stays fresh for both pets and owners.
22 South Mountain Drive Lincoln, NH, 03251 Phone: 603-745-7500
Pets are welcome at your vacation getaway in the White Mountains
Families and pets go together with wide open spaces and year round recreation. You can have it all in studio, one, two and three bedroom condominiums in the majestic White Mountains. Enjoy the comforts of home and the services and amenities of a scenic mountain resort. Situated across from Loon Mountain's South Peak with great skiing and in downtown Lincoln within walking distance to food, shopping, and entertainment. The kids will love the game room, the indoor/outdoor heated pool, skating rink, skiing and the highest concentration of natural and man-made attractions in the White Mountains, where you can take your favorite friend to get outside and run. In addition, the resort also features an on-site spa, Italian restaurant and winery.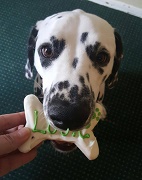 1515 White Mountain Highway - Route 16 North Conway, NH, 03860 Phone: 603-356-6901 Toll-Free: 800-468-3666
Put your pet in your Green Mountain selfies.
Be sure to bring your favorite friend when visiting North Conway and the White Mountains. Call ahead and reserve one of the Green Granite Inns special pet-friendly rooms and you can all be together in one of the most beautiful - and conveniently located - parts of the Mount Washington Valley. There's a special dog walk outside and endless miles of open spaces for fresh air and unmatched scenery and attractions to explore, run, and fetch. The Green Granite Inns' family amenities include a complimentary breakfast, one bedroom suites and standard guest rooms, some with kitchenettes, TVs, living areas, and whirlpool tubs. Everyone will enjoy the indoor & outdoor heated pools, hot tub & fitness room and a playground area for young children.