State and local parks of White Mountains region provide fun for all tastes
1598 Mt Washington Auto Road Sargent's Purchase, NH Phone: 603-466-3347
Park is at the peak of the highest summit on the East Coast; 130-mile views
Mount Washington State Park is on the summit of the highest peak in the Northeast, with the 750,000-acre White Mountain National Forest spread out below. Views can extend as far as Vermont, New York, Massachusetts, Maine, Quebec, and the Atlantic Ocean. The
Mount Washington Observatory
is located here. The Sherman Adams Visitor Center has a cafeteria, restrooms, gift shops, and its museum. The park is accessible by the
Mount Washington Auto Road
(603-466-2222) or the
Cog Railway
(603-278-5404). Call ahead at 603-466-3347 for the latest summit conditions. The park is unreachable in winter.
397 Forest Lake Road (Route 116) Dalton, NH, 03598 Phone: 603-466-3860
Long sandy beach welcomes water sports; also mountain biking is done here
The park has a 200-foot-long sandy beach for swimming, fishing, and boating. Picnicking and mountain biking also are popular at this park.
Jimtown Road (off Route 2) Gorham, NH, 03581 Phone: 603-466-3850
Popular for fishing
Located just north of the Presidential Range, the park is ideally located for fishing in the Peabody and Moose rivers. Moose Brook flows through the park, and feeds the swimming area with cool mountain water. Picnicking and swimming against the scenic mountain backdrop.
3069 Route 302 Carroll, NH Phone: 603-323-2087
Small park along highway is nice for stop-and-picnic
This small, 7-acre park was founded to honor the memory of President Dwight D. Eisenhower. The park offers picnic area and walking trails and a great view of Mount Washington.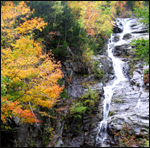 1464 US Route 302 Harts Location, NH, 03812 Phone: 603-374-2272
Mountain vistas, waterfalls, rivers, mountain hiking, campground
This is a place of spectacular mountain views, hiking trails, waterfalls, and fishing locations. It encompasses the Flume Cascades, the Silver Cascades, and the Arethusa Falls. Also in the park is the Willey House, an 18th-century way-station for travelers through the mountains.
The campground in the park is
Dry River Campground
. It has 36 wooded sites, restrooms, showers, flush toilets, drinking water, fire rings, a laundry, and picnic tables. It is accessible to handicapped people.
Dry River campground information.
This park is always open for recreation, but during the off season there might not be any staff available, Visitors should possess the necessary knowledge, skill, and equipment to maintain their own safety.
Hiking information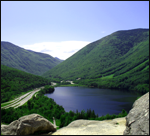 Route 93 Franconia, NH, 03580 Phone: 603-823-8800
Park in a mountain pass has a lake, bicycling, camping, daytime attractions
Franconia Notch State Park is in the White Mountain National Forest and is named for a notch, or passage in the mountains. Among the beautiful features of this park are Flume Gorge, Echo Lake, and the Franconia mountain range.
Echo Lake, at one end of the park, offers swimming, fishing, boating and
rentals of canoes and paddleboats
. The lake is open to the public from mid-June to early September.
The Farnconia Notch Bike Path travels the entire length of Franconia Notch and provides access to all parts of the park. Cannon Mountain provides bike rentals and shuttle service. Cannon Mountain ski area
bike rentals
and shuttle service for bicyclists.
Among the attractions of the region are the Cannon Mountain Aerial Tramway. Learn about more
Franconia State Park attractions.
Lafayette Campground is in the park, aside the Franconia Recreational Trail. It is open to walk-in campers in mid-May, and people may reserve camp sites from Memorial Day through Columbus Day. Campsites are wooded, with picnic tables and open fireplace. Campers can buy wood, charcoal, ice, milk, and snacks at the lodge Coin-operated showers are available. Winter camping is welcome.
Campground map.
68 Echo Lake Road (Route 302) Conway, NH, 03818 Phone: 603-356-2672
Swimming, picnicking, scenic trails to Cathedral Ledge, rock and ice climbing
Located on Echo Lake, this is a fine park for swimming and picnicking. Walk the scenic trail around the lake for views of Cathedral Ledge, which looms 700 feet above the lake. Also, an auto road and hiking trails of about one mile in length take visitors to the top of Cathedral Ledge, with views of the Saco River Valley and the White Mountains can be enjoyed. Admission: adults, $4; children, $2.
Trail map.