White Mountains has plenty of information centers to assist visitors
Flume Gorge & Visitor Center
852 Daniel Webster Highway (Route 3) Lincoln, NH, 03251 Phone: 603-745-8391
The Flume Gorge is a spectacular natural formation and visitors can walk into it along a series of manmade ramps and bridges. Walls of granite rise to a height of 70 to 90 feet, allowing a narrow opening for the water flow. A trip into the Flume begins and ends at the Flume Visitor's Center. At the Visitor Center, guests can find the Flume ticket office, information center, cafeteria, and gift shop, A 20-minute movie describes Franconia Notch State Park.
Information: http://bit.ly/ohtrPb
White Mountain National Forest Visitor Center
200 Kancamagus Hwy. (Exit 32 off of I-93) North Woodstock, NH Phone: 603-745-3816
Interpretive display tells the history and evolution of the White Mountain National Forest using hands-on displays and an audio-described tour. Staff are available to provide information and suggestions on short hikes, campgrounds, and other activities and programs. Rest rooms.
Hours: Sunday, Monday, Wednesday, Friday, Saturday, 9 a.m. - 3:30 p.m.
Information: http://1.usa.gov/XiIcNr
White Mountain National Forest Visitor Center at Lincoln Woods
Kancamagus Highway, 5 miles east of Lincoln Lincoln, NH Phone: 603-630-5190
This Vistor Center has a cabin with visitor literature, rest rooms, parking area, trailhead for the Lincoln Woods Trail, a suspension bridge. Wheelchair accessible. The pedestrian walkway on the highway bridge on the Kancamagus Byway, which offers views up the East Branch of the Pemigewasset River, is accessible from the parking area.
Hours: Daily in summer; intermittently in winter
Information: http://1.usa.gov/XiIcNr
Visitor's Center at Exit 32 Off I-93 North Woodstock, NH, 03262 Phone: 603-745-8720 Toll-Free: 800-346-3687
Your White Mountains vacation starts here.
There's an exciting variety of things to see and do, including man-made and natural attractions that make up this scenic and exciting part of New Hampshire. Visitors Center provides maps and brochures, literature about White Mountains attractions, videos, restrooms, gift shop, and a courtesy phone for reservations. Adjoining barn has information and displays for the White Mountains National Forest, including hiking maps and park passes.
Hours: Year-round, daily, opens at 8:30 a.m.. Closes between 5 and 6 p.m., depending on the season.
250 Main St. Conway, NH, 03818 Phone: 603-447-2639
Hours: Open Sunday – Thursday, 10:00-5:00pm & Friday – Saturday, 10:00-2:00pm
Welcoming hundreds of thousands of visitors per year as they enter the Mt. Washington Valley, the Conway Village information booth is fully equipped to plan your White Mountains vacation. Located right on Route 16 as you enter Conway, NH, make a quick stop in to the visitors booth to stock up on brochures on local attractions restaurants and lodging properties. A friendly face will be there to greet you to answer any questions you may have on how to make the most of your visit!
Waterville Valley Region Visitor Information Center

Off the ramp at Exit 28 of I-93 Campton (Waterville Valley), NH Phone:
Knowledgeable staff has information on everything you need: attractions, moose locations, best hiking and trail maps, camping, lodging deals,dining. Rest rooms.
Hours: Daily, 9 a.m.-5 p.m.
Information: http://bit.ly/XSaWeQ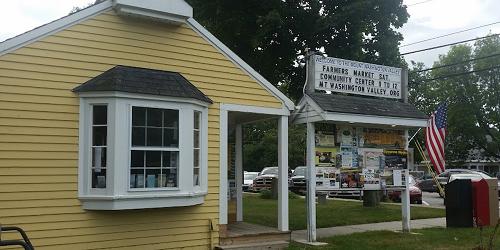 2617 White Mountain Highway North Conway, NH, 03860 Phone: 603-356-5947
Hours: Open Sonday – Monday, 10-6pm
You have made it to North Conway, a historic town in the Mt. Washington Valley buzzing with events, arts and culture, lodging, dining and attractions! Right as you enter the North Conway Village, you will see a quaint, yellow building. Before you make the next move on your vacation, stop in and say hello to this visitor booth's friendly staff and make sure you're "in the know" of everything there is to do on this vacation!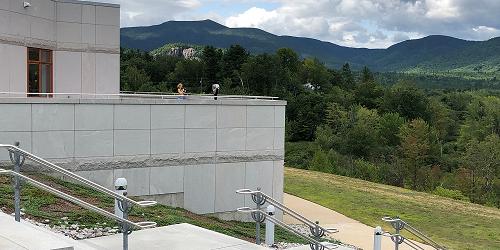 3654 White Mountain Highway Intervale, NH, 03845 Phone: 603-356-2769
Hours: Open Wednesday – Monday, 10:00-6:00pm
You will pull over for the iconic view of Mt. Washington at the Scenic Vista on Route 16 in Intervale, NH, but you will also find a visitor's center stocked with information on all there is to do in the Mount Washington Valley. Make this a stopping point for a family photo or to enjoy a picnic at the picnic tables with Mount Washington as a backdrop. The facilities are clean and offer restrooms.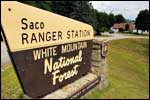 33 Kancamagus Highway Conway, NH, 03818 Phone: 603-745-3816
Hours: Open Sunday, Monday, Wednesday, Friday, Saturday - 9:00 AM - 3:30 PM
Located on one of New Hampshire's most famous scenic by-ways, the Kancamagus Highway, the Saco River Ranger Station provides information on the Forest Service, the White Mountain National Forest, safe hiking, Cabin & Campground Reservations and Forest Fire Info. They can also link you with other outlets for information on mountain weather, NH State Parks & NH Fish & Game. White Mountain National Forest parking passes are available for sale at this station as well, which is helpful if you're planning on visiting many state parks on your vacation!