White Mountains region is a lovely setting for walking and hiking
1251 Eaton Road (Route 153) East Madison, NH, 03849 Phone: 603-367-8896 Toll-Free: 800-373-3754
A White Mountain paradise for walking and hiking
Purity Spring Resort offers a timeless setting in the White Mountains to experience New Hampshire on foot. Nearby are the over-4,000-foot mountains to climb nearby and trails on-site with varied terrain and challenges. Easy hikes of 15-90 minutes can be found on the Audubon Trails that pass through farm pastures that have evolved into old growth forests. More moderate hikes lead you up to great views and places to relax. The Nordic Ski trails wind around Purity Lake including one that leads from the resort to Sunset Beach where you can enjoy a post hike dip. Bring your gear for an outdoor adventure at this affordable vacation resort that's been welcoming walkers and hikers for more than a century.
Route 16 at Pinkham Notch Gorham, NH, 03581 Phone: 603-466-3988
Outdoor Fun That's Just Right for The Entire Family
At the Great Glen Trails in Pinkham Notch, New Hampshire, we offer adventures in all shapes and sizes - Your adventure is up to you. During the spring and summer you can set out on a hike, run, or bike ride on any of our scenic trails through New Hampshire's White Mountains. Or join us for a guided bird watching tour or a paddling trip on the Androscoggin River. In winter, the cross country skiing and snowshoeing is absolutely glorious. Our trail system of easy and rolling terrain allows skiers of all abilities to find the right level of activity, challenge, and fun. The trails are groomed with both double tracks and a skating lane and run through the forests at the base of Mt. Washington. And the SnowCoach makes everything accessible to all, with or without skis. It's the natural vacation plan for you and your family.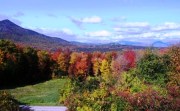 185 Chase Hill Road Albany, NH, 03818 Phone: 603-447-2181 Toll-Free: 800-426-4147
The perfect base for exploring New Hampshire's mountain wilderness
Let Darby Field Inn near Conway, NH, be your White Mountain retreat. We're located just minutes from the 800,000-plus acre National Forest, and our staff can recommend local hikes for every ability. Why not start with our onsite wooded nature trails? They're perfect for hiking or just walking off breakfast. Our area offers hundreds of miles of mountain roads and trails to cover by bicycle. Area stables offer horseback riding along riversides. Learn to climb to new heights at some world class locations in our area with one of the country's oldest climbing schools. In winter months try snowshoeing or cross-country skiing. After your workout, why not sooth those tired muscles with a therapeutic massage by one of our massage professionals.
68 Echo Lake Road (Route 302) Conway, NH, 03818 Phone: 603-356-2672
Swimming, picnicking, scenic trails to Cathedral Ledge, rock and ice climbing
The park has a scenic trail around the lake for views of Cathedral Ledge and also trails to take visitors to the top of the ledge itself, with expansive views of the White Mountains.
Trail map.
See
full description
of Echo Lake State Park
Lincoln Woods/Wilderness Trail
Four miles east of Lincoln off Kancamagus Highway (Route 112) Lincoln, NH Phone:
The Lincoln Woods Trail follows an old railroad grade. It starts at the Pemigewasset River suspension foot bridge. The trailhead has a ranger station and visitor center, bathrooms, and updated information about weather and walking conditions on the trails. The trails includes Lincoln Woods Trail, Pine Island Trail, East Side Trail, Osseo Trail, River View Loop, Pemigewasset Wilderness, Flume Slide Trail, Black Pond Trail, Franconia Brook Trail, the Wilderness Trail, Cedar Brook Trail, Lincoln Brook Trail, Bondcliff Trail, and others. The Franconia Brook Campsite is located on the East Side Trail.
Distance: 3 to six and a half miles of easy walking conditions.
Directions: Lincoln Woods trailhead parking lot GPS coordinates are: N44° 03.811 | W071° 35.306
Boulder Loop Trail
Dugway Road off Kancamagus Highway Conway, NH Phone:
Boulder Loop Trail is a 3.1-mile loop trail in the forest, with lots of big boulders for kids to climb. The trail may be used from May until October. Dogs may this trail. The loop has good views from the top. Some rocky surfaces may be slippery when they are wet. In the spring or after a heavy rain, certain areas may show small washouts. See
map.
Distance & Elevation:
3.1 miles; 1750 feet
Difficulty:
Moderate; fine for kids and teenagers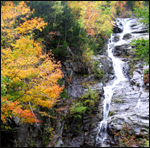 1464 US Route 302 Harts Location, NH, 03812 Phone: 603-374-2272
Mountain vistas, waterfalls, rivers, mountain hiking, campground
This is a place of spectacular mountain views, hiking trails, and waterfalls. Hikers can expect to see magnificent views.
Hiking information.
See
full listing
for Crawford Notch State Park
852 Daniel Webster Highway (Route 3) Franconia Notch, NH Phone: 603-745-8391
The Flume is a natural gorge extending 800 feet at the base of Mount Liberty. The granite walls rise 70 to 90 above the gorge and are about 15 feet apart. You may walk through just the Gorge or do a two-mile loop or trails and stairs. Prepare for uphill walking and lots of stairs. The boardwalk allows you to examine the flowers, ferns and mosses found here.
A trip into the Flume begins and ends at the Flume Visitor's Center. A 15-minute movie at the Visitor Center provides an introduction to Franconia Notch State Park and the Flume Gorge. Kids are invited to explore the Wolf's Den. Open mid-May to late October. Check for seasonal changes in hours.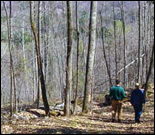 4 Christmas Lane Bethlehem, NH Phone: 603-444-6228
A natural preserve, this area features hiking trails, picnic areas and educational programs. The Rocks Estate has an extensive trail system open every day from dawn to sunset. Maps are available at our information kiosk, located adjacent to the parking lot. Dogs are welcome on leash. Here are some of the trails:
Scrapbook Memory Trail
. The Scrapbook Memory Trail meanders past the Tea House and Formal Gardens, the Carriage Barn, and the Tool Shed, with a winter stop at the fire pit, and great views in all seasons. (0.8 miles/easy).
Christmas Tree Trail
. The Christmas Tree Trail leads visitors through The Rocks Christmas tree farm, past wetland, and artfully crafted stone walls, with views of the White Mountains along the way. (0.8 miles/easy)
Heritage Trail
. The Heritage Trail leads wanderers through woods and meadow, pausing at 20 sites along the way to tell the history of The Rocks as a summer estate. (1.5 miles/easy)
Michael A. Gozzo Trail
This trail meanders through The Rocks Estate, crossing managed woodland and overgrown apple orchards, and skirting beaver ponds and wetland habitat. Hikers may explore this trail as one long loop or by selecting one or more of the various spurs. ( 4.6 miles/varied)