New Hampshire diners serve the classics, plus blueberry pancakes, baked beans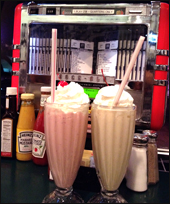 New Hampshire is a rugged and beautiful state, with lots of outdoor activities, from the southeastern beaches to the lofty White Mountains. That means your body needs fuel for the day, and you will find it at diners across the state. Hometown diners serve all the classics, with local flair: baked beans and Boston cream pie in Massachusetts, blueberry pancakes and lobster rolls and maple syrup in every state. A stop at a diner is a fun and diverting way to fill up your kids on an active family vacation.
Find diners in
CT
,
Maine
,
MA
,
NH
,
RI
,
VT
.
KEENE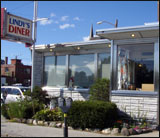 Lindy's Diner
19 Gilbo Avenue
Keene
Phone: 603-352-4273
Hours: Monday-Thursday & Sunday, 6 a.m.-8 p.m.; Friday-Saturday, 6 a.m.-9 p.m.
Lindy's is a Paramount diner, manufactured in New Jersey and transported to Keene in 1961. It is a go-to place for national candidates on the stump during the New Hampshire primary. Lindy's is renowned for its New England clam chowder, homemade macaroni and cheese, codfish cakes, baked beans, deep-fried chicken croquettes, and Salisbury steaks. You can always have breakfast at Lindy's, you can have it for dinner, or you can have dinner for breakfast!
LITTLETON


Littleton Diner
170 Main Street
Littleton, New Hampshire
Phone: 603-444-3994
Hours: Open daily, 6 a.m.-8 p.m.
Built in Merrimack, Ma in 1928 and transported to Littleton - where it opened in 1930. In 1940 a new Sterling Diner was constructed on the original site, where the Littleton Diner has continued to serve as an integral part of the community. Littleton Diner has been chosen Yankee Magazine Editor's Choice in 2010 and Food Network Magazine's 50 States/ 50 Best Breakfasts. Serving classic diner food in a warm, inviting atmosphere.
MANCHESTER and MILFORD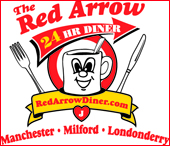 Red Arrow Diner
61 Lowell Street
Manchester, New Hampshire
Phone: 603-626-1118
Hours: Open 24 hours a day
and
Red Arrow Diner
63 Union Square
Milford, New Hampshire
Phone: 603-249-9222
Hours: Open 24 hours a day
Red Arrow Diner
137 Rockingham
Londonderry, New Hampshire

By sticking to the simple formula of good food, low prices, courteous service, and clean atmosphere, the Red Arrow packs 'em in. Among the highlights on the menu is the breakfast chili omelet, the brownie cream pie and coconut cream pie. Red Arrow was named "One of the Top Ten Diners in the Country", by USA Today.
NEW HAMPTON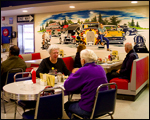 The 104 Diner
752 NH Route 104
New Hampton, New Hampshire
Phone: 603-744-0120
Hours: Open daily at 7 a.m. Serving breakfast and lunch until 2:30 p.m. on Monday and Tuesday. Serving breakfast, lunch and dinner Sunday, Wednesday, and Thursday until 8 p.m., and Friday and Saturday until 9 p.m.
Try some home cookin' in this 1950s-style roadside diner setting. Delicious breakfast served all day and comfort foods galore! Try the famous tuna melt, barbecue pulled pork sandwich, or diner classics like homemade mac 'n cheese or shepherd's pie. Just like Mom used to make. Satisfy your sweet tooth with home spun frappes or malts, an old-fashioned vanilla Coke or a slice of homemade pie. A member of the Common Man family of restaurants.
PORTSMOUTH

The Friendly Toast in Portsmouth NH
113 Congress Street
Portsmouth, New Hampshire
Phone: 603-430-2154
Hours: Sunday-Wednesday, 7 a.m.-8 p.m.; Thursday, open 'til 9 p.m.; weekends, 7 a.m.-2 a.m.
This hipster, high-energy place takes diner standards and revs then up in a blender of wacky creativity, e.g., the S'More the Merrier is two slices of graham cracker-crusted oatmeal French toast stuffed with peanut butter and Fluff and topped with a drizzle of caramel, chocolate sauce and whipped cream. Whoof! The chef does some crazy stuff with New England baked beans. Social media is heavy, include a NoWait app. Food is locally sourced, natch.
PORTSMOUTH

Roundabout Diner & Lounge
580 US 1 Bypass (Portsmouth Traffic Circle)
Portsmouth, New Hampshire
Phone: 603-431-1440
Hours: Open daily at 5:30 a.m.; serving to 10 p.m. Sunday-Thursday and to 11 p.m. Friday-Saturday
At the Roundabout, you can enjoy all your favorite diner classics. Excellent meals include burgers and sandwiches, Phantom Gourmet award-winning barbecue, comfort food classics like meatloaf, roast turkey, and of course, New England favorites like fish and chips, and the best lobster roll around. The roundabout uses locally sourced ingredients wherever possible, like bread from When Pigs Fly Bakery, breakfast sausage made in Vermont, local cheeses, and more. And all desserts are made onsite, from scratch.
PORTSMOUTH
Gilley's Diner
175 Fleet Street
Portsmouth, New Hampshire
Phone: 603-431-6343
Hours: Monday-Friday, 8 a.m.-2:30 a.m.; Saturday-Sunday, 11 a.m.-2:30 p.m.
Named a winner of the Phantom Gourmet's Hidden Jewel award. This is a no frills burger and dog joint. Also, fries and poutine. Open 'til 2:30 a.m.! Fun in a borderline-dingy corner of a great little city. The Gilley's Lunch cart was built in 1940 by the Worcester Diner Co. of Massachusetts. This diner is one of only five that were built and is the only one remaining in full operation today. This diner and its predecessor were hauled into Market Square each evening in preparation for the evening's business. Originally the diner was towed by horse, then tractor, and finally by truck. Gilley's was moved to its present location in June 1974. Although permanently situated, Gilley's retains the same characteristics as when it was mobile. The truck that towed the diner is still attached to the front of the structure and the wheels remain under the skirting. Every effort is made to retain the original charm and character of this historic diner.
RUMNEY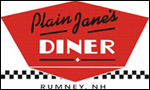 Plain Jane's Diner
897 Old Route 25
Rumney, New Hampshire
Phone: 603-786-2525
Hours: Daily, 6 a.m.-8 p.m.
Plain Jane's Diner serves classic American food to visitors and local people in the White Mountain and Lakes Region areas. Located just before the Polar Caves on Route 25, PJ's Diner boasts the friendliest staff and the most authentic dining experience you will find. PJ's Diner is where the cooking is from the pan, not the can!
TILTON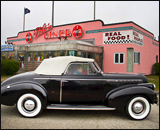 Tilt'n Diner
61 Laconia Road -- Exit 20 off Route 93
Tilton, New Hampshire
Phone: 603-286-2204
Hours: Sunday- Thursday, 6 a.m. to 9 p.m.; Friday-Saturday, 6 a.m.-10 p.m.
"Where our coffee is strong and waitresses are fresh!" Tilt'n Diner is a traditional '50s-style diner located near the Tanger Outlet Center. Complete with be-boppin' music, hearty breakfasts served all day, including the popular "Cadillac," and classic comfort food favorites like baked shepherd's pie and White Mountain meat loaf, Tilt'n Diner offers something for everyone. Don't forget the classic frappes, flavored Cokes and home-made pies! Breakfast served all day - lunch and dinner items start at 11 a.m.
WEST LEBANON


4 Aces Diner
23 Bridge Street (Route 4)
West Lebanon, New Hampshire
Phone: 603-298-5515
Hours: Open daily, Monday-Saturday, 5 a.m.-3 p.m.; Sunday, 7 a.m.-3 p.m.
"Where the locals eat." This place is what a diner should be. Interior is totally vintage, built around a 1952 Worcester Diner Car #837. A staff favorite is the corned beef hash. Also, don't miss the fries with melted cheese. The cook will stuff pancakes with almost anything you ask for. Look for homemade cakes, pies and huge doughnuts, along with daily specials with fresh ingredients.
Diner Slang
Some diner slang –- like cup of Joe for a cup of coffee -- is mainstream American English, but much of this unique language appears only as background chatter in film noir. On your next diner run, try a few of these on your soup jockey , or waitress:
java = coffee
sun kiss = orange juice
baby juice = glass of milk
life preservers = doughnuts
Adam and Eve on a raft = two eggs on toast
blowout patches = pancakes with Vermont = maple syrup
Want your eggs scrambled? Tell the waitress to wreck 'em .
A shingle with a shimmy and a shake = is toast with jelly.
For toasted English muffins, say: burn the British.
If you are in the mood for risk, tell the waitress to sweep the kitchen or clean up the kitchen and she'll bring you a plate of hash.
Lunchtime? Try a Noah's boy = Ham on bread, or a ham sandwich.
For a hamburger with lettuce, tomato, and onion, your waitress may tell the cook
to burn one, take it through the garden, and pin a rose on it.
cow paste for butter
dog soup for a glass of water
M.D. for a Dr. Pepper
sea dust for salt
Mike and Ike for salt and pepper shakers
If this list doesn't cover your dining needs, the American Diner Museum can tell you much more.