Tent and RV vacations at fun at many New Hampshire campgrounds
Campgrounds with very reasonable rates for
family vacations
operate at state parks and state forests in all regions of New Hampshire (there is even one along New Hampshire's small portion of Atlantic beach front, at Hampton Beach State Park). In addition, NH has several private campgrounds with nearby lakes, water sports, and
fishing
. Campgrounds offer a wide variety of amenities in terms of bathrooms, showers, dumping and hookups. Also, accessibility to nearby fishing, hunting and other outdoor sports varies widely. Be sure to contact individual campgrounds for detailed information on accommodations and nearby
attractions
.
New Hampshire loves campers!
Discover New Hampshire's campgrounds and RV parks. Experience exciting, fun-filled, affordable family vacations for an overnight, weekend, week or the whole season. Enjoy four seasons of camping in seven regions offering a wide variety of outdoor recreation, family attractions, cultural activities, shopping, and dining. From the tranquility of the Great North Woods to the summit of Mt. Washington, on scenic lakes and rivers, to the beaches of the seacoast, there's a perfect setting for your camping vacation. Visit our website to download or order a NH Camping Guide with information about each region and our member campgrounds and amenities (including hookups, Wi-Fi, laundry facilities, playgrounds, swimming pools, and much more). So whatever you like to do, there's a New Hampshire campground for you!
Click here to view a NH Camping guide
, or call us at 603-736-5540!
40 Pawtuckaway Road Nottingham, NH, 03290 Phone: 603-895-3031
Lake beach with boat launch, canoe & kayak rentals; campground; hiking trails
Wooded campsites have lake views at this park. Campsites have amenities and there is a camp store.
Campground map.
See
full description
of Pawtucketaway State Park.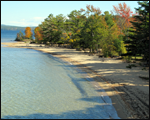 266 Scenic Road (Route 11) Gilford, NH, 03246 Phone: 603-293-7821
Lake swimming and fishing; boat ramp; picnicking
Park on southwest shore of Lake Winnipesaukee has a campground for recreational vehicles (RV) only (no tents), with hookups for water, sewer and electric. Reservations are required. Fee is $47 per RV. Pets are prohibited from the park and campground. Park is open late May to mid-October.
Campground information.
Campground map.
See
full description
of Ellacoya State Park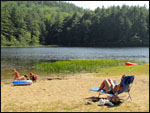 61 Deerfield Road Allenstown, NH, 03275 Phone: 603-485-9874
Full service park has water sports, camping, archery, horseback riding
This 10,000-acres park has lots of camping space, along with water sports and miles of multi-use trails. The park has a 100-site
campground
. See
Campground map.
See
full description
of Bear Brook State Park
160 Ocean Blvd (Route 1A) Hampton, NH, 03842 Phone: 603-926-3784
Ocean swimming, fishing, RV camping on the shore
This is a favorite location for RV camping directly on the ocean. Many RV vacationers come back year after year. Reservations required.
RV map for park.
See
full description
of Hampton Beach State Park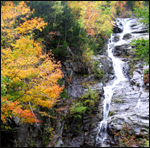 1464 US Route 302 Harts Location, NH, 03812 Phone: 603-374-2272
Mountain vistas, waterfalls, rivers, mountain hiking, campground
94 State Park Road (Route 16) Tamworth, NH, 03886 Phone: 603-323-7350
Swimming, trout fishing, camping
The campground at this park has a variety of sites, with or without water views, including two large sites for families and youth group sites. Camping fees are $25 (no hookups); $30 (water view, no hookups); and $50 to $75 for family sites.
Campground information.
Campground map.
See
full description
of White Lake State Park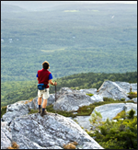 116 Poole Road Jaffrey, NH, 03452 Phone: 603-532-8862
Hiking on Mount Monadnock; camping; cross country skiing; open year-round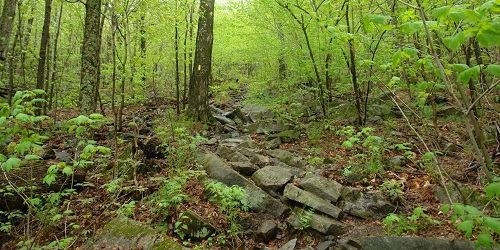 86 Beach Access Road Newbury, NH, 03255 Phone: 603-763-5561
Year-round outdoor fun with lake and camping; near downhill ski resort
Mount Sunapee State Park has a campground offers lean-to and platform sites in a natural setting. Camping costs $23 to $29 per night and the campground operates from late May to mid-October. See
full description
of Mount Sunapee State Park.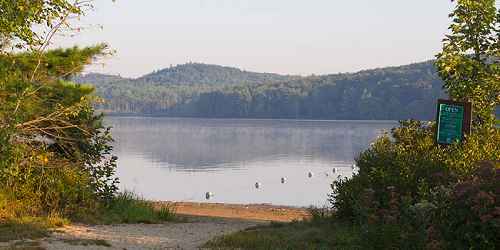 Route 136 Greenfield, NH, 03047 Phone: 603-547-3497
Lake for water sports, boat rentals, camping, no hookups
Park on Greenfield Lake has 179 camping sites, allowing tents and RVs. Fee is $25 daily; no hookups. See
full description
of Greenfield State Park.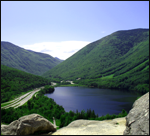 Route 93 Franconia, NH, 03580 Phone: 603-823-8800
Park in a mountain pass has a lake, bicycling, camping, daytime attractions
This magnificent park within a mountain pass has the Lafayette Campground, open mid-May to Columbus Day. Campsites are wooded, with picnic tables and open fireplace. Campers can buy wood, charcoal, ice, milk, and snacks at the lodge.
Campground map and policies
.
See
full description
of Franconia Notch State Park.