Find maps to fall foliage drives in 2017 in White Mountains, the Lakes, Portsmouth
Beautiful Fall Foliage in New Hampshire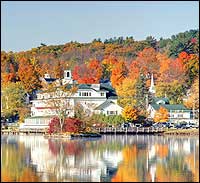 New Hampshire delivers colorful fall foliage at the earlier end of the September-to-October range. In the White Mountains, take a
scenic drive
along the Kancamagus Highway (Route 112), between North Conway and Lincoln. A bit further north are the Franconia Notch and Crawford Notch state parks, where vistas are magnificent. Moose can be spotted in the Great North Woods region. In the Lakes region, crystal lakes add some blue to the view near Winnipesaukee and Squam lakes. Be sure to take a camera and pose with one of the state's picturesque
covered bridges
.
Getting Ready
See useful information about when to visit, where to stay, how to find color, and what to wear and pack
HERE.
More Resources:
Where to Drive
Find directions and tips for great views and attractions for at the drive tours described below.
White Mountains Region
The Kancamagus Highway/Route 112 -- 34 miles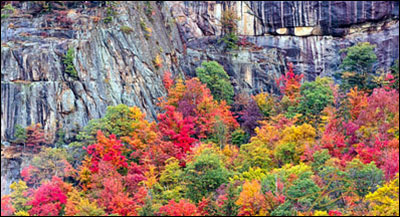 -- One of New England's more spectacularly beautiful drives, the 34-mile Kancamagus Highway -- known by locals as "the Kank" -- cuts an east-west channel through the 800,000-acre White Mountain National Forest. Views are breathtaking, so take all the time you can and don't miss a single pulloff.

Nearby Points of Interest:
♦
Kancamagus Scenic Byway
♦
Sabbaday Falls
, on the Kancamagus Pass, drops 40 feet into a small emerald green pothole the opens as a slide into a 20-foot horsetail into a tight gorge. Stop to look and have a picnic; no swimming, though! The falls is well-marked, off Route 112 (Kancamagus Highway) between the towns of Lincoln and Conway.
♦
Lost River Gorge and Boulder Caves
,
North Woodstock
(603-745-8031)
♦
Rocky Gorge Scenic Area, Conway
---
Pinkham Notch Loop -- 100 miles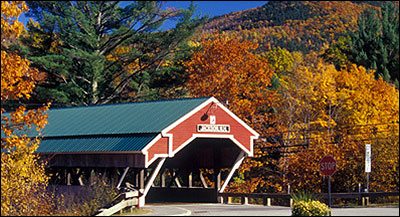 -- This loop drive affords some spectacular views of the Presidential Mountains and surrounding countryside, including Mount Washington. A good side trip at Pinkham Notch is a climb up the Mount Washington Auto Road, presenting one of New England's most spectacular mountain vistas.

Nearby Points of Interest:
♦
Mount Washington Auto Road
, Route 16, Pinkham Notch in the White Mountains National Forest (603-466-3988)
♦
Crawford Notch State Park
, Route 302,
Harts Location
in the White Mountains National Forest (603-374-2272).
♦ Town of
Jackson
and
Jackson Covered Bridge
is a beauty, and it resides right in the heart of the town geographically and culturally. Great for photographers and painters. A town covered bridge dance is held here every summer. This town had fun gifts shops and restaurants.
---
Lakes Region
Lake Winnipesaukee loop -- 75 miles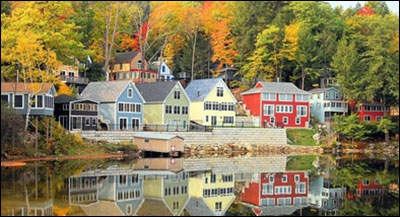 -- New Hampshire's largest lake presents beautiful views across the water as you meander through delightful towns and villages with famous names, including
Laconia, Wolfeboro, Moultonborough
, and others that convey images of a grand vacation li. The area is a premiere summer vacation resort, so there are lots of attractions and fun shopping for visitors. Not all attractions are open past mid-fall; phone ahead for hours.

Nearby Points of Interest:
♦
Mount Washington cruises
on the M/S Mount Washington from
Weirs Beach
(603-366-5531). Cruise this beautiful lake during foliage season and watch the glorious colors glide past you.
♦
Castle in the Clouds
in
Moultonborough
. Wonderful home and garden tour at a 1920's-era Craftsman-style mansion high in the mountains.
♦
Funspot
,
Weirs Beach
(603-366-4377)
♦
The Old Country Store
,
Moultonborough
(603-476-5750). Kids and adults love to browse and buy vacation mementos at New England's genuine country stores.
♦
Wright Museum of WWII History
,
Wolfeboro
(603-569-1212)
---
Dartmouth-Lake Sunapee Region
Connecticut River Route near Lebanon Loop -- 70 miles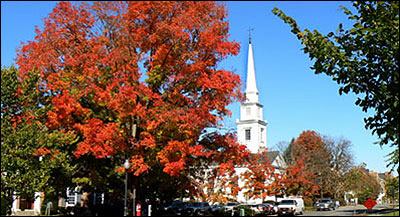 -- This drive offers views of the Connecticut River. A high point is the town of Hanover, where visitors can stroll the grounds of Dartmouth College and stop in for good pizza or burgers at any number of collegiate watering holes.

Nearby Points of Interest:
♦
Hood Museum of Art
at Dartmouth College, Wheelock Street, Hanover (603-646-2808)
♦
Packard Hill Covered Bridge
, Riverside Drive over the Mascoma River, Lebanon (603-271-3483)
♦
Northern Recreational Rail Trail
, Lebanon / Enfield / Canaan / Grafton (603-271-3254)
. Twenty-three miles of hard-packed walking and biking trails.
---
Great North Woods Region
Moose Alley -- 75 miles
-- People in the know say the stretch of Route 3 from
Pittsburg
to the Canadian border is a place where you can almost be guaranteed to see some of the state's estimated 6,000 moose. The best time to see moose are early morning and dusk. Drive slowly and watchfully in this area; collisions with moose can be deadly. When you stop for a photo, pull off the road completely.

Nearby Points of Interest:
♦
Happy Corner, Pittsburg-Clarksville, and River Road covered bridges, Pittsburg
♦
Northern Outlet of New England
, 61 Main Street, Colebrook (603-237-8544)
♦
The Poore Family Homestead Historic Farm Museum
, 438 Fish Pond Road, Colebrook (603-237-5500)
---
Merrimack Valley Region
Concord to Loudon to Pittsfield Loop
-- Plenty of farm views and fun shopping for local arts and crafts are available at this drive, beginning at the capital city of
Concord
.
See below for detailed driving directions.
Nearby Points of Interest:
♦
Dimond Hill Farm
, 314 Hopkinton Road, Concord (603-224-0602)
♦
Lindt Chocolate Shop
, Steeplegate Mall, 270 Loudon Road, Concord (603-228-3900)
♦
League of New Hampshire Craftsmen Concord Gallery
, 36 N. Main Street, Concord (603-228-8171)

♦ Leave
Concord
on Loudon Road / Route 9 and turn onto Route 106 north toward Loudon
♦ In
Loudon
, pick up Route 129 north through
Loudon Center
and into
Lower Gilmanton
. You then pick up Route 107 though
Pittsfield
♦ South of
Pittsfield
, turn onto Route 9 West and return to
Concord
---
Monadnock Region
Mount Monadnock Loop
-- The 3,165-foot Mount Monadnock is the hub of this trip. Monadnock State Park has excellent public services and many hiking trails that are accessible and enjoyable even to averagely fit climbers.

Nearby Points of Interest:
♦
Stonewall Farm
, 2442 Chesterfield Road, Keene (603-357-7278). Lots to do here on 120 acres that are open to guests: borrow an exploration pack and do activities while hiking the trails; watch your kids play in the nature playground. there are farm animals to visit and foods to taste and buy at the farm store. Mountain biking and cross country skiing trails are open in season.
Dining:
Muddy Moose.Restaurant and Pub at 2344 White Mountain Hwy in North Conway has a rustic feel, with knotty pine walls, hearty beers, and all the basic, rib-sticking foods for mountain appetites. Nice for families with kids, too.