New Hampshire museums and galleries offer adventures in nature & art
Plentiful museums, offering fine art, nature and natural history,
exhibits for children
, ethnic history, and more can be found in all parts of New Hampshire. Among the highlights are two museums of Shaker history, a museum describing four centuries of life in Portsmouth, and the home of a leading American sculptor. Be assured, there is plenty of fascination and fun at New Hampshire museums to fill any
rainy day.
Off Route 302 Bretton Woods, NH, 03589 Phone: 603-278-5404 Toll-Free: 800-922-8825
History is also on track at the Mount Washington Cog Railway
Marking its 150th anniversary in 2019, the Mount Washington Cog Railway is more than an awe-inspiring train ride up to the Northeast's highest peak. Before you board, spend time in the Cog Railway Museum, which features a short media presentation on the railway's history, a full-size mockup of a locomotive cab and boiler and photos depicting the amazing engineering that made the railway possible -- a feat so astonishing that President Ulysses S. Grant had to come see for himself when it opened. And don't miss Old Peppersass, the engine named for its pepper-sauce-bottle shape. Once you get to the mountain summit, check out the weather museums at the Sherman Adams Visitor Center and the Mount Washington Observatory.
105 Haverhill Road Salem, NH, 03079 Phone: 603-893-8300
The hidden truths of America, right in your backyard
Did other Europeans with knowledge of astronomy and stone construction reach North America a thousand years or more ahead of Columbus? Some say they came and left evidence of their visits -- megaliths and stone chambers -- throughout New England. You can explore one of the largest collections of artifacts at America's Stonehenge in Salem, New Hampshire. Some believe the site includes a stone astronomical calendar, like the one found at Stonehenge. A video in our museum gives you all the background you'll need. Then it's time to hit the half-mile trail through the pine forest to see for yourself. Along the way you may meet a few alpacas who share the property. Don't worry -- they're gentle creatures who enjoy greeting visitors.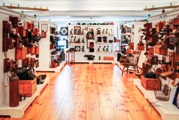 One Depot Street Warner, NH, 03278 Phone: 603-456-2234
Where History Talks
The cell phone in your pocket is the apex (so far) of a long and fascinating history of technology starting with inventor Alexander Graham Bell's famous first call in 1876. The New Hampshire Telephone Museum tells the story of the telephone's evolution through a century's worth of telephone memorabilia, with over 1,000 artifacts collected by four generations of the Bartlett & Violette families, who collectively had members who worked in the telephone industry for nearly 100 years. Delicious stories tell how small, independent phone companies once brought phone service to remote farms and rural areas. Learn more about the race to the patent office, the undertaker who invented the dial system, and much more.
288 Shaker Road Canterbury, NH, 03224 Phone: 603-783-9511
National Historic Landmark celebrates the Shakers
This beautiful outdoor history museum and national Historic Landmark was once home to 300 Shakers. Since 1992, it has provided educational programs for visitors. Explore 700 acres of gardens, fields, forest and ponds and 25 original Shaker buildings. Guided tours with engaging interpreters will take you through 200 years of Shaker life. The Village features a number of craft demonstrations, restored organic vegetable and botanical gardens, and special events. You'll visit a Shaker school and hospital and be able to walk a number of nature trails. Richly authentic and situated in scenic Canterbury, NH, Canterbury Shaker Village is a place for learning, reflection and renewal of spirit. On site is New Hampshire's premier store for Shaker reproductions and New Hampshire handicrafts.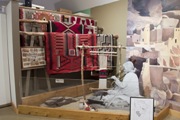 18 Highlawn Road Warner, NH, 03278 Phone: 603-456-2600
Discover and learn the crafts and culture of early American tribes
Drawing from 20,000 years of Native American history and culture, the Mt. Kearsarge Indian Museum has a wealth of objects to show visitors. Did you know that Great Lakes Indian women would make intricately beaded bandoleer bags for their husbands to wear with competitive pride? Beautiful design has also found expression on such things as ornately wrought baskets and fancy quillwork jewelry chests. One of the most artful objects is a tablecloth-size moose-hair embroidery, perhaps used as an altar cloth. There also are objects both practical and beautiful, such as snowshoes, pots, beadwork and baskets made from a variety of materials like ash splint and sweetgrass or yucca and devil's claw. Buy finely-made items from our shop, or sign up for a workshop to learn how to make your own.
Lake Winnipesaukee Museum
503 Endicott Street North (Route 3) Laconia, NH, 03246 Phone: 603-366-5950
The museum property is a historic landmark and represents an era which changed the way Americans spent their summer vacations --- an example of the tradition of hospitality vital to the area's history and economy since the 1800's. The property was purchased in 1923 by David O'Shan, who first had a poultry farm on the site. The museum building is the original residence and the yellow cottages nearby are part of the original cabin colony. One of the buildings is from the former Shangrila Resort. Hours: Mid-June through Columbus Day, Wednesday-Saturday, 10 a.m.-2 p.m. Information: www.lwhs.us.
Museum of New Hampshire History
6 Eagle Square Concord, NH, 03301 Phone: 603-226-3189
Interactive and detailed museum exhibits tell visitors about the history of the Granite State, its indigenous peoples, and colonial settlers. The museum has a store. Hours: Tuesday-Saturday, 9:30 a.m.-5 p.m. and Sunday, noon to 5 p.m.; July-October 15 and all of December, additional hours on Monday, 9:30 a.m.-5 p.m. Admission: Adults, $5.50; seniors, $4.50; children age 6-18, $3. Information: www.nhhistory.org/museum.html
Woodman Institute Museum
182 Central Avenue Dover, NH, 03820 Phone: 603-742-1038
This four-building complex includes the Woodman House (1818), former home to lawyer Daniel Christie; Hale House (1813), home of U.S.Senator John Parker Hale; Keefe House (1827) and the William Damm Garrison home (1675). Collections of natural science to include the largest mineral exhibit north of Boston, items of local history from the 1600s to present, and a fine collection of paintings and early furniture. Cost: There is an admission charge.
Hours: April-November, Wednesday-Sunday, 12:30-4:30 p.m.
Admission: Adults, $8; students and seniors age 65 and older, $6; children age 6-15, $3.
Information: woodmaninstitutemuseum.org.
Gorham Historical Society and Rail Museum
25 Railroad Street Gorham, NH Phone: 603-466-5338
This museum is set in a rail station built in 1907. Exhibits feature railroad-related documents and artifacts, including a box car, steam locomotive and model railroad.
Hours: Open Memorial Day-Columbus Day, Tuesday-Saturday, 10 a.m.-3 p.m.
Admission: Donations are requested.
Museum of the White Mountains
34 Highland Street Plymouth, NH, 03264 Phone:
This museum, opened in February 2013 on the campus of Plymouth State University , has collections of art, photos, and objects that memorialize the nature and culture of the White Mountains region.
Hours: Tuesday, Thursday, and Friday, 10 a.m. to 5 p.m.; Wednesday, 10 a.m. to 7 p.m.; Saturday and Sunday, noon to 5 p.m. Closed Mondays, holidays, and on Tuesdays in the summer.
Information: www.plymouth.edu/museum-of-the-white-mountains/
Hood Museum of Art
Wheelock Street, Dartmouth College Dartmouth, NH, 03755 Phone: 603-646-2808
The Hood preserves 65,000 works of art representing ancient civilizations, Asia, America, Europe, Africa, Papua New Guinea, and many other regions. Selections that are always on view encompass ancient, Asian, and European prints, paintings, and sculpture, American Colonial silver and paintings and sculpture to 1948, and major works of modern and contemporary art. Hours: Year-round, Tuesday-Saturday, 10 a.m.-5 p.m.; Wednesday, 10 a.m.-9 p.m.; Sunday, noon-5 p.m.; closed Mondays. Admission: Free. Information: hoodmuseum.dartmouth.edu/
Albacore Park
600 Market Street Portsmouth, NH, 03801 Phone: 603-436-3680
The focal point of this park is an exhibit of life on a modern submarine. Visitors will tour the sub and view all its compartments.
Hours: Memorial Day to Columbus Day, daily, 9:30 a.m.-5 p.m.; Columbus Day to Memorial Day, Thursday through Monday, 9:30 a.m.-4:30 p.m. Call ahead for seasonal changes.
Cost: Adults, $5; children age 7-17, $3; Military, $4; family, $10.
Information: www.ussalbacore.org/
See Science Center
200 Bedford Street Manchester, NH, 03101 Phone: 603-669-0400
This hands-on science center has nearly 100 exhibits where children and adults can do actual science experiments. The museum's Millyard Project is a scale model of the Amoskeag Millyard of Manchester circa 1900, built entirely of Lego blocks – 2 million in all. Other activities include the Science of Ice Hockey; Reptile Mountain, and Moonwalk. Hours: Monday – Friday, 10 a.m.-4 p.m.; Saturday-Sunday, 10 a.m.-5 p.m. Check for seasonal changes in hours and programs. Cost: $8 per person over age 3. Information: www.see-sciencecenter.org.
Enfield Shaker Museum
24 Caleb Dyer Lane / 447 Route 4A Enfield, NH, 03748 Phone: 603-632-4346
This living history museum displays and explains the lives of the Shakers, who lived on and operated a farming community of this land for 200 years. Exhibits and events welcome visitors to understand the Shakers' communal, idealistic way of life. There is a museum store.
New Hampshire Farm Museum
Route 125, Plummer's Ridge Milton, NH, 03851 Phone: 603-652-7840
The Farm Museum consists of the historic Jones Farm and the Plummer Homestead. The properties consist of 50 acres of field and forest, a working farm, historic houses and barns, a blacksmith shop, a shoe shop and exhibits on agriculture and rural life. The museum hosts special events, programs, and workshops.
Hours:Mid-June to mid-October, Wednesday-Sunday, 10 a.m.-5 p.m.; May 20-June 16, open weekends,10 a.m.-5 p.m.; October 13-November 10, 10 a.m.-5 p.m.
Information: www.farmmuseum.org.
Currier Museum of Art
150 Ash Street Manchester, NH, 03104 Phone: 603-669-6144
The Currier Museum of Art offers permanent collection of European and American artists, decorative arts, photographs and sculpture. Among the artists featured at the Currier at Wyeth, Monet, Picasso, and Georgia O'Keefe. The museum takes visitors on of the nearby Zimmerman House, designed by Frank Lloyd Wright. Many fascinating changing exhibits run throughout the year. Hours: Sunday, Monday, Wednesday-Friday, 11 a.m.-5 p.m.; Saturday, 10 a.m. - 5 p.m. Admission: Adults, $12, seniors, $10, students, $9; youth age 13-17, $5
The Fort at No.4 Living History Museum
267 Springfield Road (Route 11) Charlestown, NH, 03603 Phone: 603-826-5700
Travel back in time to Charlestown, New Hampshire in the 1740's to visit an authentically reconstructed settlement. Tour with guides dressed as original settlers of No. 4. Demonstrations of hearth cooking, musket firings, military drills and much more are conducted daily.
Hours: June-October, Wednesday-Sunday, 10 a.m.-4:30 p.m.
Admission: Seniors age 55 and older, $7; adults, $10; youths age 13-17, $7; Children age 6-12, $5.
Information: www.fortat4.org.
New Hampshire Boat Museum
395 Center St. Wolfeboro Falls, NH, 03896 Phone: 603-569-4554
The museum features many of the finest examples of vintage mahogany and antique boats, including; Garwood, Chris-Craft, Century, Dodge, Penn Yan, Lyman and Hacker, on a rotating basis. There are runabouts, race-boats, canoes, guide boats, and sail boats. Whether you are an outboard, steam, paddle or sail enthusiast, the displays, enhanced with archival photos, trophies and models, bring to life a truly grand era of boating. Hours: Memorial Day-Columbus Day, Monday through Saturday, 10 a.m.-4 p.m.; Sunday, noon – 4 p.m. Cost: Adults, $5; seniors, $4; students. $3. Information: www.nhbm.org.
Saint-Gaudens National Historic Site
139 Saint Gaudens Road Cornish, NH, 03745 Phone: 603-675-2175
This beautiful home, studio and property also functions as a museum and gallery of the works of American sculptor Augustus Saint-Gaudens, creator of 150 works of art, including the Standing Lincoln monument and the 1907 $20 gold piece is considered America's most beautiful coin.
Wright Museum
77 Center Street Wolfeboro, NH, 03894 Phone: 603-569-1212
A museum of history, focusing on the American home front during World War II (1939-1945). Exhibits feature information, memorabilia, costumes, vehicles, and more. There are three distinct buildings: the Home Front and theater, the two-story educational building or Visitor's Center and the military building which houses memorabilia from all branches of service from World War II including a large collection of military vehicles. Hours: May 1-October 30, Monday – Saturday, 10 a.m.-4 p.m.; Sunday, noon-4 p.m. Admission: Adults, $10; seniors and veterans, $8; students, $6. Information: www.wrightmuseum.org.
Little Nature Museum
18 Highlawn Road Warner, NH Phone: 603-746-6121
The collections include rocks, minerals, fossils, sea life, insects, mounted birds and mammals, and plants. There are also interpretive exhibits, hands-on activities (with prizes for children), and interpretive trails to enjoy. Self-guided tours of the museum are available. Self-guided tours of the Mount Kearsarge Indian Museum's Medicine Woods Trail are available. A volunteer guide is available to assist visitors with a tour and/or assistance with hands-on activities. The museum is appropriate for adults and children.
Hours: Closed November to mid-May. During the rest of the year, open weekends and some holidays. Museum also is open by appointment on weekdays for groups of six or more guests. Friday and Sunday, noon – 5 p.m.; Saturday and holidays, 10:30 a.m.-5 p.m.
Admission: Seniors and students, $4; families with two adults and children under age 18, $12; member of Mount Kearsarge Indian Museum, half-priced; Native Americans, free.
Children's Museum of New Hampshire
6 Washington Street Dover, NH, 03820 Phone: 603-742-2002
The Children's Museum of New Hampshire offers two levels of hands-on, custom-created exhibits for children ages 1-12. Children can explore a wide range of subjects, from dinosaurs, music and aeronautics to world cultures, art and natural history. Open year-round, the museum hosts a variety of live performances, workshops, classes and special events for families. Hours: Year-round, Tuesday – Saturday, 10 a.m. - 5 p.m.; Sundays, 1 p.m. - 5 p.m.; most Monday holidays and school vacation days. Admission: Adults and children over age 1, $9; seniors, $8.

New England Ski Museum
Exit 34B, I-93/Franconia Notch Parkway Franconia, NH, 03580 Phone: 603-823-7177
Exhibits feature antique ski equipment and vintage ski films. There is a museum shop. Admission is free. Hours: Call ahead for hours of operation. Information: newenglandskimuseum.org.
American Independence Museum
1 Governor's Lane Exeter, NH, 03833 Phone: 603-772-2262
Housed in the Ladd-Gilman House, built in the first decades of the 18th century. During the American Revolution, this building stored the state's treasury. Among the museum's permanent collection of documents chronicling the nation's founding are an original Dunlap Broadside of the Declaration of Independence and early drafts of the U.S. Constitution. Permanent collections include American furnishings, ceramics, silver, textiles and military ephemera. Exhibits detail the history of Portsmouth and the structure itself. Hours: Mid-May to October, Wednesday-Saturday, 10 a.m.-4 p.m.
Admission: Adults, $5; students, $3.
Information: www.independencemuseum.org
Museum of American Weather
South Common Haverhill, NH, 03765 Phone: 603-989-3167
A museum dedicated to American weather. Of particular interest are exhibits devoted to four severe New England weather events: The blizzard of 1888, the 1938 hurricane, the Vermont flood in 1927 and a tornado that hit Worcester, Massachusetts. Open seasonally. Admission is free.
McAuliffe–Shepard Discovery Center
3 Institute Drive Concord, NH, 03301 Phone: 603-271-7827
Explore space on earth at this moving memorial center
This unique space exploration center and moving memorial to two American heroes, is not shy about its intentions: to inspire people of all ages to reach for the stars and provide engaging activities that help enlighten others about astronomy, aviation, earth and space science. It would be a lofty mission indeed if it weren't for its two namesakes who typify those ideals: New Hampshire's native son and America's first astronaut, Alan B. Shepard, and Sharon Christa McAuliffe, America's first private citizen sent to space. Opened in 1990 the planetarium merges her dream of one day traveling through space with her dedication to her students. The Center's collection of interactive exhibits are framed in an entertaining learning environment from the planetarium theater to the high-tech observatory to workshops for young and older.
Mount Washington State Park Sherman Adams Visitor Center, 1598 Mt Washington Auto Road Sargent's Purchase, NH Phone: 603-466-3347
The visitor will find displays about the weather on the mountain and the reasons for the severity of Mount Washington's meteorological conditions. The Weather Discovery Room helps visitors explore the weather phenomena of Mount Washington. There are exhibits on the geological history of the Presidential Range and the effects of continental ice sheets.
The "Extreme Mount Washington" exhibit delivers the science and excitement of a Mount Washington through high-tech, hands-on exhibits. The Extreme Mount Washington exhibit is in the Mount Washington State Park Sherman Adams Visitor Center. The summit is accessible mid-May to mid-October by car, Cog Railway), and hiking trails.
Hours: May to mid-October, daily, 9 a.m.-6 p.m., weather permitting.
Mount Washington Valley Children's Museum
2936 White Mountain Highway North Conway, NH Phone: 603-356-2992
Young visitors to the Mount Washington Valley Children's Museum may put on a puppet show or get dressed up in costumes in the Drama Center; climb the indoor Tree House or learn from the History Tree; build their own creations in the Lego room or doll house room; play in the Infant Toddler room; explore outer space in the new Glow in the Dark and Outer Space Exhibit. For infant through age 10. Hours: September 1-June 30, Mondays, Thursdays, Fridays, Saturdays and Sundays. Closed for all major storms. Admission: $5; children under age 1 admitted free. Information: www.mwvchildrensmuseum.org
Wyman Tavern Museum
339 Main Street Keene, NH, 03431 Phone: 603-352-1895
Built in 1762, this museum is now furnished as a tavern and residence from that period. Historically, the first meeting of the Dartmouth College Trustees took place on the site in the 18th century.
Hours: May-Labor Day, Thursday-Saturday, 11 a.m.-4 p.m. and by appointment.
Admission: $3 per person.
Information: www.hsccnh.org/wymantavern/
Museum Complex - Bear Brook State Park
Route 28 Allenstown, NH, -3275 Phone: 603-485-2034
The museum complex at this park ilncludes the New Hampshire Antique Snowmobile Museum, Museum of Family Camping, Old Allenstown Meeting House, and the Richard Diehl Civilian Conservation Corps (CCC) Museum. Most of the museums are housed in historic CCC buildings. Open: Various hours throughout the summer Information: http://www.nhstateparks.com/bearbrook.html
Tuck Memorial Museum
40 Park Avenue Hampton, NH, 03842 Phone: 603-929-0781
This museum presents a variety of exhibits involving 19th century history, including furniture, artwork, the area trolley system, farm implements, fire-fighting equipment, and a schoolhouse from the 1840's. The complex contains four buildings, The Tuck Museum, Farm Museum, Seacoast Fire Museum, and the 19th-Century District Schoolhouse. A children's playground and picnic facilities are located next to the museum. Hours: Sunday, Wednesday, Friday, 1-4 p.m. Admission: Free. Information: http://bit.ly/UnjP1P
Strawbery Banke Museum
14 Hancock Street Portsmouth, NH Phone: 603-433-1100
Strawbery Banke Museum, adjacent to the city's riverside Prescott Park, is a 10-acre outdoor history museum that preserves 32 domestic and commercial buildings that were lived in and used on this land during 300 years of the town's history. People of all ages may explore eight gardens, buildings, traditional crafts, and preservation programs. Stories of the neighborhood are told by costumed role-players. Lots of educational and seasonal special events, year-round. A visit of 2 hours is recommended. Open year-round, but only on weekends, for guided tours, November to April. Information: http://www.strawberybanke.org/