Rainy day activities include indoor gyms, playgrounds, video arcades
Rain or shine, New Hampshire has
family activities
for adults and kids and
family friendly places to stay
nearby. With historic sites, museums, and great shopping you'll never be bored even when it rains. Learn about the social history of the telephone from the first sentence spoken in 1876 by Alexander Graham Bell to smart phones of today at the telephone museum. Take a craft-making workshop and make something from your own hands from jewelry to tie-dyed shirts and sweatshirts. An all-indoor play space features multi-player video games and dance games, jungle gyms, a three-story slide and a beautiful carousel imported from Italy.
200 Daniel Webster Highway Nashua, NH, 03060 Phone: 603-888-1940
Rainy Day Solution #1 – Get the Family Over to Fun World
Rainy weather shows no courtesy for people on vacation. But there's no need for tears in Nashua. Fun World is an all-indoor play space where everyone in the family can find action to fit their tastes. Teenagers will flock to the multi-player video games and dance games, or bunch up at the prize showcase to claim prizes for their redeemable tickets. Meanwhile, the tots of the family can wear themselves to a frazzle climbing jungle gyms and riding the slides in the three-story-tall play space, which also has a ball pit for little-kid foolishness. Parents will appreciate the beautiful carousel imported from Italy, and they might even take a spin on the indoor roller coaster. Eat a pizza lunch, and keep on playing!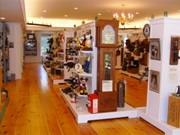 One Depot Street Warner, NH, 03278 Phone: 603-456-2234
Come Indoors to See History That Created Your Phone
A visit to the New Hampshire Telephone Museum in Warner will chase a rainy afternoon right up to dinnertime before you know it. Adults and kids will be intrigued by the ever-changing technological and social history of the telephone from the first sentence spoken in 1876 by Alexander Graham Bell to the pocket instruments of today. Come and see an enormous collection of phones and paraphernalia, and hear stories about the development of the instrument; the ways that remote farming communities used to wire their phones into barbed-wire fences to improve their reach; how a busy undertaker invented the dial system, and more. Ask questions of a museum docent or explore on your own through the history of a machine that knits us together.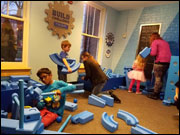 6 Washington Street Dover, NH, 03820 Phone: 603-742-2002
All the activities at this children's museum would make any adult jealous
There is so much fun stuff to do at the Children's Museum of New Hampshire that grownups will be green with envy. Kids can make a flying machine, duck inside a "cave" (using a special light to find cave paintings), check out replica dinosaur bones, operate a periscope in a submarine and press their faces into the giant pinscreen (see what comes out the other side!). The museum includes a studio to make your own art, a place devoted to the 3 and under crowd and a "thinkering lab" where kids can test their engineering ideas. Young visitors can pretend they are mail carriers, play on a sound sculpture, put on masks from Mexico and try to win at Mindball, a biofeedback game.