Vast landscapes and seascapes of NH offer gorgeous romantic getaways
New Hampshire offers many options for romantic getaways. Why not book a romantic weekend getaway right now? The seacoast, with its historic little city of Portsmouth, offers romantic vacations and weekend getaways at lodgings that range from lavish waterfront resorts with Jacuzzis to small inns and bed and breakfasts. Romantic getaway lodgings in the famous Lakes region and historic White Mountains offer snug lodgings and dining for the perfect little vacation along with outdoor activities all year round.
3351 White Mountain Highway North Conway, NH, 03860 Phone: 603-356-3113 Toll-Free: 800-525-9100
A truly unique romantic getaway in the White Mountains
Enjoy the luxury of this elegant, turn-of-the-century Victorian mansion set on 33 rolling acres in the White Mountains. You'll be surrounded by beauty and comfort; mountain views and peace and quiet. The Manor is reputed to be the area's foremost example of Victorian rural elegance featuring 26 guest rooms and one of the most popular restaurants in the Mount Washington Valley.

Accommodations choices include 16 rooms in the original Manor house, 5 with both fireplaces and Jacuzzis, 3 with fireplaces only and 4 with Jacuzzis only. There are 10 rooms located in the Mountain View Wing, a motel style wing that is attached to the main manor home. The rooms in this wing offer the most spectacular sweeping view of the Moat Mountain Range. Plan your next vacation to New Hampshire at the Stonehurst Manor.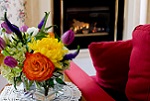 185 Chase Hill Road Albany, NH, 03818 Phone: 603-447-2181 Toll-Free: 800-426-4147
Reserve some time for romance off the beaten path
Relax and reconnect at Darby Field Inn near Conway, NH - An historic B&B is found at the end of a winding road, at the gateway to New England's White Mountains. Our rooms offer spectacular views, of course, and also some amenities to make a couple's weekend more exciting, like gas fireplaces and Jacuzzi tubs. Your surroundings include award-winning gardens, and a crackling fire in our living room. Enjoy a candlelit repast featuring seasonal entrees made from locally-sourced ingredients, include vegetables and herbs from our own garden. Spend a day hiking the woodland trails around our inn, splash in our outdoor pool, or spend time exploring quaint mountain villages. Later, unwind and de-stress with a couples' massage.
Mountain View Road Whitefield, NH, 03598 Phone: 888-260-4929
Get away to breathtaking mountain views and luxurious accommodations
Make time for romance and relaxation. Experience the height of luxury and romance while soaking in our Kohler Sök tub. Completely immerse yourself while thousands of champagne-like bubbles surround you as you take in the 360-degree views of the Presidential Mountain Ranges.

From the moment you arrive at Mountain View Grand Resort & Spa you will enjoy breathtaking panoramic views surrounding this elegant historic resort in the White Mountains of New Hampshire. Founded in 1865, Mountain View Grand offers four dining venues, historic golf course, tennis courts, indoor/outdoor heated pools, 6,300 bottle slate-lined wine cellar, health & wellness center, award-winning spa, working farm, complimentary daily activities, and much more. Call 888.260.4929 to inquire about our latest romance packages.
76 Lake Streeet Laconia, NH, 03246 Phone: 603-524-5210 Toll-Free: 800-627-4283
A romantic resort on the lakeside
Experience the beauty of the Lakes Region! The Margate's beautiful waterfront location provides the perfect haven for that needed escape or romantic getaway. The grounds offer over 400 feet of sandy beach, indoor and outdoor pools, and an oversized Jacuzzi. Relax in our spa with a massage that can sooth and satisfy the mind, body and soul! Nearby you can enjoy a round of golf, horseback riding, hiking, or outlet shopping. All of this is complemented by unparalleled views of Paugus Bay. It's an experience that will lure you back time and time again! All guest rooms are equipped with Keurig® K-Cup Coffee Makers, Green Mountain® coffee, flat screen TVs, irons & ironing boards, and hairdryers. Lake and West rooms also include double-sized stainless steel mini-fridges and free WiFi!
45 Stewart Young Road Pittsburg, NH, 03592 Phone: 603-538-6659 Toll-Free: 800-538-6659
A romantic getaway in the heart of nature
The Cabins at Lopstick are located in Pittsburg, NH, surrounded by natural wilderness. Enjoy a romantic stay in one of our cabins featuring a fireplace, Jacuzzi tub and private porch with great views of the surrounding lakes and mountains. Looking for outdoor adventure? Explore the woods and waterways of the Great North Woods, by paddling, hiking, birding, or fishing. Keep your eyes open, and there's a chance you'll spy moose. In the evening relax on the porch listening to the loons call to each over the moonlit lake. What's more, we offer motor boat, kayak and canoe rentals as well as snowmobile rentals in the winter to complete your adventure.
1 Carter Notch Road Jackson Village, NH, 03846 Phone: 603-383-9700 Toll-Free: 800-637-0013
A romantic Inn in the mountain village of Jackson New Hampshire
Located through the red covered bridge and in the center of Jackson Village, The Wentworth is the ideal hotel for your romantic getaway. Deluxe rooms designed with romance in mind, beautiful king bed, gas fireplace and more rooms with your very own private outdoor hot tub than any other hotel in the state. Package includes an elegant four course dinner by candle light in our award-winning restaurant and a full country breakfast in the morning. Champagne, chocolate covered strawberries, massages all can be arranged for you prior to check in. Our dedicated staff is here to make sure that all of your requirements will be met and that your stay will be relaxing and rejuvenating. Visit our website at the link above or call us at 800-637-0013 for more details.
135 Main Street North Woodstock, NH, 03262 Phone: 603-745-3951 Toll-Free: 800-321-3985
Romance in the Mountains
This package includes a romantic dinner for two in the Woodstock Station. Champagne and flowers greet you upon arrival. Located in the heart of the majestic White Mountains, the Woodstock Inn, Station & Brewery, est. 1982, is one of New Hampshire's most visited country inns. The Inn's gracious and relaxed setting centers around 39 guestrooms. Our Grand Rooms offer whirlpool tubs and gas fireplaces. Legendary dining plus seasonal outdoor patio, award-winning brewery, three pubs, and live entertainment weekends. A hearty country breakfast is included with all packages. In the summer explore the region's many attractions and outdoor activities. Take a hike, drive along the many scenic highways, see moose or just relax and enjoy the natural beauty. In the winter, skiers and boarders alike love the slopes of Loon, Cannon, and Bretton Woods. Visit our website for more information.
2560 West Side Road Hale's Location, NH, 03860 Phone: 603-356-7100 Toll-Free: 800-533-6301
North Conway's Best Kept Secret
Nestled beneath White Horse and Cathedral Ledges and surrounded by state and national forests, The White Mountain Hotel & Resort sits on one of the most romantic and breathtaking setting you could find. It's a unique advantage that no other location in North Conway offers. These spectacular views will also greet you from any of our traditionally-decorated rooms and suites. And when you're not curled up in your room with your sweetheart, the resort's sauna, heated pool and Jacuzzi are always available to help relax you. Step outside for some fresh mountain air and enjoy the natural beauty of the property from an Adirondack chair, and let the stress of the day melt away. Then enjoy a fine freshly-prepared dinner in our Ledges Dining Room as you watch the evening rise over the White Mountains. Where else can you find this kind of peace and tranquility just a few hours drive from Boston?
312 Daniel Webster Highway Meredith, NH, 03253 Phone: 603-279-7006 Toll-Free: 800-622-6455
Inn-dulgence
Step inside and step back in time. Return to an era of understated elegance and distinctive New England hospitality at Mill Falls. Romance awaits you in our luxurious lake view rooms complete with fireplace and whirlpool bath. Each of the four Inns welcomes you with lots of great little nooks to relax and read a book or warm yourself by one of our 105 fireplaces. Dine in one of our seven distinctive restaurants, take a romantic stroll along our lakeside boardwalk or find the perfect memento from your trip in one of our 12 unique shops in the historic marketplace. Your romantic escape would not be complete without indulging in a treatment from the full service Cascade Spa. Be sure to inquire in about our Spa packages and arranging to have rose petals on your bed and chilled champagne for a truly romantic arrival to your vacation.
17 Harriman Road Jackson, NH, 03846 Phone: 800-233-8309
Listen to the romantic river's song in the heart of the White Mountains
Find romantic tranquility nestled by a sparkling stream in picturesque Jackson in the heart of the White Mountains. Indulge yourselves with our two night Luxurious Romance package including gourmet breakfasts, afternoon refreshments, a long-stemmed rose, gourmet picnic for two or a fruit and cheese platter, a chilled bottle of Mumm's Napa Cuvee or split of Veuve Cliquot champagne (other wines also available) and a plate of decadent delights ($489-$529 Quiet Season or $529-589) Inn Season) – rates slightly higher during foliage and holidays. You can also choose our Babymoon or Honeymoon package, or let us customize a romantic getaway package just for the two of you. Many of the inn's beautifully appointed rooms have two-person Jacuzzis and/or balconies and most have fireplaces. You'll enjoy all the White Mountains offer, and ideal spots to relax together in our cozy gameroom/pub, sitting room, atrium-enclosed hot tub, sauna, gazebo or seasonal outdoor heated pool. Plan your romantic getaway to the White Mountains because the Inn at Ellis River's "quiet, relaxed, cozy atmosphere makes this a great romantic retreat." - Yankee Magazine.
20 Cross Road West Chesterfield, NH, 03466 Phone: 603-256-3211
Romance in Vermont and New Hampshire's intimate little corner
There's romance to find on a hillside within easy driving distance to Keene and Brattleboro, a hop, step, and a slow stroll from scenic Vermont to bucolic New Hampshire. Whatever your pleasures, you'll find them here in 15 luxurious rooms with the essential ambiance provided by comfortable beds and linens, fireplaces and whirlpool tubs. Savor the special touches from sweets to the handpicked wine selection, scrumptious breakfasts and intimate dinners. Nearby are cozy Spofford Lake and Pisgah Park, while major ski resorts are within an hour or less. Escape to this little corner of central New England and if things go well, you can always plan a small wedding or intimate elopement in the perfect setting. If your favorite dog gets to share the love, he or she is always welcome.
588 Wentworth Road New Castle, NH, 03854 Phone: 603-422-7322 Toll-Free: 866-240-6313
The ideal location to treat your loved one with romance and privacy
Romance is in the air from the moment guests enter Wentworth by the Sea. In any season – the flower-decked bloom of summer, the crisp afternoons of autumn, or the sparkle of winter – the hotel is a haven of traditional elegance and pristine service. After arrival, romance continues with the unveiling of the guest rooms, most of them overlooking the ocean or harbor and all of them laden with luxuries. Fine dining, strolling through the elegant public rooms, floating in the swimming pools or soaking in the co-ed whirlpool – these are pleasures couples can enjoy any time of the year. Enjoy our Couples Getaway Package which includes:
• Arrival night - wine and cheese delivered to your room
• Following morning - couples massage lesson in room
• Room service lunch with a glass of wine delivered to room
• Breakfast the day of checkout
• Gift Set including lotions and 15% off all other spa services
580 Meadow Street Littleton, NH, 03561 Phone: 603-444-0025
Stay with us for a quiet White Mountains getaway
The Hampton Inn Littleton is located in a quaint, quiet corner of New Hampshire that's perfect for a romantic vacation or just a weekend alone with the one you love. Reserve our Honeymoon suite, featuring a in-room whirlpool bath and all the other amenities you expect, including free wi-fi access and of course our complimentary breakfast. You can also swim laps in our heated saltwater pool or get a work out in our fitness room. In the winter months visit Cannon Mountain and Bretton Woods, where you'll find downhill skiing, tubing, ice skating, and cross country skiing. And in warmer seasons you'll find all kinds of outdoor activities, from hiking to fishing to horseback riding. Spend a quiet afternoon exploring trails at nearby Franconia Notch State Park, rambling along the Ammonoosuc River, or head to downtown Littleton for shopping or a romantic dinner at Bailiwicks and Chang Thai Cafe.
116 Route 117 Sugar Hill, NH, 03586 Phone: 603-823-5621 Toll-Free: 800-548-4748
A perfect country inn getaway; romance, comfort, rejuvenation and impeccable hospitality.
Nestled in New Hampshire's White Mountains, Sugar Hill Inn is a romantic getaway known for culinary adventure and warm, inviting guest rooms and cottages. You'll be immersed in country inn ambiance, New England hospitality and all the recreation of the Franconia region. Impeccably restored, this country inn ranges from charming and cozy to sophisticated and distinctive.
Imagine lounging in a tub for two, sharing a candlelight dinner or just enjoying a glass of wine on your private porch as you watch the sun set. Whether a special occasion or you are just looking for a little romance, we can help you plan the perfect romantic getaway. The Dream Cottage has been featured in "Everyday with Rachael Ray Magazine".
The Sugar Hill Inn has received the Distinguished Restaurants of North America (DiRoNA)'s Achievement of Distinction in Dining award for 2009 and 2010.