Science and nature centers in NH range from bird to cave explorations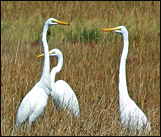 New Hampshire's variety topography and natural history transfers to a wonderful range of places to visit to see science and nature. Beaches, forests, and caves are alive with mysteries if you look close enough into their tidal pools and mossy corners.
Nature centers and bird sanctuaries and natural history
museums
are built and maintained to help people see plants and animals in their undisturbed states. As an outdoor
family activity
, you can hardly do better: children love to explore and discover.
105 Haverhill Road Salem, NH, 03079 Phone: 603-893-8300
Stroll among the pines and ancient megaliths
A hike through America's Stonehenge in Salem, New Hampshire, is a nature trip like no other. Not only will you find yourself wandering in a beautiful pine forest, you'll also explore an archeological site of the type rarely found in North America. The woods are full of ancient megaliths and stone chambers, which many scholars believe were erected by Bronze Age voyagers who lost their way in the Atlantic and wound up on New Hampshire's shores. Others believe the monuments were erected by Native Americans or colonial farmers. You can decide for yourself. The site includes a small museum where a video presentation gives you some of the history. And be sure to pet the gentle alpacas who share the property.
Stonedam Island Conservation Area
Stonedam Island Road Meredith, NH Phone: 603-253-3301
Self-guided nature trails are the centerpiece of this nature center, which focuses on conservation programs. Educational events are scheduled at the site throughout the season. Open July - Labor Day.
Meriden Bird Sanctuary
Main Street Meriden, NH Phone:
This nature center is set on 30 acres, and features trails through woodlands and fields. Admission is free, and the sanctuary is open year-round.
Old Street Road Peterborough, NH Phone: 603-431-6774
This small forest (45 acres) has been dedicated to the advancement of nature and conservation education. There are self-guided nature trails, a learning center, and a demonstration of woodlot management. Events are scheduled there throughout the year.
45 Elwyn Road Portsmouth, NH, 03801 Phone: 603-431-6774
The center consists of 182 acres of field, forest, and salt marsh, several buildings, and the annual interest income from a trust fund. It is used as a tree farm to demonstrate proper forest management, a bird and wildlife sanctuary, a garden and landscape demonstration site, and as a learning center in forestry planning, forest management, ecology, tree and plant identification, and wildlife stewardship.
Tin Mountain Conservation Center
An activity-oriented nature center, scheduling lectures, trips and childrens programs in various locations throughout the Jackson area. Some programs will have a fee for participation.
Wapack National Wildlife Refuge
Route 101 Peterborough, NH Phone:
This preserve offers ample opportunity for wildlife observation, particularly of migrating hawks. Hiking trails lead past forested land, a bog, a swamp and a rock cliff. These trails are available in the winter for cross-country skiing and snowshoeing as well. Camping and open fires are not permitted.
Seacoast Science Center
Odiorne State Park, 570 Ocean Boulevard Rye, NH Phone: 603-436-8043
Located in Odiorne State Park, the Science Center offers an aquarium, and focuses on marine and area wildlife. Events are scheduled on a daily basis, year-round. There is a small admission charge.
Museum of American Weather
South Common Haverhill, NH, 03765 Phone: 603-989-3167
A museum dedicated to American weather. Of particular interest are exhibits devoted to four severe New England weather events: The blizzard of 1888, the 1938 hurricane, the Vermont flood in 1927 and a tornado that hit Worcester, Massachusetts. Open seasonally. Admission is free.
Twin Mountain Fish and Wildlife Center
Route 3 Whitefield, NH Phone: 603-846-5108
Visitors will find information on New Hampshire wildlife and fish. Exhibits feature videos, a hatchery, nature trails and a fish tank. Open May-October. Admission is free.
McAuliffe–Shepard Discovery Center
3 Institute Drive Concord, NH, 03301 Phone: 603-271-7827
Science will take you to the stars and back
Earth and space are inextricably bound just like the two people whose names grace this unique and highly evocative memorial: New Hampshire's native son and daughter, Alan B. Shepard, and Sharon Christa McAuliffe. Both had the dream to fly in space and Christa wanted to bring that adventure to her students. Both succeeded in triumph and in tragedy and brought inspiration and learning to people everywhere about the stars and the journey to explore them through astronomy, aviation, earth and space science. This moving memorial, opened in 1990, provides highly engaging activities and a vast collection of interactive exhibits inside an entertaining learning environment that leaves nothing to want. The planetarium theater, the high-tech observatory, and the workshops for young and older will take you far above the clouds.
Mount Washington Observatory Resource Center
2936 White Mountain Highway North Conway, NH Phone: 603-356-2137
Learn about Mount Washington and the weather observatory at its summit. Open year-round. Admission is free.
Great Bay National Estuarine Research Reserve
Accessible from many places Durham/Dover, NH Phone: 603-868-1095
Set on 48 miles of coastline, this preserve protects saltmarshes, woodlands, tidal creeks and open fields. It is managed by the NH Fish and Game department. Visitors can enter at Adams Point, and also access the area via the water. Great spot for bird and animal observation.
Squam Lake Natural Science Center
Route 113 Holderness, NH Phone: 603-968-7194
A 200 acre facility offering an exhibit of live animals, interactive bird exhibit, children's center, and nature cruises on Squam Lake. Open May - November. There is an admission fee.
Warren Fish Hatchery and Education Center
Old Route 25 Warren, NH Phone: 603-764-8593
Visitors may tour the hatchery. Interactive exhibits focus on local wildlife management and habitats, as well as the life cycle of the Atlantic Salmon. Open May - October. Admission is free.
10 Hale Hill Road Rindge, NH, 03461 Phone: 603-899-3300
Sibyl and Douglas Sloane III founded the Cathedral of the Pines in 1945 as a memorial to men and women, including their son, who sacrificed their lives in World War II. Situated on a hilltop with a panoramic view of the Grand Monadnock, the Cathedral of the Pines is a breathtaking open-air cathedral and meeting space on 236 acres. Historic monuments honor the service of American men and women — both military and civilian. Visitors from all over the world participate in events here and explore the extraordinary sanctuary grounds and meditate in outdoor chapels and gardens. A warm jacket is often necessary. Guided tours are available; groups are required to make reservations. Fee charged for group tours.
Hours: Daily, May 1-October 31.
Audubon - Paradise Point Nature Center
North Shore Road Hebron, NH Phone: 603-744-3516
This nature center on Newfound Lake offers 5 trails, a store and a library. Open Memorial Day - Labor Day. Events are scheduled there during the summer months.
Madison Boulder Natural Area
Off Route 113 Madison, NH Phone: 603-823-5563
A National Natural Landmark, this boulder was deposited glacially and is over 80 feet long and 35 feet high.
Rocks Estate
4 Christmas Lane Bethlehem, NH Phone: 603-444-6228
A natural preserve, this area features hiking trails, picnic areas and educational programs. Other events are offered throughout the year. Open year-round.
Harris Center for Conservation Education
King's Highway Hancock, NH Phone: 603-532-2400
Nature center offering nature programs kayaking, hikes,and walks. Open year-round.
Sandy Point at the Great Bay Discovery Center
89 Depot Road Greenland, NH Phone: 603-778-0015
This nature center features a self-guided walking trail through a saltmarsh. Exhibits focus on the Great Bay, history and wildlife. Events are scheduled there during the season. Open June - October.
See Science Center
200 Bedford Street Manchester, NH, 03101 Phone: 603-669-0400
This hands-on science center has nearly 100 exhibits where children and adults can do actual science experiments. The museum's Millyard Project is a scale model of the Amoskeag Millyard of Manchester circa 1900, built entirely of Lego blocks – 2 million in all. Other activities include the Science of Ice Hockey; Reptile Mountain, and Moonwalk. Hours: Monday – Friday, 10 a.m.-4 p.m.; Saturday-Sunday, 10 a.m.-5 p.m. Check for seasonal changes in hours and programs. Cost: $8 per person over age 3. Information: www.see-sciencecenter.org.
570 Ocean Blvd. (Route 1A) Rye, NH, 03870 Phone: 603-436-740
Coastal park for walking, paddling, biking; home to the Seacoast Science Center
This park is home to the Seacoast Science Center, which offers exhibits about marine life for adults and kids, and hosts a number of special events throughout the year.
See
full description
of Odiorne Point State Park.