White Mountains area offers many campgrounds with excellent facilities
New Hampshire loves campers!
Discover New Hampshire's campgrounds and RV parks. Experience exciting, fun-filled, affordable family vacations for an overnight, weekend, week or the whole season. Enjoy four seasons of camping in seven regions offering a wide variety of outdoor recreation, family attractions, cultural activities, shopping, and dining. From the tranquility of the Great North Woods to the summit of Mt. Washington, on scenic lakes and rivers, to the beaches of the seacoast, there's a perfect setting for your camping vacation. Visit our website to download or order a NH Camping Guide with information about each region and our member campgrounds and amenities (including hookups, Wi-Fi, laundry facilities, playgrounds, swimming pools, and much more). So whatever you like to do, there's a New Hampshire campground for you!
Click here to view a NH Camping guide
, or call us at 603-736-5540!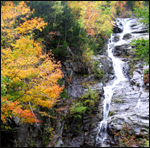 1464 US Route 302 Harts Location, NH, 03812 Phone: 603-374-2272
Mountain vistas, waterfalls, rivers, mountain hiking, campground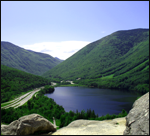 Route 93 Franconia, NH, 03580 Phone: 603-823-8800
Park in a mountain pass has a lake, bicycling, camping, daytime attractions
This magnificent park within a mountain pass has the Lafayette Campground, open mid-May to Columbus Day. Campsites are wooded, with picnic tables and open fireplace. Campers can buy wood, charcoal, ice, milk, and snacks at the lodge.
Campground map and policies
.
See
full description
of Franconia Notch State Park.