179 Carter Notch Road Jackson, NH, 03846 Phone: 603-383-9111 Toll-Free: 800-966-5779
Have your choice of cuisine and breathtaking settings
Stay in this lovely mountain retreat and historic Inn in Jackson, NH and savor three delicious and distinct dining options. The family friendly Highfields Restaurant features breathtaking panoramic views of rolling fields, the White Mountains, and the Wildcat River and a tasty twist on classic comfort cuisine. The seasonal Veranda Cafe offers al fresco dining with its own special menu and a full cocktail list served tableside or to a relaxing rocking chair of your choice. Before or after dinner enjoy cocktails and chat or a relaxing light meal at the Eagle Landing Tavern with a signature Tavern Menu available at lunch during the high season. Come for the views and relax in the comforts and amenities all year round.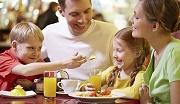 527 US Route 3 Lincoln, NH, 03251 Phone: 603-745-8141
Fuel up in a relaxed setting for a day in the mountains
The Grille at Woodwards Resort offers full service dining for breakfast and dinner and our pub is a cozy spot to enjoy a drink by the fire. Famous for outstanding prime rib, the Grille's menu offers something for everyone, including daily specials, a kids menu, and gluten free options.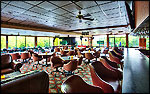 664 US Route 3 Lincoln, NH, 03251 Phone: 603-745-8000 Toll-Free: 888-343-8000
Relaxed dining presents traditional favorites and mountain views
Dining at Indian Head Resort is informal and unfussy – no need to worry about 8-year-olds fumbling a crystal water glass. Two dining rooms, the Profile Dining Room and Thunderbird Lounge, offer plenty of good selections, including a late-night menu and kids menus. Dining options include a popular M.A.P. (Modified American Plan) package that offers a choice of menu breakfasts and dinners at an unbeatable price. Selections from the prize-winning New England clam chowder right up to juicy steaks are made with the finest ingredients available, and the wait staff is eager to make your dining experience the best it can be.