White Mountains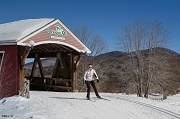 153 Main Street Jackson, NH, 03846 Phone: 603-383-9355
Groomed trails and trailside amenities in Jackson
Jackson Ski Touring features 150 km of the finest, state of the art groomed ski trails in the Eastern United States. The scenery is spectacular and the skiing is as slow and easy through old growth forest or as heart pounding as your abilities allow on an international race course. Trails also connect with A.M.C. trails in Pinkham Notch and White Mountain National Forest backcountry adventure trails. Voted the #1 Snow Shoe Friendly Touring Center by Snowshoe Magazine, the center maintains 25 miles (40km) of self guided snowshoe trails and offers guided snowshoe tours. There's a top notch ski school, full service rental shop, parking lots, wax room, free WI-FI access and discounts at the Gorham Bike & Ski Sport Shop.
Route 16 at Pinkham Notch Gorham, NH, 03581 Phone: 603-466-3988
Outfitter and outdoor center with 45 km of trails for cross-country (XC) skiing, snowshoeing, and snow tubing; family friendly
Great Glen Trails Outdoor Center is a family- and kid-friendly place for cross-country skiing in the classic and skate ski styles; snowshoeing; and snow tubing. It has 45 kilometers of both groomed and back country trails. A beginner's section outlines everything you need to do cross-country skiing. Back country trails for experienced Nordic skiers. Trails are groomed every day for classic and skating skiing; most trails have two tracks. Snowshoeing may be done on all the groomed or marked back country trails In the White Mountain National Forest. An Appalachian Mountain Club naturalist conducts Moonlight Snowshoe tours.
SnowCoach tours are offered up to tree line of Mount Washington. Glen View Café offers many food choices and great views from the dining room.
Mt. Washington Valley Ski Touring & Snowshoe Center
279 Route 16 -- 302 Intervale, NH, 03812 Phone: 603-356-9920
45 km of riverside, wooded and village trails for cross country skiing and snowshoeing
Trails travel though hayfields, spruce and hemlock forests, and hills, More than half of the network is rated easy. Trail are groomed for classic and skate styles of Nordic skiing and for snowshoeing. These trails connect Intervale, Kearsarge, and North Conway Village. Skiers and snowshoers can enjoy views of the Saco River and Mount Washington.

The Northern part of the trail network includes easy trails from the Touring Center toward the inns along Route 16A in Intervale or along the Saco River toward North Conway. The Central section includes easy trails from Inns near the Scenic Vista. Travel into North Conway through Whitaker Woods or head north along the Saco River. The Village section of the network includes the trails through Whitaker Woods in North Conway. People may ski with their dogs only in Whitaker Woods. Day memberships are $7 to $15, depending on skier age and time of week.
Bear Notch Ski Touring Center
Route 302 Bartlett, NH, 03812 Phone: 603-374-2277
65 km of trails for Nordic (XC) skiing and snowshoeing with views of the White Mountains
An old farmhouse is the base for cross country skiing and snowshoeing. Sixty-five kilometers of groomed trails in the White Mountains at a location between Bretton Woods and North Conway. Ski or snowshoe among beautiful views, past waterfalls, across meadows and over tough hills. Lessons for all abilities. Lots of equipment for rent or sale, and demonstrations. Day passes are $17 for adults, $12 for seniors over age 60, and free for youth with an adult.
Nordic Center at Waterville Valley
Town Square Waterville Valley, NH, 03215 Phone: 603-236-4666
70 km of trails for all abilities for XC skiing and snowshoeing; village provides all comfort needs
The White Mountain National Forest is the setting from 70 kilometers of trails groomed daily for classic track and ski skate styles. Trails for all skill levels depart from Nordic Center in Town Square.

The Nordic Center offer a large variety of rental and retail gear for cross country skiing and showshoeing, child trailer sleds known as pulks, repairs, waxing, and tuning. Open daily, 8:30 a.m.-4 p.m. The Village offers lots of places to eat, shop, and enjoy ice skating, fireworks, sleigh rides, and seasonal events.
Purity Spring XC & Snowshoe Reserve
Eaton Road / Route 153 Madison, NH Phone: 603-367-8896
22 km of trails for all abilities for XC skiing and snowshoeing; Purity Spring Resort provides all comfort needs
The Purity Spring XC and Snowshoe Reserve features a scenic trail network that wind through forests surrounding Purity Lake and twist through tall pines in the adjacent New Hampshire Audubon Sanctuary. 15 km's of our trail network are tracked and skate groomed allowing classic and skate skiing options. Nordic ski and snowshoe rentals are available at the King Pine Rental Shop and lessons are available. The Nordic trails interconnect with Purity Spring Resort lodging, ice skating, fireworks, sleigh rides, and seasonal events and dining at Traditions Restaurant and Pub.
Bretton Woods Nordic Center at the Mount Washington Resort
Route 302 Bretton Woods, NH, 03575 Phone: 603-278-3322
100 km of trails adjacent to Mount Washington Resort for XC skiing and snowshoeing; ice skating; rentals; lessons
On the grounds of the historic Mount Washington Hotel and the White Mountain National Forest, the Bretton Woods Nordic Center is on the grounds of the Mount Washington Hotel and is among the biggest cross country areas in the East, with a 100-kilometer trail network. Ice skating is available.

Trails cross terrain that includes fields, hard wood forests, past ponds and streams. Groomed for classical track Nordic skiing and skate skiing or snowshoeing. Some trails are part of the Mount Stickney system. Warming cabins may be found on some trails. Nordic racing program.

Trails passes for a day are $7 to $14; chairlift ride to Mountain Road Trail is $10; on Wednesdays except holidays, two may ski for the price of one. Also available are Learn to Cross Country Ski packages, including passes, rentals and lessons.