Classic Foods of New Hampshire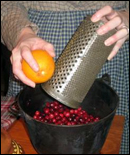 New England has many regional foods that are rooted in history, like Native Americans' use of maple sap, and in traditional uses of the land, like cheese from Vermont dairy farms and lobster from the coastal fisheries. New Hampshire has seafood along its brief but beautiful Atlantic coast, several interesting places to find food prepared as in the 18th and 19th centuries, apples, maple, dairy, and a strong tradition of local sourcing of foods. You will find classic dishes during a stop at a diner, during a culinary vacation . To learn about regional dishes and where to find them, see below at Seafood, Historic Yankee Fare, French-Canadian, Pizza and Italian, Localvore, Apples, Dairy, Odds 'N' Ends and Excursion Trains.
Seafood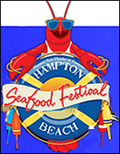 Seafood is a specialty and a point of pride in New England cuisine. Finfish like cod, scrod, haddock, halibut, and trout, and shellfish like lobster, scallops, clams, oysters, and mussels are served throughout New England, with some regional specialties: lobster is synonymous with Maine; Rhode Islanders love their quahogs; everyone devours fried clams. New Hampshire has massive inland lakes and a few dozen miles of Atlantic shoreline, and its seafood traditions are as strong as anyplace in New England.
Where to Find Seafood in New Hampshire
South Coast region

Brown's Lobster Pound
Route 286
Seabrook, NH
603-474-3331
Price Range: $10-$30 for meal, tax, tip
Brown's is an authentic seafood shack on the water; very rustic, good for kids and relaxed adults. Lobsters are cooked the way lobsters should be cooked. This is high-quality seafood piled high on the plate. Dine indoors or outside on a deck above the water, to enjoy a scenic marsh and river views. Bring Your Own Bottle and be ready to pay in cash only. (ATM on the property.) Be ready for crowds in the summer and possibly long lines. Take out service. Open daily from April 1 to November 15 and Fridays through Sundays from mid-November through March.
Map

Jumpin' Jay's Fish Café
150 Congress Street
Portsmouth, NH
603-766-3474
Price Range: $30-$60 for meal, drink, tax, tip

Who couldn't love an eatery with the name Jumpin' Jay's? The décor is nothing to excite – it's a lot like a cafeteria -- but the variety and quality of the seafood menu is top-notch. The plentiful seafood dishes include traditional ones and many more with trendy twists. Delicious appetizers include clams casino, steamed Prince Edward Island mussels, and fried calamari. Entrees include pan-seared flounder, haddock piccata, and day boat cod. If you go just once, try the house special. Map

Carriage House Restaurant and Caterers
2263 Ocean Blvd
Rye, NH
603-964-8251
Price Range: $30-$60 for meal, drink, tax, tip

The Carriage House, located right on the beach, is a great balance of gourmet food in a relaxed setting. It is definitely frequently by local people, and interaction among diners is easy and friendly. Food is very good, and the service is attentive and unrushed. Menu includes fresh fish, lobster, pasta, seafood, steak, burgers, and panini sandwiches. The upstairs offers a nice view of the water during daylight and a romantic setting in the evening. Not best for children. Open year-round, nightly. Map
Lakes region

Town Docks Restaurant
289 Daniel Webster Hwy
Meredith, NH
603-279-3445
Price Range: $10-$30 for meal, tax, tip
Excellent food and drinks; fantastic lake-side outdoor seating on Lake Winnipesaukee! There is a sandy outdoor Tiki Bar where you can dig in your toes and relax by the water. Go there on a nice day and you won't want to leave. Menu includes all the seafood classics that you love and expect. Try the crab cakes and/or the mussels. The place is always busy, but usually a table waiting for you. Nearby is a sandy play area for the littler kids. Leave room for the home-made ice cream. Open only in the summer.
Map
Merrimack Valley region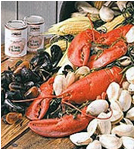 Lobster Tail
4 Cobbetts Pond Road
Windham NH
603-890-5555
Price Range: $10-$30 for meal, drink, tax, tip

Both a restaurant / lounge and a fish market, The Phantom Gourmet chose the Lobster Tail as one of the top 10 places in New England to eat lobster. The restaurant is independently owned and are very fussy about the quality of food it serves. Among the numerous lobster and seafood specialties on the menu are a full clambake. The entire menu is available in the lounge, and it includes some new specialties like a Kobe beef hamburger and real buffalo wings. Open daily. Map
Historic Yankee Fare
New England's Puritan settlers from England brought their own cooking traditions, like baked beans, baked turkey, and apple pie. The newcomers also acquired food traditions from the Native Americans, who used corn meal in a form of jonnycakes and many kinds of fish in chowders and clam bakes. Native people also gathering and used maple sap, a prelude to modern maple syrup. Molasses and rum were common in New England cuisine. Hard apple cider was a beverage for people of all ages. Cranberries and potatoes were used extensively.
Where to Find Historic Yankee Fare
in New Hampshire
Lakes region

Corner House Inn
22 Main Street
Center Sandwich, NH
603-284-6219
Price Range: $10-$30 for meal, drink, tax, and tip

Built in 1849, the inn was originally a dwelling with an attached harness shop. Surviving two major town fires in the mid-1800s, the "house on the corner" eventually became a prominent eatery and boarding house in Sandwich. Enjoy a crackling fire and casual fare in the rustic pub upstairs, or dine intimately by candlelight and enjoy locally grown produce and game in one of four country-elegant dining rooms. The menu includes sandwiches, steaks, and fish. Wonderful soups and local brews for a winter warm-up or cool-down Professional storytellers entertain during dinner on Thursdays all winter. Great for kids. Map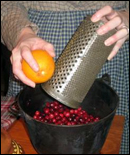 Remick Country Doctor Museum and Farm
Cleveland Hill Road
Tamworth, NH
603-323-7591
Cost of Hearthside Dinner: $40

This historic farm is a wonderful place for visitors to see the daily lives and chores of the agricultural way of life in New Hampshire from 1790. Raising and preparing food – from hatching chicks to stoking the woodstove – is a large part of the story. Workshops are offered through the year in homestead cookery and other crafts. The farm hosts monthly hearthside dinners, where costumed interpreters cook dinner at the hearth with guests in attendance. Some of the hearthside dinner themes for 2011 are Scotch-Irish Heritage Celebration, Victorian Era Foodways, Tribute to 19th Century Mothers, and Commemorate the Harvest. Map
Merrimack Valley region
Canterbury Shaker Village and Greenwood's Restaurant
288 Shaker Road
Canterbury, NH
603-783-9511

A fascinating day of history and fine dining awaits the curious visitor at the this National Historic Landmark, which preserves 200 years of Shaker life on 694 acres, with original buildings, gardens, and trails. Greenwood's is a full-service restaurant in the beautifully reconstructed Blacksmith Shop. It serves Shaker-inspired cuisine and is open daily for lunch, mid-May to October 31. Guests dine in a comfortable atmosphere with pastoral views of Canterbury Shaker Village and enjoy Shaker-inspired cooking using fresh ingredients from area producers, as well as many fruits, vegetables, and herbs grown on the Village grounds. The Village is open daily, May through October and weekends November, December and April. Map
Seacoast region
The Old Salt Restaurant at Lamie's Inn
490 Lafayette Road
Hampton, NH
603-926-0330
Price Range: $10-$40 for meal, drink, tax, tip

Once a welcome landmark to weary travelers on the Old Boston Post Road, Lamie's Inn Continues today to offer gracious hospitality in the best tradition of a New England Country Inn. At the restaurant, fresh local seafood is the specialty, including boiled lobster, a New England clambake, and the catch of the day from nearby fishermen. Don't forget to try the clam chowder. Also on the menu are choice steaks, chicken dishes, and Italian. The Old Salt has been named as home of one of the "Best of New Hampshire" Sunday brunch buffets. Map

Ffrost Sawyer Tavern at Three Chimneys Inn
17 Newmarket Road
Durham, NH
603-868-7800
Price Range: $30 to $60 for a meal, one drink, tax, tip

With its open-hearth summer kitchen, fireplace, granite walls, and hand-hewn beams, the ffrost Sawyer Tavern provides a cozy spot for hearty traditional New England fare. Georgian décor and candlelight recreates the warmth and charm of a fine colonial residence. The Terrace, a shaded by the wisteria-covered arbor and lined with flowering plants, offers outdoor dining in warm weather. Among the tempting entrees are potato-crusted haddock, venison steak, butternut squash ravioli, pot roast, and lobster mac and cheese. Map
White Mountains region

1784 Historic Lovetts Inn
1474 Profile Road (Route 18)
Franconia, NH
603-823-7761
Price Range: $30 to $60 for a meal, one drink, tax, tip

Whether you're a guest of the inn or just driving by, come in and savor the gourmet delights at Lovetts Inn, served in style by a romantic fireside. Chef Janet has a variety of expressive New England-style dishes to serve any palate. Brace yourself for delicious mountain duck and New England crab cakes among the range of seafood, including trout, salmon, and more. Map
French-Canadian
In the mid-1800s, New Hampshire had almost 30 mills and mill complexes scattered throughout the state, providing work for a flood of French Canadian farmers who migrated to the Granite state looking for work. The foodways of these "Little Canada" populations and communities still exist in New Hampshire in the form of French-Canadian-American dishes.
Merrimack Valley region

Chez Vachon
136 Kelley Street
Manchester, NH
603-625-9660
Price Range: $10-$20 for meal, tax, tip

This traditional French eatery serves breakfast all day and is known for its delicious crepes, which are served plain or with fruit. Another favorite in this dining establishment is their poutine, a classic French-Canadian dish that consists of French fries, topped with cheese curds and ladled with spicy chicken gravy. Here is the description of Breakfast Poutine: home fries topped with two eggs, Canadian curd cheese, and Poutine gravy. Open daily. Map

Richard's Bistro
36 Lowell Street
Manchester, NH
603-644-1180
Price Range: $30-$60 for meal, drink, tax, tip

This five-star restaurant has been categorized as American & French eclectic with traditional foods, updated for today's tastes, in addition to newly created dishes. Don't forget to try its homemade desserts. Now in its fifteenth year, Richard's features delectable French selections, like truffle braised escargot in puff pastry and slow roasted chicken with baby carrots and potato gratin. Open daily for lunch, dinner, and Sunday brunch. Map
Pizza and Italian
Seacoast region

Flatbread Company
138 Congress Street
Portsmouth, NH
603-436-7888
Price Range: $10-$30 for meal, drink, tax, tip

Super-excellent pizza with all imaginable toppings in a colorful, '60s-type atmosphere. Pizzas are baked in a primitive wood-fired earthen oven, which is fun to see up close. Ingredients are organic produce, free range chicken, and nitrate free meats. A reviewer writes, "You would be hard pressed to find a more relaxed and comforting environment, especially if you are privileged to sit by the pizza oven. Pizzas are tossed, prepared and cooked in plain sight and the employees have always been very friendly and helpful." Great for kids. Open daily, 11:30 a.m.-10 p.m. Map
White Mountains region
Italian Oasis Restaurant and Brewery
106 Main Street
Littleton, NH
603-444-6995
Price Range: $10-$30 for meal, drink, tax, tip


This place is loved for its Italian specialties, homemade soups and sauces, hand-tossed stone-baked pizza, and children's menu. Pizzas get plenty of praise from reviewers. A round of pizzas, including a veggie explosion, a chicken-broccoli-feta concoction, and a proscuitto-pineapple Hawaiian, were called "pretty damn delicious." Also, people love the chicken mittens -- crisp pieces of chicken in a light batter and deep fried. Atmosphere is casual and neighborly. Beer does not get great reviews. Good for kids,
Map

Localvore
New England is full of chefs who are determined to work closely with nearby farms, dairies, and orchards to present fresh, locally sourced food, with the idea of supporting neighboring businesses and strengthening cultural traditions. Local food? How about maple from Vermont forests, shellfish from the coast, mushrooms from the woods, fiddlehead ferns in the first blush of spring, dairy from farmlands – there's in a lot to include.
Dartmouth-Lake Sunapee, Lakes,
Merrimack Valley, and Seacoast regions

Common Man
18 locations; see below
New Hampshire
603-968-9330
Price Range: $10-$40 for meal, drink, tax, tip

The Common Man family of 18 home-grown restaurants throughout New Hampshire offers a wide variety of creative cuisine, from comfort and diner foods, to Italian-American, to American fare with New England flair. The restaurants are founded and run by real New Hampshire people with sincere interest in quality, freshness, and local sourcing. A Yelp visitor wrote: "This is traditional American food taken up a notch. I've never had a bad meal at The Common Man. They make traditional comfort food dishes … but they make it very, very well. I like how they put a little unique twist on the recipe - and clearly they are using quality ingredients."
Locations include The Common Man in Ashland, Concord, Claremont, Portsmouth, Merrimack and Windham; Foster's Boiler Room, the Rise & Shine Café, and Italian Farmhouse in Plymouth; Lago, Camp, Lakehouse, and Town Docks in Meredith; The 104 Diner in New Hampton; the Tilt'n Diner in Tilton; and The Airport Diner in Manchester. Check website for locations, schedules.
Dartmouth Lake Sunapee region

Canoe Club
27 South Main Street
Hanover, NH
603 643-9660
Price Range: $30-$60 for meal, drink, tax. Tip

Canoe Club's mission is to present straightforward food with a flair. The menu has consistently reflected a commitment to fresh, natural local and regional food. Virtually all of the food has always been prepared from scratch on the premises, every day, The constantly evolving menus feature innovative meat, seafood, and vegetarian entrees, as well as old favorites. The daily specials reflect our keen awareness of fresh, seasonal opportunities including hard-to-find wild edibles like mushrooms and fiddlehead ferns, in season. Map
Apples
Dartmouth-Lake Sunapee region

Poverty Lane Orchards & Farnum Hill Ciders
98 Poverty Lane
Lebanon, NH
603-448-1511

The farmers of Poverty Lane Orchards don't just grow apples – they celebrate apples. Among the orchard's offerings are heirloom varieties with cheeky names like Ashmead's Kernel, Golden Russet, and Esopus Spitzenberg. A sister business, Farnum Hill Ciders, created a popular product by developing a line of hard (fermented) ciders, the single most popular beverage in New England in the 18th and 19th centuries. Visitors can purchase both hard and sweet (non-fermented) ciders at the farm stand in the fall. The orchard has pick-your-own seasons for raspberries, cherries, and apples, beginning in July. See lists of Pick-Your-Own Farms in New Hampshire and Farmers Markets in New Hampshire. Map
Dairy
Merrimack Valley region

Stonyfield Farm
10 Burton Drive
Londonderry, NH
1-800-PRO-COWS

Stonyfield Farm was founded by in 1983 as an offshoot of an organic farming school in Wilton. At first, the all-natural yogurt was made and sold just to support the school. In 1988, Stonyfield moved to a custom-designed Yogurt Works in Londonderry, where it remains to this day. Stonyfield Farms is now the world's largest organic yogurt company, producing 9,000,000 cups of organic yogurt as well as smoothies, soy yogurt, ice cream and milk, sold in supermarkets, natural food stores, wholesale clubs and supercenters. Check Stonyfield's website for store locations.
Monadnock region

L.A. Burdick Chocolate Shop & Café
47 Main Street
Walpole, NH
603-756-9058

L.A. Burdick's flagship café on Main Street offers an extensive variety of pastries and drinks in a serene environment. Step into the café and you might find yourself walking out with an elegantly striped bag filled with chocolates and pastries or perhaps a classic wooden box of chocolates or a chocolate ganache birthday cake. Open daily. Map

Unbridled Chocolates
135 Main Street
Marlborough, NH
603-876-4700

The Belgian chocolates and desserts at Unbridled are always very fresh, made from organic and natural ingredients, with no preservatives. A reviewer wrote, "the chef/owner is a master of his craft and displays a true gift for creating textures and flavors that bring chocolate to new heights. My current favorite is the maple coconut dark chocolate, but a cayenne pepper laced hot chocolate in on a cold winter day is pure bliss." Map
Ave Maria Chocolates
43 Grove Street
Peterborough, NH
603-924-5993

"Life's too short for ordinary chocolates," say the makers of Ave Maria Chocolates. Started in 2003 as a home-based business, Ave Marie Handmade Chocolates is now a growing company known especially for it milk and dark chocolate pecan turtles, truffles, coconut clusters, toffee, caramel centers, chocolate covered cherries, artisan chocolates, and favors for weddings, baby showers, and special events. The retails store also sells ilce cream, sherbets, yogurts, and sorbets. Call for hours. Map
Odds 'n' Ends
White Mountains region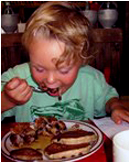 Polly's Pancake Parlor
672 Route 117
Sugar Hill, NH
800-432-8972
Price Range: $10-$30

Do you dream in bacon? Do pancakes make you happy? All people who hold an appropriate reverence for pancakes need to trek to Polly's Pancake Parlor, a third-generation family business that has been making and serving pancakes since 1938. All day long, Polly's serves whole wheat, buckwheat, and cornmeal pancakes, sausage or bacon, and maple toppings. Visit the gift shop and take home the pancake mixes and maple syrup to hold you over until your next visit. Open May to October, daily. Map
Monadnock region

Pickity Place
248 Nutting Hill Road
Mason, NH
603-878-1151
Price Range: $10-$30 for meal, tax, tip

The sweet little cottage at Pickity Place on Nutting Hill Road in the town of Mason has stood for more than 200 years (historic note: Pickity is the setting for Little Golden Books's 1948 version of "Little Red Riding Hood"). These days, the cottage is a place to enjoy peaceful gardens, a greenhouse shop, and elegant gourmet luncheons accented with herbs and edible flowers. Lunch is served every day and the menu changes monthly. Open year-round except January. Map
Excursion Trains
Lakes region

Scenic Excursion Dinner Trains
Winnipesaukee Scenic Railroad
Departing from 154 Main Street, Meredith, NH
Meredith, Ashland, Plymouth, Livermore Falls, Woodstock, Lincoln
603-745-2135 or 603-279-5253

The Hobo Railroad and Winnipesaukee Scenic Railroad offer a variety of excursion train rides during summer and fall amid the glorious White Mountains. Among the offerings are dinner trains, with a meal served onboard, and day trips, with lunch at a station stop.
Meredith Foliage Dinner Trains depart from the town of Meredith travel along Lake Winnipesaukee on Saturday nights from late September through mid-November. Watch the brilliant fall foliage stream past your window as you travel the shoreline of the lake while enjoying a turkey dinner catered by the famous Harts Turkey Farm. Reservations required. (603-745-2135).
Also during the September-to-October foliage season, the Winnipesaukee Scenic Railroad offers a four-hour and an all-day scenic train ride among scenic rivers and lakes, departing from Meredith, with a stop in Plymouth for a hot buffet lunch at the Common Man Inn, operated by one of the state's most respected restaurateurs. Map