Traditional inn dining happens at some of the finest restaurants in NH
Traditional inns are among the most historic, comfortable and welcoming places that operate restaurants. In these inns, you will be surrounded by antique buildings, fixtures, and furniture as you enjoy traditional or contemporary foods and warm, welcoming service. If you love historic places and images, it is not hard to find lodgings in a
historic inn
or hotel. Add to the pleasure with a visit to any of New Hampshire's unique art or history
museums.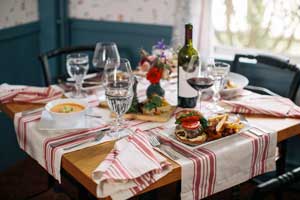 33 Main Street Hancock, NH, 03449 Phone: 603-525-3318
Traditional dining in an historic New England Inn
This popular restaurant at the historic Hancock Inn is open for dinner Tuesday through Saturday. Celebrate the end of the weekend at the Innkeeper's Supper on Sunday evening featuring a single, home-cooked meal for a prix fixe. Dishes might include spaghetti and meatballs, roast loin of pork, grilled chicken under-a-brick, beef bourguignon, and New England boiled dinner. The Fox Tavern menu changes seasonally with the richness of local farmers and producers and the comforts of New England cuisine - roast beef, pan-roasted fish, steaks, seasonal vegetables and flavorful, rich braises such as the signature, Shaker Cranberry Pot Roast. You can also enjoy a hamburger with blue cheese and roasted shallots, fish and chips, mac and cheese, and chicken pot pie.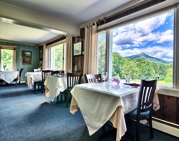 185 Chase Hill Road Albany, NH, 03818 Phone: 603-447-2181 Toll-Free: 800-426-4147
Enjoy the view of the Presidential Mountains with your meal
Darby Field Inn near Conway, NH, is more than just a bed and breakfast. It's also a dining experience. In our mountain-view dining room and in our cozy Littlefield's Tavern, we use locally-sourced ingredients whenever possible, including herbs and vegetables from our own garden. We offer a full-country breakfast, and lighter selections as well. And we always serve real New Hampshire maple syrup. For lunch, enjoy a salad, classic burger, or a sandwich; for dinner, roast ducking or roasted rack of lamb. We offer the same menu at Littlefield's Tavern. It's also the perfect place to play a board game or challenge your skills at cribbage. We offer an extensive selection of beers, spirits, and wines from all over the world.
Our Restaurant hours change seasonally; please inquire about dinner availability when making your reservation. Click here to view our dinner menu.
490 Lafayette Road - Route 1 Hampton, NH, 03842 Phone: 603-926-0330 Toll-Free: 800-805-5050
Old Salt Restaurant - A seacoast dining legend for decades
Once a Hampton beach restaurant owned and operated by the Higgins family, it was relocated to downtown Hampton after historic Lamie's Inn was purchased in in 2001. You'll savor traditional and flavorful New England fare and fresh seafood provided by the local fishermen. On the menu is boiled lobster, a traditional clam bake, clam chowder, USDA choice steaks and delicious Italian cuisine. The Old Salt's popular Sunday Brunch Buffet is famous on the New Hampshire seacoast and offers fresh fruit, cheeses, hearty breakfast dishes, salads, fresh seafood, pasta, seasonal vegetables, hand-carved turkey and roast beef, an entire table of desserts, and a 36-inch chocolate fountain. There's music, cozy winter fires, and al fresco dining on the patio all summer long.