White water rafting makes a memorable New Hampshire adventure
White water rafting and kayaking In New Hampshire is for fans of the outdoors and
families
that hanker for adventure; exciting trips are designed and offered for explorers of every age and experience level. Stay in a cozy
cabin
or
relaxing spa
and enjoy guided tours on calmer waters or adventurous rapids -- you will find thrills at every turn. Paddle your own inflatable kayak and enjoy a relaxing cruise. You'll find expert guides and equipment to lead you to spectacular wildlife and scenery along the way.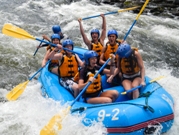 983 Upton Road Errol, NH, 03579 Phone: 603-215-0002
Get wet and grab some thrills with ELC Outdoors
The rapids are calling your name! Join ELC Outdoors for white water rafting and kayaking experiences in both New Hampshire and Maine. No matter what your age or experience level, we've got an exciting trip for you. Beginners can start with a subdued voyage down the Androscoggin. Been rafting before? Try a heart-pounding trip down the Rapid River, the steepest river in Maine. We'll pass through the Devil's Hopyard, with a surprise at every turn. Spend most of the day paddling in your own inflatable kayak, then jump aboard a pontoon boat for an evening cruise around Lake Umbagog. Take in all the wildlife and great scenery along the way. White water is a great experience for families looking for a little adventure.