White Mountains
196 Main Street Gorham, NH, 03581 Phone: 603-545-4533
Adventures for every level of rafting expertise
Whether you are a whitewater beginner or a pro, Raft NH in the scenic White Mountains has a summer adventure waiting just for you. For a laid-back day on the river, families and novices will opt for the Class II offerings, with rapids but also sections of calmer water (even time to swim!). Those more adventurous will want to check out the Class III and IV Magalloway River rides. And if you really want to get your heart pumping, go for the Rapid River Class IV remote adventure, with towering waves and holes the size of SUVs. Guides are meticulously trained; safety and comfort gear are provided.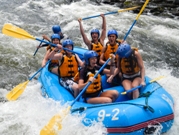 983 Upton Road Errol, NH, 03579 Phone: 603-215-0002
Get wet and grab some thrills with ELC Outdoors
The rapids are calling your name! Join ELC Outdoors for white water rafting and kayaking experiences in both New Hampshire and Maine. No matter what your age or experience level, we've got an exciting trip for you. Beginners can start with a subdued voyage down the Androscoggin. Been rafting before? Try a heart-pounding trip down the Rapid River, the steepest river in Maine. We'll pass through the Devil's Hopyard, with a surprise at every turn. Spend most of the day paddling in your own inflatable kayak, then jump aboard a pontoon boat for an evening cruise around Lake Umbagog. Take in all the wildlife and great scenery along the way. White water is a great experience for families looking for a little adventure.